This article is more than 1 year old
Security analyst says Yahoo!, Dropbox, LinkedIn, Tumblr all popped by same gang
Says five-strong 'Group E' may have lifted a billion Yahoo! records, sells to states
Five hackers are said to be behind breaches totalling up to a staggering three billion credentials from some of the world's biggest tech companies including the Yahoo! breach that led to the loss of 500 million credentials.
The claims, made to The Reg by recognised threat intelligence boffin Andrew Komarov, pin the world's largest hacks on "Group E", a small Eastern European hacking outfit that makes cash breaching companies and selling to buyers including nation states.
Komarov told The Register the group is behind a laundry list of hacks against massive household tech companies including the breach of Yahoo!, Dropbox, LinkedIn, Tumblr, and VK.com among other public breaches.
The analyst says the same hacking group has breached other major tech firms but would not be drawn on revealing the names of the affected companies nor the number of compromised credentials. Komarov has reported those breaches which are not on the public record to police.
He goes further and says much of the reporting concerning the Yahoo! breach was inaccurate, and suggests the number of affected credentials could be as high as one billion, double what was reported.
Group E had, according to Komarov, breached Yahoo! and sold the massive data haul through a recognised hacker identity who served as a broker.
It was then sold to a unnamed nation-state actor group.
Komarov's employer InfoArmor says it performed "extensive analysis of collected intelligence" from the Yahoo! hack from different sources to "clarify the motivation and attribution of the key threat actors" concluding "many recent press reports and published articles have significant inaccuracies".
Yahoo! last week pinned the breach on a unnamed state actor but did not say if, as Komarov claims, that the group bought the credentials from Group E which conducted the intrusion.
The company did not respond to a request for comment by the time of publication.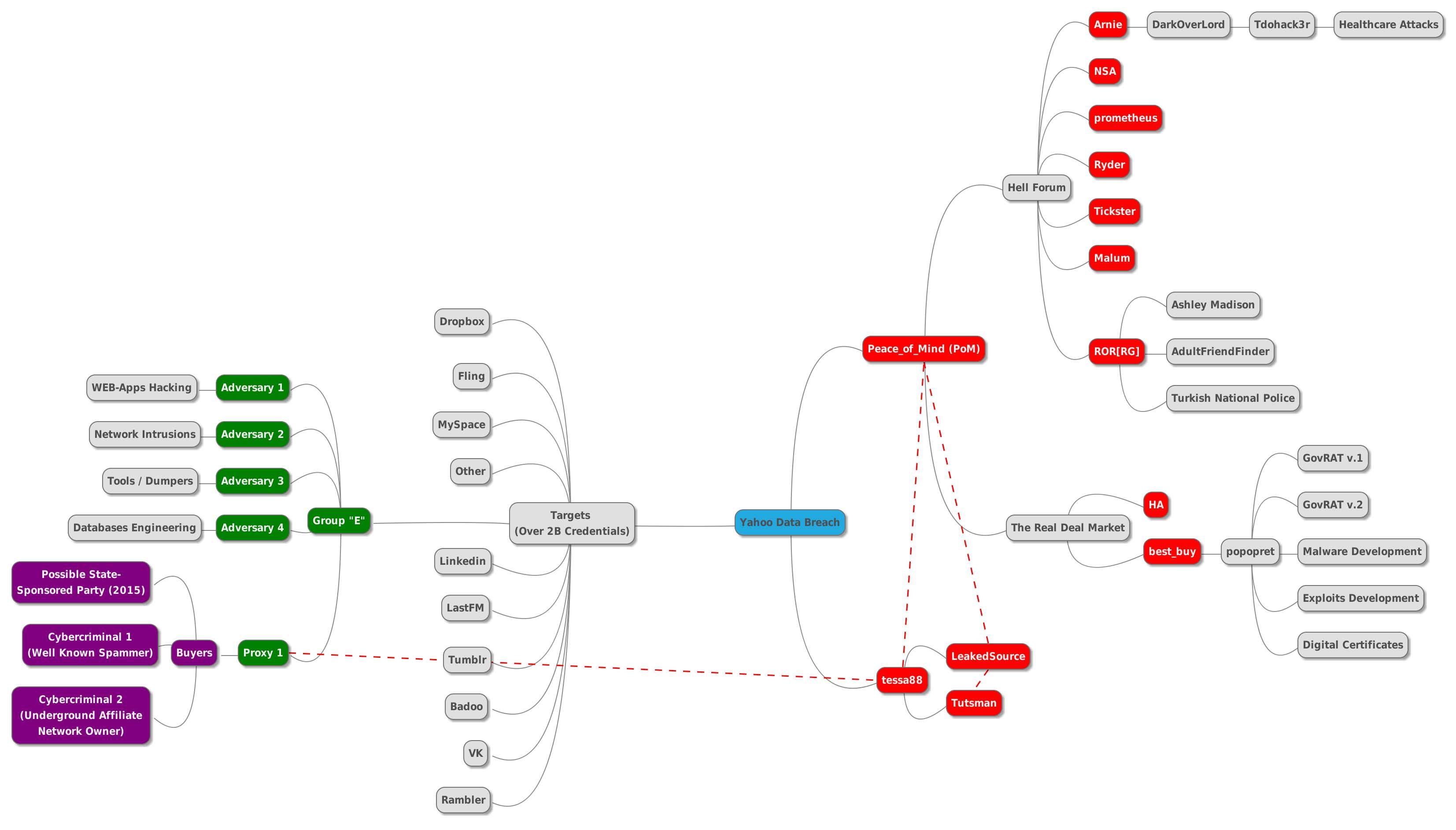 Hacking gangs Group E, For Hell, and broker Tessa88. Mind map by Andrew Komarov.
Komarov tells The Register Group E, so called after the first letter of its leader's moniker, broke into sites using a variety of attack vectors.
"Web apps vulnerabilities and exploitation, plus network intrusion through infection … [and] direct access to databases and source code," Komarov says.
Sites breached by the five-person Group E hacker outfit. Statistics via Andrew Komarov
| Breach company | Number of records |
| --- | --- |
| Yahoo! | 500 million (up to 1bn) |
| Myspace | 360 million |
| LinkedIn | 167 million |
| Vk.com | 137 million |
| Qip.ru | 133 million |
| Badoo | 126 million |
| Dropbox | 103 million (Dropbox cites a breach of 68 million due to password reuse) |
| Rambler.ru | 101 million |
| Tumblr | 50 million |
| LastFM | 43 million |
| Fling.com | 40 million |
| Mobango.com | 6 million |
| Other combined dumps: | 600 million |
A second group known as "For Hell" used the same broker to sell stolen databases and masterminded other high profile breaches. Komarov says one member known as ROR[RG}) hacked Ashley Madison, Adult Friend Finder, and the Turkish National Police, while a second team mate known as "arnie" or "darkoverlord" conducted breaches of unnamed health care organisations.
Komarov, an established threat intelligence man formerly of Intelcrawler before its acquisition by Arizona-based security firm InfoArmor, is one of a handful of cybercrime intelligence analysts who closely monitor closed crime forums and dark web sites.
He fingers a Russian-speaking criminal hacking identity known as Tessa88 as the broker used by the two hacking groups.
That broker is claimed by hackers including some speaking to Vulture South to be a part-time scammer for selling bogus credentials, although the claims cannot be verified. Komarov says Tessa88 was at pains to mask the identity of the hacking groups when selling the Yahoo! credentials to the nation-state actors. ®