Robo-boat biz ASV inks UK.gov licence for auto-speedboat tech
That's the one a human drove during its public launch
---
The Ministry of Defence has licensed its Advanced Unmanned Surface Vehicle robot boat tech to roboat biz ASV Global.
Although the MoD's brainbox division, the Defence Science and Technology Laboratory (DSTL), retains ownership of the intellectual property within the roboat software, ASV is now allowed to use it to develop roboats for civilian customers.
A press release from the MoD said:
The licence is centred on Dstl's Advanced USV Capability Project, due for completion in late 2017, which has developed an autonomous navigation system that enables USVs to operate safely at both high and low speeds.
This relates to an earlier "trial" of the tech, where a bunch of various worthies and curious Londoners gathered to watch a speedboat driver throw one of ASV's Bladerunner boats around in the busy stretch of the River Thames between Tower Bridge and London Bridge, repeatedly passing in tight circles between student-crewed gin palace HMS Archer and the £150m superyacht A, which was tied up alongside museum ship HMS Belfast at the time.
People present at the event appear to have politely agreed to pretend that the computer was driving the boat and not the human clearly visible at the helm. As the MoD-approved host of the Periscope live stream stuttered: "We can't go unmanned today so there are coxswains in the vessel."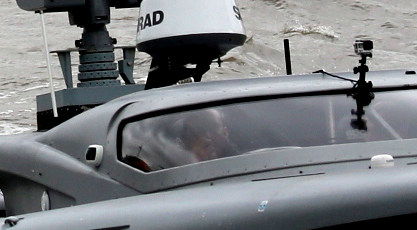 Hello, coxswain! Zoomed from the main picture at top
Nonetheless, the commercial licensing of technology developed by the MoD is a positive move. As Defence Secretary Sir Michael Fallon said at September's launch of the £800m MoD tech creche: "We must innovate on a grand scale and in a way that encourages and rewards changes in us, as well as influences the outcomes we desire. Not innovation for its own sake, but innovation as a business imperative."
El Reg profiled ASV a month or so ago. The Portchester (near Portsmouth)-based firm builds all its own boats and associated hardware in-house for a variety of customers, including commercial marine survey outfits and the MoD.
A canned quote from ASV's MD, Dan Hook, said: "Working with DSTL has enabled ASV Global to design and test advanced autonomous capabilities. This technology will enable ASV Global to access new market areas as well as continuing to solidify our position as the leading autonomous surface vehicle system supplier."
Initially, ASV will integrate the software onto its ASView control system for a demonstration at the Unmanned Warrior event in the waters off Scotland in October, in which more than 40 autonomous systems are taking part. El Reg will be covering Unmanned Warrior, which takes place in a couple of weeks' time. ®