This article is more than 1 year old
Roll over Beethoven: HPE Synergy compositions oughta get Meg singing for joy
What do we think? We like it, that's what
Comment HPE's Synergy is, it thinks, the next great advance in servers and is far more capable than hyper-converged infrastructure systems, being able to provision bare metal as well as servers for virtual workloads as well as containerised ones.
Getting a grip on this beast is tricky. Is it a form of dynamically reconfigurable hyperconverged infrastructure (HCI) with separately scalable compute, storage and networking? Yes, in a way it is, but HPE would position it apart from HCI, as we shall see later.
The basic Synergy element is a 10U rackmount chassis, somewhat similar to its C-Class chassis but taking specific servers, not standard ones. This chassis can take a mix of server and storage frames which slot in from the front and has a set of network nodes at the back, with a single master node. These nodes obviate the need for a separate top of rack networking switch.
The chassis also has a front-mount Composer, a dedicated server with storage and networking. This runs a version of Linux, auto-discovers Synergy compute, storage and networking (fabric) elements, and provides the OneView command facility for managing Synergy.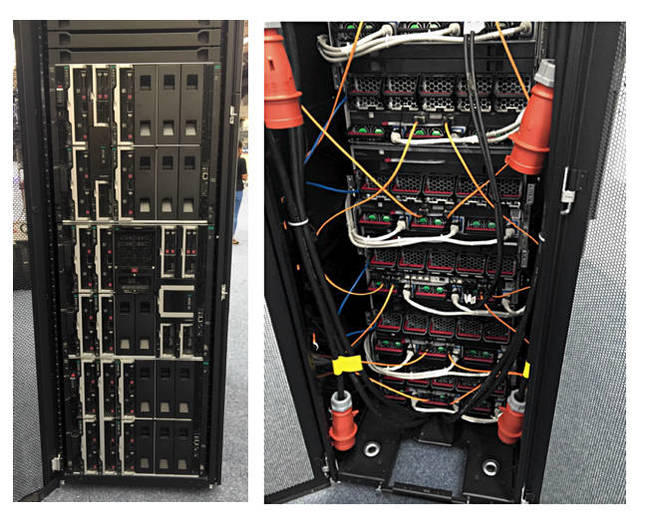 Front and rear views of Synergy rack. At the rear the blue cables interconnect Composer modules in each frame
Synergy frames can scale out, with four per rack, if your floors can stand the weight, and then via adding another rack. The Composers in each Synergy chassis hook up with each other via a dedicated management net, providing a control plane for the system separate from the operational compute and data plane.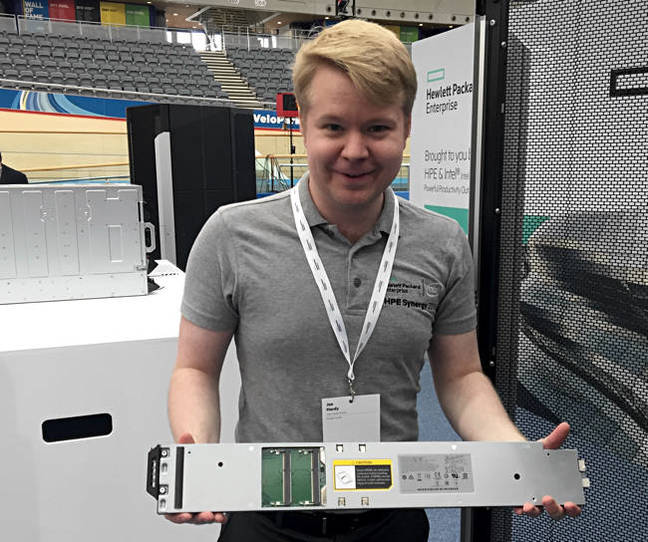 HPE UK's FSI Strategic Accounts Presales Consultant Joe Hardy with Synergy Composer module.

Composer module with lid removed.
Users set up named server profiles, defining compute, firmware, OS, storage and networking resources for example, and then these can be simply provisioned to workloads: for example, a database workload template. Synergy can be managed through RESTful APIs as well.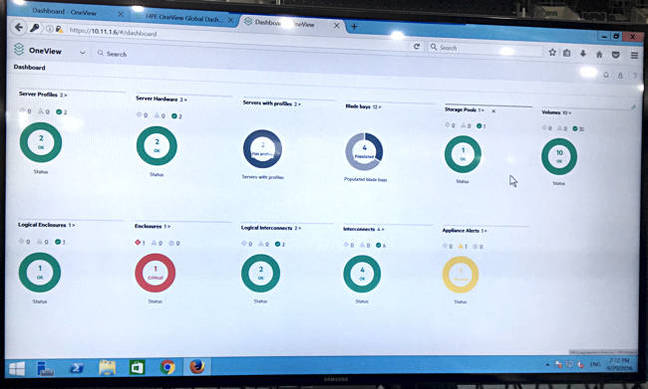 Synergy OneView 3 screenshot. Note server profile area middle left.
Server nodes can have direct-attached on-blade storage. This can be, for example, SAS 2.5-inch disk or NVMe SSDs.
As well as the in-frame storage nodes Synergy chassis' can use external SAN or NAS storage, such as 3PAR StorServe, connected by Fibre Channel or Ethernet, part or all of which gets allocated to the Synergy storage resource pool via, say, volumes allocated to workloads running on Synergy.
Both Synergy storage and networking are virtualised into Synergy-wide pools and compute blades can be aggregated for a workload. But individual CPUs on a server blade can't be separately dedicated to workloads with other server nodes; the server blade is as granular as compute gets for now. Similarly memory can't be separately virtualised into a Synergy-wide pool. When Intel's Silicon Photonics is adopted by Synergy in the future then this, with operating system help, might become possible.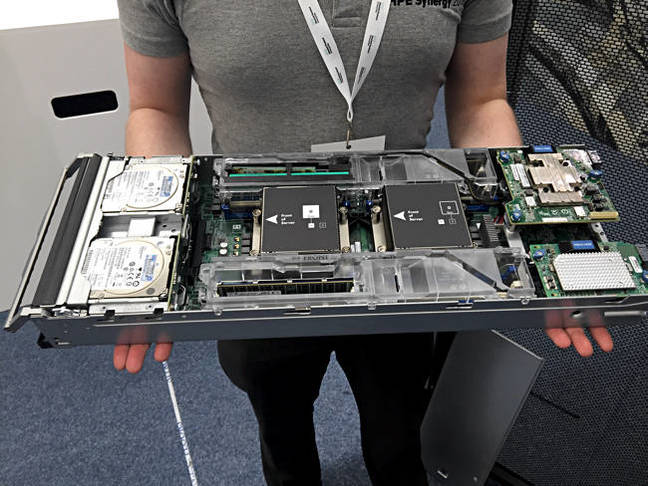 Joe Hardy showing Synergy server node with lid removed.
As servers adopt non-volatile storage-class memory then Synergy will adopt them too via Synergy server blades using non-volatile Memristor, XPoint or some other media technology. It will also adopt HPE's developing Machine concept, with Synergy in one sense, being a Machine precursor.
Server inventiveness
HPE says it has some 100 beta customers testing Synergy. As you look at the hardware, the 10U chassis and its components, the Composer module and the OneView v3 software, you realise this is a substantial and distinctive effort. A lot of development money is being spent here. No other server vendor has anything like Synergy; not Cisco, not Dell, not Fujitsu, Hitachi, Huawei, Lenovo nor any other mainstream server vendor you can think of.
Paul Miller, HPE's marketing VP for Converged Data Centre Infrastructure, bangs the HPE server inventiveness drum, saying HPE was first with x86 servers, first with a 1U pizza box-format server, first to launch blade servers, and is now the first to launch composable infrastructure servers. Everyone else, he says, including Dell, follows HPE.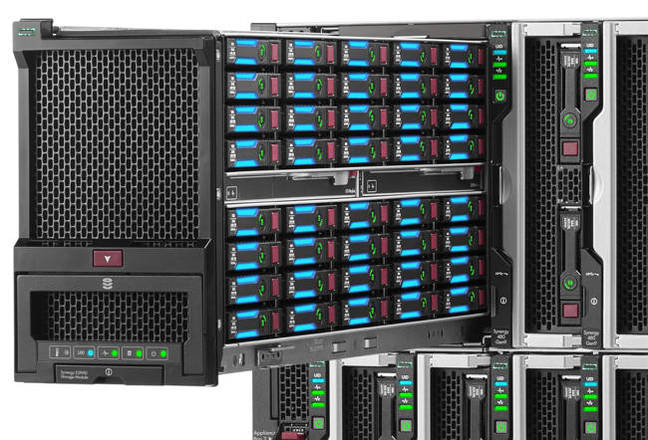 Synergy storage module.
Synergy and HCI
Hyper-converged infrastructure systems converged and integrate server, storage and networking with server virtualisation software to apps in virtual machines in a scale-out system environment using virtual SAN software, such as VMware's VSAN. HPE has its hyper-converged HC 380 product, ones that use StoreVirtual virtual SAN software and ProLiant DL380 servers.
Synergy opens up that idea, expands on it, to have a Synergy frame as the basic element, within which you can mix and match variable compute, server and network elements. The HCIA single SKU buying simplicity goes away but the operational flexibility and simplicity benefits gained instead could be huge, quite apart from Synergy providing bare-metal servers as well as support for containerisation.
Also Synergy is built as a platform with a10 year-plus life. Different compute, storage and networking elements and technologies can come along and be adopted by the Synergy chassis and software; that's the theory. So, for example, Intel's Silicon Photonics can be adopted inside Synergy, and also outside. Once the3PAR StorServe arrays get Silicon Photonics support then Synergy links to external storage will run at 100Gbit/s speed.
How this would work alongside or with NVMe over Fabrics is unclear. It could simply be an alternative to 100Gbit/s Ethernet cables and still carry Ethernet protocol signals and data, in which case NVMeF running across Silicon Photonics cables will be theoretically okay.
Innovation buzzwordery? Yes – and no
Synergy is a multi-million dollar investment by HPE involving server, storage and networking hardware, adapted C-Class chassis, development of the Composer module, and extension of the OneView management software facility, Looking at the racks of Synergy hardware and nodes within the frames it's obvious that this is a big iron effort. The thing looks like a software-defined private cloud, mini data centres in 10U cans with dynamically re-usable elements.
Marketing buzzwordery surrounds it; infrastructure as code, the ideas economy, innovating fearlessly in an age of business disruption, IT must build innovation engines, and IT must become value creators and deliver business outcomes. Synergy is about accelerating the digital enterprise to innovate fearlessly. There's even a Composable Infrastructure for Dummies book – no, really – which tells you how to turn your data centre into an a revenue generator with composable infrastructure.
But step aside from this slick deluge of wordsmithing and Synergy looks pretty damn good. Will it take off? That's the question, and HPE is giving its best shot, pouring EVPs into marketing events and demo'ing the hardware.
If the operational flexibility, CAPEX and OPEX benefits are real and replicable from customer to customer then HPE will have a good and distinctive story to tell and pass through its channel. And Meg Whitman will have product technology to smile about. ®