This article is more than 1 year old
Level 3 goes to Level 0 for American VoIP peeps
Network provider stumbles, drops voice traffic
Backbone carrier Level 3 says it is investigating the cause of an outage that took out its services in North America.
A spokesperson for the network provider told El Reg that the issue was resolved by 8:30am US Pacific time. The problems largely affected Level 3 VoIP and phone services in the East Coast and Midwest regions.
A heat map from monitoring site DownDetector showed the extent of the outage for much of the US and Canada: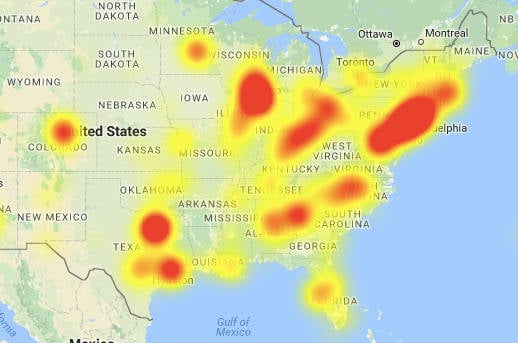 The problems were also severe enough to impact the services of other phone carriers that rely on Level 3 interconnects to handle their traffic.
We are experiencing intermittent calling issues from 3rd party landline voice provider impacting all carriers. Will keep you updated

— John Legere (@JohnLegere) October 4, 2016
IT departments also reported issues with their VoIP systems.
There is a problem in the Level-3 voice network impacting all Level-3 customers in the Southeastern US. https://t.co/ENKYuTKFPk

— Scott Midkiff (@VTScottMidkiff) October 4, 2016
#level3 Major outage apparently, Can't even call Level 3 support line. Our incoming lines in Indiana are down. Started at Around 10:30 East

— Dan Espich (@espich) October 4, 2016
The outage will be a nuisance for many, but the downtime can also have significant consequences for customers and operators alike. In 2015, the FCC handed out fines to CenturyLink and Sprint after it deemed their service outages were bad enough to warrant a public safety hazard.
While Level 3 services have since returned and customers are reporting their phone lines working again, the cause of the downtime is still unknown. El Reg will update if and when we get more information. ®