This article is more than 1 year old
Micron scrambling up wall of revenues pit
It's still not making profit, but at least it's losing less
Micron has reversed its downward trend and pulled off a fourth fiscal 2016 quarter with increased revenues and decreased losses.
The mainly DRAM and flash foundry company reported revenues of $3.22bn, up 11 per cent on the preceding quarter but 11 per cent down on the year; there is still a ways to go. The net loss was $170m, 21 per cent better than the $215m net loss in the third quarter but still dismal compared to the $471m profit reported a year ago.
Since recovery came late in the year, the full fiscal 2016 numbers look poor: $12.4bn revenues and a $276m net loss. Last year's numbers were $16.2bn revenues and a $2.9bn profit.
CEO Mark Durcan talked of slowing supply growth (meaning lower price erosion) and improving demand across several parts of the business:
DRAM sales volumes were up approximately 20 per cent,
NAND sales volumes were up approximately 12 per cent,
DRAM average selling prices declined approximately 6 per cent, and
NAND average selling prices were relatively flat.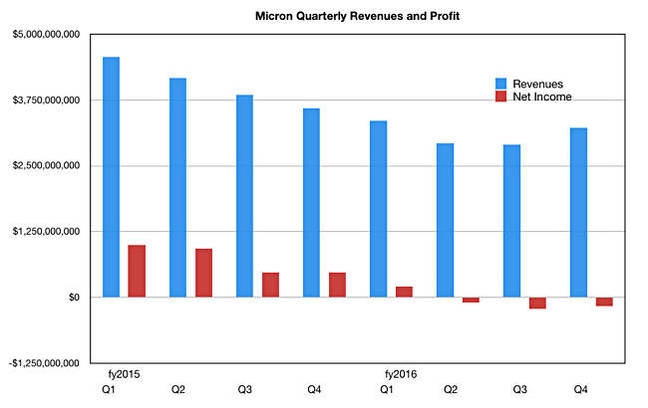 There are four business units and this is the picture in each:
Compute and networking ($1.25bn revenue in Q4)

Accelerating revenue growth in a moderating pricing environment
Increased 20nm shipments and DDR4 transition
Strength in graphics from GDDR5 and GDDR5-X products

Mobile ($671m revenue in Q4)

Growth fueled by China market and smartphone memory content increases
Introduced four new mid-to-high density 3D NAND products
DRAM and eMCP price declines moderated, with current signs of stabilisation

Embedded ($513m in Q4)

Record Automotive sales due to higher memory requirements and new products
High-temperature DRAM and automotive-grade NAND enabling design wins
Competitive industrial solutions bolstering share in IMM and communication

Storage ($758m Q4 revenue)

Refreshed SSD portfolio enabling transition to 3D NAND
Actively working to extend TLC 3D NAND into the enterprise portfolio
Positive supply and demand dynamics expected in the SSD market for 2017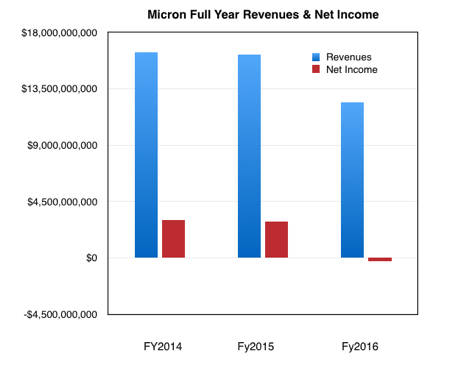 Micron is starting a 1X DRAM chip production ramp with significant output by mid-2017. It's building up gen 1 3D NAND production and TLC (3bits/cell) product, and starting second generation 3D NAND production. This has a 30 per cent lower cost than gen 1 3D NAND.
Stifel MD Aaro Rakers notes Micron "entered into production and OEM qualifications for client / consumer solutions on TLC NAND during the August quarter, while enterprise and cloud product announcements are expected to occur over the next couple quarters. When asked about the ramp of TLC vs. MLC 3D NAND, Micron noted that it expects to reach a crossover production point by mid-F2017."
Rakers says Micron "will introduce its first TLC 3D NAND SATA SSD targeting cloud and enterprise markets later in 2016, followed by a server-focused version in early 2017."
In the future lie QuantX 3D XPoint products, which will be a 2017 story for Micron, and potential QLC (4bits/cell) NAND. Toshiba should have QLC product in 2017.
Micron expects next quarter's revenues to be between $3.55 and $3.85bn; they were $3.35bn a year ago. Things are looking up. ®