This article is more than 1 year old
The shoemaker, the array refresh and the VMworld smackdown
Infindat, unsurprisingly, says its shoe fits and you should wear it
Case study If the shoe fits then wear it; it's the motto you'd expect a footwear retailer to do business by. Designer Shoe Warehouse (DSW), a 400-outlet US shoe chain, applied that advice when its main storage array, a VMAX we are told, failed to deliver data fast enough and began costing too much. It bought an InfiniBox instead and the array problems went away.
Matt Rademacher, an infrastructure architect at DSW, gave a presentation at VMworld 2016 and talked about Infinibox and DSW's existing array, without mentioning VMAX specifically. However, we learned from a source familiar with the situation that the replaced array was a VMAX, and scouring the web, we found a DSW job advert that says DSW has a VMAX array; there's a picture of the ad below.
Rademacher said DSW had experienced 200-300ms access delay (latency) during critical batch windows on its previous array, which it could not fix (09.14 time).
EMC said the array was fine; nothing wrong with it. A new X86 server infrastructure and VMware virtualisation didn't resolve this issue and nor did an upgrade from 4Gbit/s Fibre Channel to 16Gbit/s, making no difference at all (09.43 time on the presentation video).
After proof of concept testing of the main all-flash arrays out there and the InfiniBox, the shoemaker replaced the VMAX with an InfiniBox which it claimed was the only array it tested that could handle all its workloads and blew the company away on performance (at 12.52 time in the presentation):
"All of a sudden the bottlenecks were gone, and the systems were performing like crazy," said the infrastructure architect.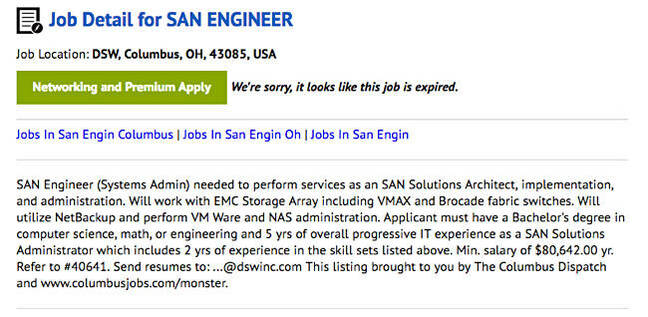 DSW VMAX engineer job req
Rademacher points out that, in production, the InfiniBox hits 177,000 IOPS at 700 microsecond latency (for VMware) versus its previous array's 33,000 IOPS and 300 milliseconds (26:33) time) and it cost less than half of the array, understood to have been a VMAX (21.20 time) as well. "Cost and performance, Infinidat blew everyone else away. It wasn't even close."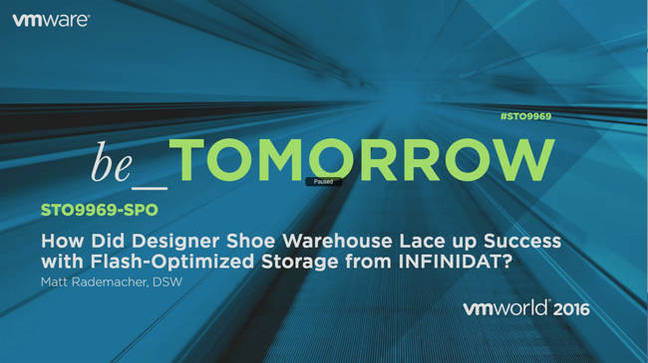 Rademacher video. Click image to run the video.
At the 22:47 mark in the video, Rademacher says Windows OS image build time went from six hours to <one hour on the Infinidat, while patching of 2,000 systems reduced from four hours to seven minutes.
The Infinidat array takes up two floor tiles instead of the 10 used previously. The new array's performance means DSW incidents for performance-related issues dropped by 70 per cent. Latency issues in SQL Server vanished. Server CPU utilisation rose due to the array's increased IOPS. He claimed batch processing SLAs are being exceeded, for the first time, with runs previously taking six hours now averaging 30-40 minutes.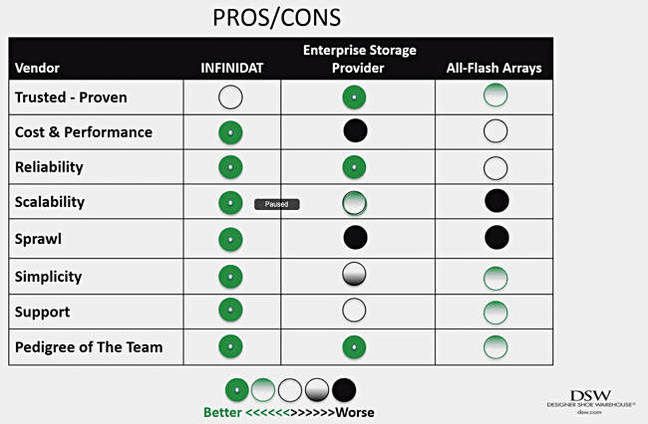 DSW array scoreboard
Infinidat CTO Brian Carmody told us us: "The fact is that DRAM is 100x faster than NAND, and we have 3TB DRAM in our systems for the hot data, along with 200TB NAND for warm data versus the other array using NAND for hot data and tiny NVRAM caches."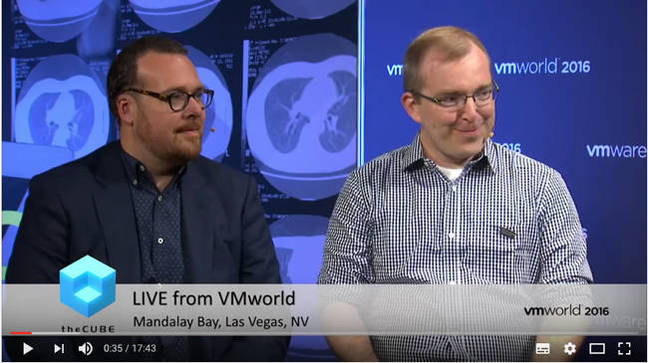 Infinidat CTO Brian Carmody (left) and DSW's Matt Rademacher (right) on the Cube at VMworld 2016. Click the image to run the video.
We asked EMC for a comment and a spokesperson said: "It's easy for these kinds of stories to devolve into something that appears to be one vendor sweeping the floor of another vendor's kit when, in reality, sometimes it's just a workload swap from one array to another."
The VMAX could be destined to run other workloads, for example. It is always worthwhile taking vendor case studies with a pinch of salt. Things we don't know include the possibility that Infinidat dropped its price for this customer.
This is the first time we have been able to compare and contrast Infinidat's high-end InfiniBox array with the high-end array market leader - VMAX. If this is not a corner case, then Infinidat's sales growth should continue and Dell may become concerned about how exactly it is going to match the capabilities about which Rademacher seems so enthusiastic. ®