This article is more than 1 year old
Mobile data is getting slower, faster
US cities see major crash in data speeds. But that's not the whole story...
US cities have seen a massive crash in LTE data speeds this year - but consumers haven't noticed as latencies are getting lower.
According to TwinPrime's State of Mobile Performance, T-Mobile has emerged as the fastest mobile operator in the US and many European countries. The survey also shows Europe continues to enjoy faster, but patchier LTE coverage than the USA - and huge 4G growth in India.
The bumper, biannual bumper survey of global network trends is gleaned from 6 billion data points from mobile apps, and measures Wi-Fi as well as cellular data performance. App developers will want to drill down into the detail to optimise their apps for specific markets.
In the US, TwinPrime finds T-Mobile to be the fastest network across LTE and 3G, with the lowest latencies, while Verizon has the broadest LTE footprint (at 95.3 per cent). Network quality has improved, with response times falling by almost 20 per cent.
However as more users crowd on to a network, speeds drop. The US blazed the LTE trail and as result, is slower than Europe's newer LTE networks.
Based on test retrieving static images, New York has fallen from first place to seventh in the US metropolitan rankings for LTE performance, with a 44 per cent drop. San Francisco now takes top spot, and is the only city tested to remain above an average speed of 2.5Mb/s. When TwinPrime last performed the test in December 2015, all 11 metropolitan areas tested enjoyed average speeds of over 2.5Mb/s.
"This staggering drop in performance could partly be explained by the increased LTE traffic share in these cities, or an increase in overall mobile data consumed by LTE devices," the report suggests.
But it's also a caution against using data speed as your only proxy for network performance. TwinPrime notes that despite the crash, network performance is improving.
"Network response times have dropped by almost 20 per cent compared to December 2015 and retransmit rates for LTE networks in most cities is nearly 0 per cent," the report notes.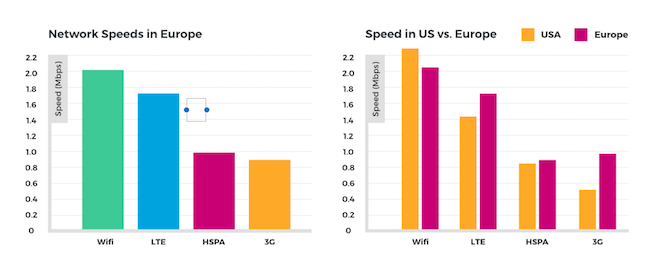 For Europe, T-Mobile offers the best 4G speeds, while EE and O2 the most consistent performance. Somewhat confusingly, the report refers to T-Mobile as a UK operator (EE stopped selling new T-Mobile contracts last year https://www.broadbandchoices.co.uk/news/mobile/ee-to-stop-connecting-t-mobile-and-orange-customers-00208) and refers to "England" rather than the UK. We've requested clarification.
India has seen LTE coverage rocket from 5 per cent in 2015, to 23 per cent in the first half of 2016.
One more surprising stat emerges: Android is 35 per cent faster on the static image test than iOS in India, and also maintains an advantage over Wi-Fi.
You can find more numbers here. ®