Dell has laid off EMC people at Hopkinton
Getting rid of overlapping job functions
---
The newly acquired EMC has been hit by layoffs in the former EMC headquarters' Hopkinton facility.
We don't know how many people are involved. A Dell spokesperspon mailed this to us:
The number is not material to Dell Technologies' headcount of approximately 140,000. As is common with mergers of this size, there is a need to manage some overlapping job functions. We hope to minimise the impact on jobs and expect that revenue gains will outweigh resulting cost savings, with revenue growth driving future employment.
Some layoffs had been predicted following the September 7 closing of the $67bn deal in which Dell bought EMC. Staff in the supply chain, marketing and general and administrative areas, where Dell and EMC had duplicated functions, were said to be at risk.
Bloomberg, for example, ran a story suggesting more than 2,000 people could be ejected.
News broke via a series of tweets with "massive" numbers involved and Hopkinton being likened to a graveyard. Pure Storage suggested displaced EMC staff might like to think about applying to Pure.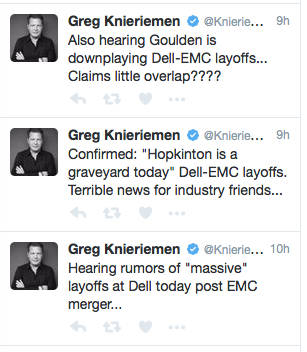 Dell EMC layoff tweets
+Comment
We believe that the layoffs are not limited to Hopkinton alone. It's possible that there could yet more layoffs as Dell consolidates functions to save people-related costs. Were product overlaps to be eliminated then the layoff count could rise.
So far Dell has not announced any product consolidations to eliminate overlap, although we do notice that the PS storage line, the former EqualLogic iSCSI arrays, have not received the same prominence in the Dell EMC storage product line-up as its SC (Compellent) arrays.
In fact we couldn't find the PS Series in the Dell-EMC website. It can be found in the original Dell website though, in the SAN storage section alongside the SC arrays.
Its absence from the Dell-EMC website is either an oversight or a predictor of what might be coming. ®