This article is more than 1 year old
Pocket C.H.I.P. makers go Pro with cloud-linked ARM-flexing module for IoT gizmo builders
From cute game dev to serious mass production
Pics The team behind the popular $9 C.H.I.P. single-board-computer has come up with a version for engineers, startups, and larger organizations to embed in their products.
Essentially, if you're an aspiring gadget maker and you want to stick a small Linux-flavored computer into your thing and sell it, the C.H.I.P. Pro aims to be the easy-to-program widget you need. It tries to take away all the pain of having to source, build and flash the components yourself.
At the heart of the C.H.I.P. Pro is the GR8: a 32-bit 1GHz ARMv7-A-compatible R8 system-on-chip from Allwinner with an ARM Mali-400 GPU and RAM included in the processor package. You can either order just the 14mm-by-14mm chip for $6, or you can take the whole C.H.I.P. Pro module with storage and peripherals for $16. Its maker, Next Thing Co, says the cost is fixed – whether you buy 1 or 1,000,000, it'll stay at 16 bucks apiece.
The world of ARM-based system-on-chips is still a little Wild West in nature. It's getting better but as Linux kernel chief Linus Torvalds alluded to the other week, it's a potentially messy situation.
First, you have to pick a system-on-chip for your product – and there are shedloads to choose from. Then you have to get hold of the documentation, which may involve signing an NDA, and then pray it's at least partially accurate. Then you need to get hold of some of the chips and negotiate a supply deal, which – unless you're ordering an awful lot and have a lot of money – will be a miserable experience. Then repeat this for all the other components. Then you may have to get certification for the wireless hardware.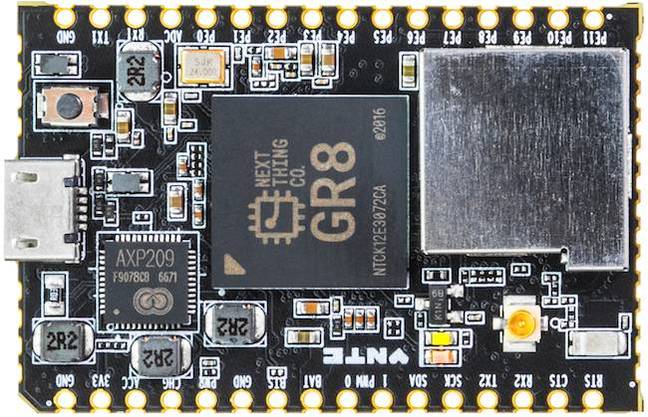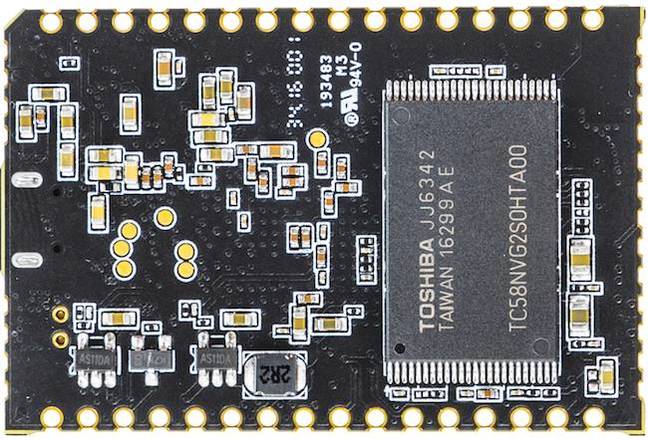 The C.H.I.P. Pro module ... Photos by Richard Reininger / Next Thing Co
Next Thing Co CEO and founder Dave Rauchwerk told us the module's Wi-Fi and Bluetooth are certified with regulators, and that the kit is basically ready to roll as a module to drop into a product to add intelligence and connectivity. The hardware designs are open-source and the tech is described in support pages and Linux kernel code. There are also various libraries for programming the system, too, on top of the usual Linux environment.
Rauchwerk said his company can flash program the Pro module in the factory for you with whatever firmware you supply: this saves you the "huge, huge hassle" of having to order the boards, get them delivered, flash and test the firmware yourself, and then ship 'em out. This involved developing flash programming and testing systems for their contracted factories in Taiwan and China, allowing the modules to be programmed on the assembly line with customers' code.
Each C.H.I.P. Pro sold comes with a one-year subscription to Next Thing Co's management cloud service: this system allows vendors to push cryptographically signed and protected software updates and security patches to C.H.I.P.-Pro-powered devices over the internet. The subscription costs $1 a device for every year after.
The Pro modules can connect to the cloud for updates and download them as necessary, and can be managed from a web-based interface. "It's a single place to administer as many as hundreds of thousands of units," said Rauchwerk.
It's hoped that by offering this online service, C.H.I.P. Pro hardware in the wild can stay up to date without manufacturers having to distribute security and feature updates themselves – which can be a tedious process – or coerce people into updating their internet-of-things by hand. Instead, it can be done from a central management console. Obviously, this introduces a potential single point of failure or compromise, but it's at least a decent attempt to ensure thousands of devices aren't left sitting on the internet constantly vulnerable to attack, if a security bug is found.
Ultimately, it's optional: system makers don't have to use Next Thing's cloud, but it's there as "a hosted solution with predictable pricing," as Rauchwerk put it.
The GR8 is documented here [PDF] and the C.H.I.P. Pro module here [PDF]: it features 256MB of DDR3 DRAM from Nanya, 512MB of SLC NAND from Toshiba, Wi-Fi (b/g/n), Bluetooth 4.2 LE, SD/MMC flash card controllers, timers, PWM output, AES-256 acceleration and other cryptographic functions in hardware, microphone inputs, image sensor input, video display output, USB and serial ports, and more bits and pieces. It's a slightly cut-down version of the Allwinner R8-powered C.H.I.P. that launched in May 2015. The hardware boots Next Thing Co's Linux-based open-source Gadget OS, or your own firmware if you wish.
The Oakland-based startup, founded in 2013, has basically taken the lessons it has learned from making the original enthusiasts' C.H.I.P. and cutesy Pocket C.H.I.P. handheld, and hopes to apply them in the mass production of commercially viable wares.
The original C.H.I.P. built up quite a community of coders and tinkerers, some of whom wanted to embed the device in thousands of gadgets to sell, and thus here we are with a variant ready to be inserted into IoT gizmos and other gear. The C.H.I.P. Pro and original C.H.I.P. are, by the way, software compatible.
In all, it took 90 days to develop the C.H.I.P. Pro from a concept to the final design.
The Pro is expected to ship in the first quarter of 2017. A dev kit with two C.H.I.P. Pro units is available to order now, shipping in December, for $49. We're told the lead time will be 60 days for large orders or 30 days for smaller batches. Next Thing Co is confident it can handle orders larger than 500,000 units.
"We want people to be able to go from breadboard to the factory in six months or less," said Rauchwerk. "We want people to build hardware just like they build software." ®