Dell-EMC races to add and extend flashy bits into its boxen
Hi-cap drives, inline compression, cloud tiering to chop flash storage costs
---
Dell EMC is driving full tilt to extend flash support and lower costs in its storage array hardware and software product set, with in-line compression, high-capacity SSD support and the spinning off old data to the cloud.
Data Domain arrays get a speed boost with metadata storage in flash, and an effective capacitty boost with old data getting pumped out the cloud or cheap object storage. Mid-range customers get 15.36TB drive support in Unity, inline compression and cloud tiering, plus Nimble-style analytics to sort out performance problems and faults.
There is a lower cost all-flash VMAX plus enhanced VPLEX to aid migration to all-flash VMAX.
If flash storage is eating disk storage's lunch then EMC wants you to enjoy a flash lunch at its expense rather than goimg to its competitors.
Data Domain
Dell EMC has added flash storage for metadata to speed up a revised Data Domain array product set as they dedupe backup data to disk.
There are four new products: turnkey, all-in-one DD6300 for SMB customers, and the DD6899, DD9300 and DD9800 for larger enterprises. EMC claims the DD9800 is seven times more scalable, 1.5 times faster and can support five times more streams than the nearest competitor.
There are software improvements, too, with Dell EMC Avamar software. These four products "can access protection instances of virtual machines (VMs) 20x faster. Customers are able to boot up VMs using a protection copy of the virtual machine files (VMDKs) directly from Data Domain instead of needing to restore the VM to a separate primary storage system."
There is also Cloud Tier for backup data storage which increases overall capacity by 200 per cent, with a maximum logical capacity of up to 150 PB managed by a single system.
Cloud Tier was mentioned at EMC World in May. It includes support for Dell EMC Elastic Cloud Storage (ECS) and the Virtustream Storage Cloud as well as public clouds.
Data Domain OS v6.0 adds the Cloud Tier support and has integration with Hadoop. We're told it delivers enterprise-grade protection of big data via the Dell EMC Data Protection Suite for Applications .
At the time of writing there was no data sheet available for the four new Data Domain arrays.
HYPERMAX
The VMAX HYPERMAX OS gets in-line compression that can be targeted to specific workloads, plus non-disruptive migration to new systems. EMC quotes an up to 4:1 data reduction ratio.
Data, including live application data, can be migrated from previous generation VMAX arrays to VMAX3 and all-flash VMAX.
This OS update has an ehanced SRDF Metro facility which reduces hardware needs through utilising a virtual "witness" to deliver an active/active data centre. It also has asynchronous third-site support to provide disaster recovery over geo distances to a tertiary site .
There is a new OpenStack Cinder release for VMAX.
VMAX 250F
Dell EMC is bring the costs if all-flash VMAX performance downwards with an entry-level system, and enhancing VPLEX to aid migration from disk VMAX arrays to all0flash ones.
The lower cost all-flash VMAX 250F slots in below the VMAX 450F and 850F. The 450F, with one to four engines, scales up to two racks and the 850F, with one to eight engines, to four. Think of the 250F as a half-racker.
An all-flash VMAX is made up from V-Bricks, which have a single engine, with two VMAX directors, and two DAEs (Drive Array Enclosures). Flash Capacity Packs are used to add extra capacity. The componentry includes 3D NAND SSDs, 56GBit/s InfiniBand, PCIe gen 3 and 6 or 12 Gbit/s SAS, and the whole shebang is run by the HYPERMAX OS.
The new 250F has from one to two V-Bricks, and scales up to 1.1PB of effective capacity, using 960GB, 1.92GB, 3.84GB, 7.68TB and 15.36TB Samsung V-NAND SSDs. The 450F and 850F are limited to 960GB, 1.92GB and 3.84GB SSDs, so the 250F has more capacity in less space.
Each fully loaded VMAX 250F V-Brick takes up just 10U and a fully loaded two-V-Brick system needs 20U of space, fitting in half a standard rack
The 450F scales to 2.3PB after compression and the 850F reaches 4.3PB after compression. No doubt the 450F and 850F will get upgraded to support the 7.68 and 15.36TB SSDs in the future.
DAEs in the 250F are 25-slot with 11TB of base capacity, whereas they are 120-slot with 53TB of base capacity in the 450F and 850F. Maximum usable capacity, after compression, in the 250F is 1,150TB; it is 1,536TB in the 450F and 3,584TB in the 850F.
Here's an EMC table comparing the three all-flash VMAX products: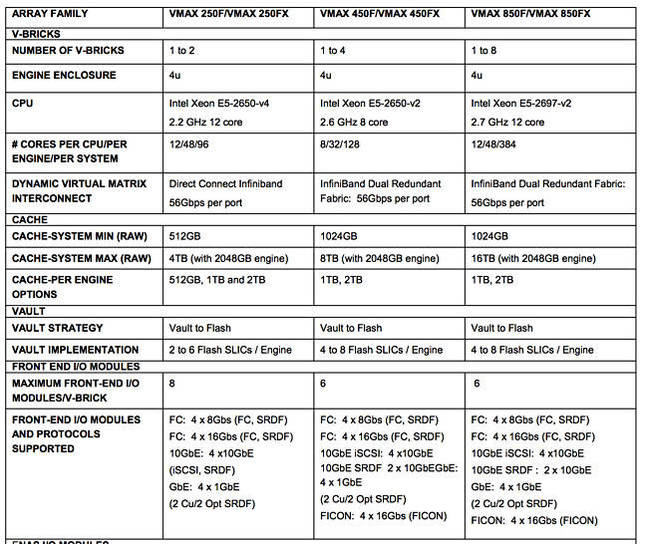 Three all-flash VMAXes compared.
The 250F uses Xeon E5-2650 v4 2.2 GHz 12-core CPUs, which are newer than the Xeons used in the 450F (E5-2650 v2 2.6GHz 8-core) and 850F (E5-2697 v2 2.7GHz 12-core).
The 250F has 512GB to 4TB of raw cache, while the 450F has from 1024TB to 8TB and the 850F 1024TB to 16TB. Check out a comprehensive and detailed VMAX all-flash data sheet covering the 250F, 450F and 850F here.
All-flash VPLEX
The VS6 version of VPLEX delivers twice the performance at one-third the latency of the previous versions and scales further too. It is optimized for flash with UNMAP support for thin provisioning, XCOPY support and Integrated Copy Data Management (iCDM) support across active-active datacentres.
There is a new VLPEX for All Flash offering, in which the software license is tied to a VPLEX engine without any limitations on the capacity or the number of Dell EMC flash arrays protected.
It offers a flat license fee to move as much data from as many source appliances as required to all-flash arrays. Users can then mirror that data in all-flash environments to increase the data availability level.
Customers can non-disruptively add additional VPLEX engines. EMC says VPLEX adds seven-nines availability to mission-critical workloads for performance intensive all-flash systems.
Unity
The Unity (Updated VNX technology) storage array product gets inline compression and support for the latest flash drives to drive storage capacity and efficiency higher for all-flash configurations. The arrays also get integrated file tiering to the public cloud, including Virtustream, and CloudIQ analytics, a cloud-based array performance analysis service.
The Unity array was announced in May and this is a software update.
Unity arrays can now use 15.36TB SSDS, like the VMAX 250F, which doubles drive density and lifts capacity up to 384TB in a 2U rack. The Unuty 600(F) array doubls the number of supported drives.
The inline compression can shrink block-based LUNs hosted in all-flash pools, with EMC claiming an up to 70 per cent saving in storage capacity costs, and an up to 4:1 compression ratio. There is also system-wide wear-levelling, with the Unity SW moving data off highly active drives over to drives with less activity within the same array, thus avoiding drive-level high-wear spots. You can mix and match flash drive types in the array
Cloud tiering can use Amazon S3, Microsoft Azure and Virtustream as targets to store older, less active data. Dell EMC claims "customers who use Unity cloud file tiering with Virtustream can save 60 per cent on their file storage costs."
Users with CloudIQ get "near real-time intelligence and predictive analytics capabilities to proactively monitor, manage, and provide health scores of Unity storage." It provides "recommended remediation based on best practices and risk management procedures."
The Unisphere management facility includes self-service workflow facilities to migrate data from VNX arrays to the Unity oroduct.
Pricing and availability
This section is a bit light. We don't have VMA 250F or VPLEX All Flash pricing and availabilty information. The four new Data Domain productss and Data Domain OS 6.0, which includes Data Domain Cloud Tier, are available today.
Unity operating environment (OE) SW capabilities will be available as a free, non-disruptive update by the end if the year. CloudIQ will be available later this quarter. ®