This article is more than 1 year old
WD flashes first SanDisk drives: Blue and Green
Applies disk-drive style branding to SanDy-driven SSDs
WD has produced Blue and Green branded SATA SSDs, based on SanDisk technology, with these brands having been used for WD disk drives previously.
The Green brand is for secondary storage, being reliable, cool and eco-friendly whilst Blue products are built for PC primary storage use. Other WD brand colours include Black for enthusiast products and Red for NAS and SOHO (small office, home office) use. Will we see Black-branded SSDs? Let's wait and see.
The Blue and Green SATA SSDs are for notebooks, PCs and workstations. The Blue product is optimized for multi-tasking and resource-heavy applications - primary storage then. WD confusingly says the Green SSDs deliver essential-class performance, and are a great option for every-day use.
In fact they are the basic low-cost model: less capacity scaling, slower at random IO and sequential writing than the Blue drives and with five times less endurance; up to 80TB written versus the Blue's up to 500TB written - secondary storage then.
Blue SSDs do random read/writes at up to 100,000/80,000IOPS
Green SSDs do random read/writes at up to 37,000/68,000 IOPS
Blue SSDs do sequential read/writes at up to 545/525MB/sec
Green SSDs do sequential read/writes at up to 540/465MB/sec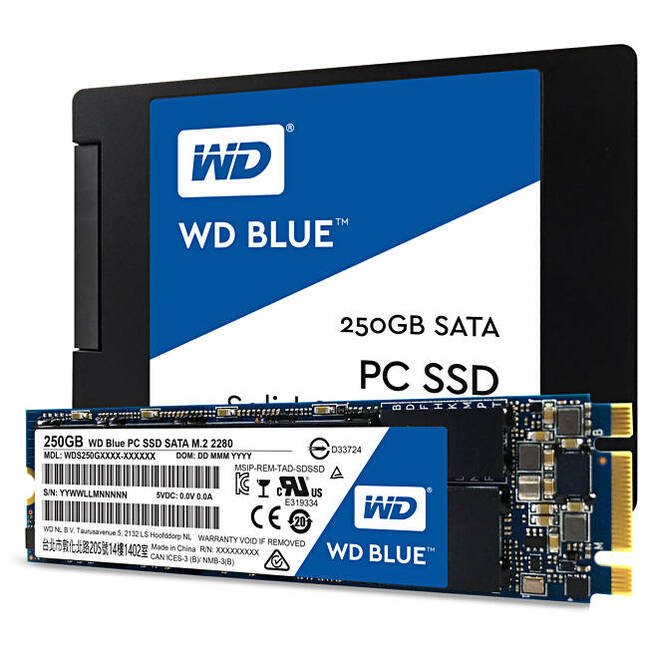 Both Blue and Green SSDs use the 6Gbit/s SATA interface. They come in 2.5-inch and M.2 form factors. The Blue SSD holds 250GB, 500GB or 1TB of data, using 15nm TLC (3bits/cell) NAND with a faster SLC cache.
The Green SSD, clearly an entry-level SSD product, is available with 120GB and 240GB capacities and, we understand, uses the same TLC NAND with an SLC cache. Both Blue and Green drives have an up to 1.75mn hours MTTF rating.
WD's HGST unit had no SATA SSDs before the SanDisk acquisition, focusing on its SAS enterprise drives. Are these developments of the acquired SanDisk's X300/X400/Z400 SATA SSDs? The Blue could be the X400 follow-on, with the Green playing the same role for the Z410, which is an SLC cache/TLC device.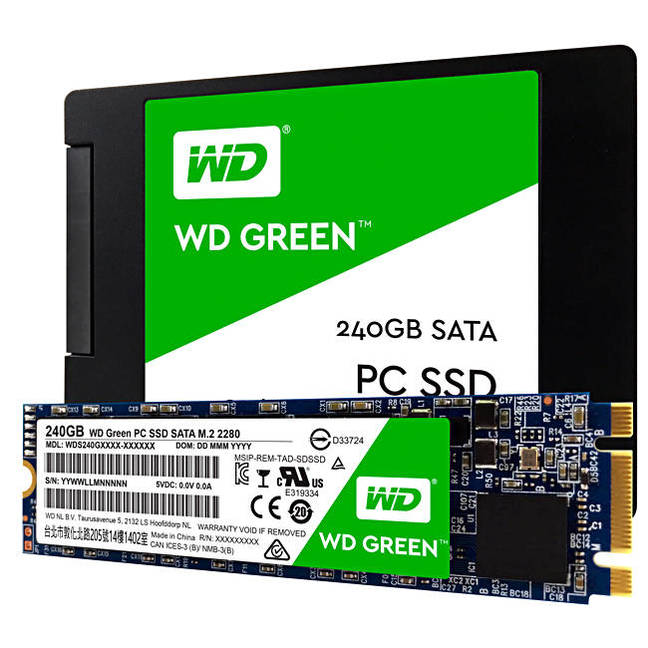 Both Blue and Green SSDs have a three-year limited warranty and come with WD's Dashboard drive monitoring software. WD Green SSDs will be available later this quarter while Blue drives are available now. A 2.5-inch 240GB Green SSD will set you back £70 in the UK with the M.2 product costing £75. A 2.5-inch 250GB Blue SSD is $79.99 (£85.00) with the M.2 product priced at $89.99 (£95.00). The 1TB Blues are $299.99 (2.5) and $319.99 (M.2). ®