Just minding your own business, doing HCI. Suddenly you're inside ... a magic quadrant
HPE leads - at least in Gartner mages' estimation
---
Gartner's gnomic gurus have shone their light on the hyper-converged/integrated system suppliers and devised a new magic quadrant, following on from its August 2015 effort.
SimpliVity gets the big promotion, from a visionary last year to a leader this year. The other changes are:
HPE jumps to the front of the leaders,
Lenovo gets a demotion - from challenger to niche player,
Teradata and Hitachi get promoted from niche players to challengers,
In the niche players box, IBM, Gridstore, and Nimboxx are ejected,
Ironically, Dell gets moved from niche player to visionary but, of course, now owns EMC,
SGI and Pivot3 move from niche player to visionary,
Atlantis, Atos (with Bull HW) and Riverbed enter as niche players.
For Gartner, "Integrated systems are combinations of server, storage and network infrastructure, sold with management software that facilitates the provisioning and management of the combined unit."
It sub-divides the general category into:
Integrated Stack Systems (ISS) - think Oracle Exadata Database Machine,
Hyper-converged Integrated Systems (HCIS) - think Nutanix,
Integrated Infrastructure Systems (IIS) - think VCE Vbnlock,
Integrated Reference Architectures (IRS) - think Flexpod.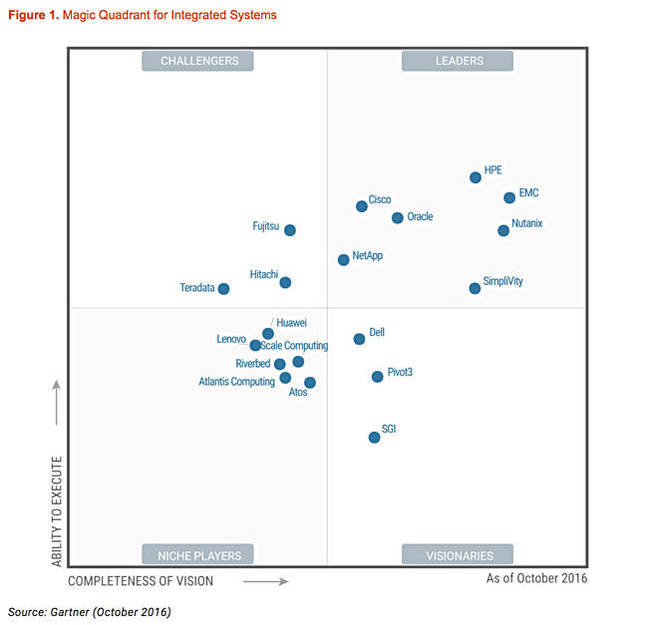 Gartner magic quadrant for integrated systems, October 2016.
The Gartnerites declare: "By 2019, approximately 30 per cent of the global storage array capacity installed in enterprise data centers will be deployed on software-defined storage (SDS) or hyperconverged integrated system (HCIS) architectures based on x86 hardware systems, up from less than 5 per cent today."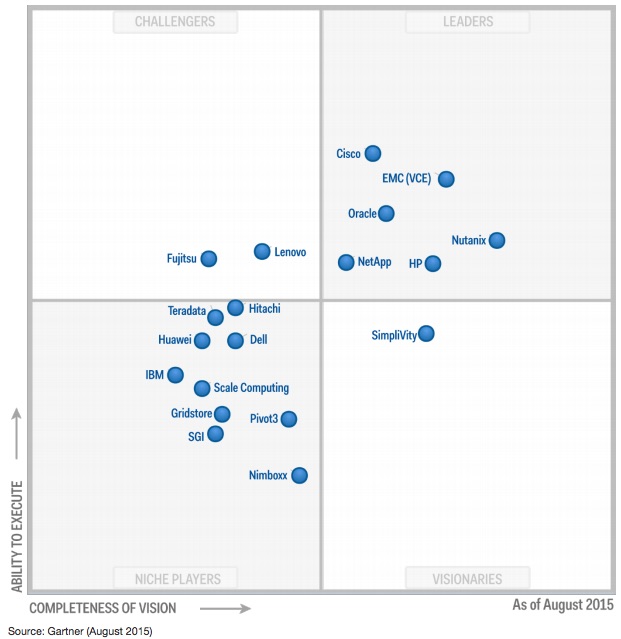 Gartner magic quadrant for integrated systems, August 2015.
The past year has seen a lot of activity in the space and the next 12 months should see more as the market matures. Already the established and incumbent vendors dominate, with Nutanix and SimpliVity playing their technology hands well and having places in the leaders' square.
To get your own copy of the report summary, courtesy of SimpliVity, click here and register. ®