Barracuda can smile as another solid quarter's work, the appliance of cloud science as we might say, brings in revenue growth and profits.
Total revenue for the cloud-using, data protection and security business grew 12 per cent year-over-year to $87.9m, compared to the estimated $81m at the end of the last quarter. Revenues were $78.4m a year ago. There was a $2.4m profit, which contrasts very nicely with a $2.2mn loss a year ago.
Subscription revenue grew to $66.9m, up 19 per cent from the year-ago $56.1m, representing 76 per cent of total revenue. Appliance revenue was $21.0m, down 5.6 per cent from the $22.3m reported a year ago, but 14.3 per cent lower than the previous quarter's $2.8m.
Other details:
Gross billings were $100.3m, compared with $98.4m 12 months prior,
The number of active subscribers grew approximately 14 per cent to over 298,000,
The dollar-based renewal rate was 96 per cent for the quarter.
CEO and president BJ Jenkins said: "We believe Barracuda is well positioned to build on our momentum and be a market leader in our targeted focus areas as customers look to adopt new application and network deployment models and move workloads to the cloud."
William Blair analyst Jason Ader summed up the results like this: "Strength on the quarter was driven by demand for the company's public cloud subscriptions while seeing stabilization in demand for appliances where revenue declined by only 5.6 per cent year-over-year. In our view, Barracuda is doing a good job executing against its plan to transform itself into a cloud provider of security and storage solutions while still sustaining its appliance business."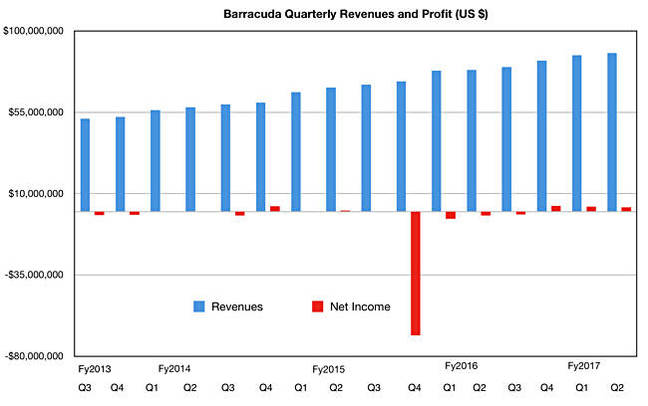 Barracuda revenues and net income to Q2 fiscal 2017.
Ader pointed out Barracuda's success with new products to protect customers that are migrating to Office 365 and Microsoft Azure as well as Amazon Web Services, with now over 40 global 1000 customers using its products and close to 1,000 public cloud customers in total.
He says Barracuda "is in the early stages of executing against its three-pronged strategic plan to reposition the company toward a broader shift to third-party cloud infrastructure and managed security service providers. While we believe the company is taking the right steps to position itself for the transition, a significant portion of the legacy on-premise business will continue to face headwinds as the transition to Office 365 and public cloud providers accelerates."
It's Ader's belief that the legacy email appliance will largely transition to the cloud over time. Barracuda is set fair and as long as warm and friendly trade winds blow the good ship Barracuda should scud along. ®
Similar topics