Fujitsu's second-generation all-flash ETERNUS arrays are poised, priced and positioned to replace disk storage arrays in serving primary data to servers, it says.
Fujitsu's first generation flash arrays, the DX 200 S3 and the earlier DX600 S3* are being succeeded by the ETERNUS AF250 and AF650.
The top-of-the-range 5U AF650 has up to 256GB system memory and up to 96 SSDs, providing capacities of 368TB raw, 1843TB effective, assuming a 5:1 data reduction ratio. The entry-level F250 has 64GB of DRAM, 2 to 24 SSD drives with 92TB raw / 460TB effective capacity.
Think of the AF650 as the enterprise system and the compact 2U AF250 as the small/medium business box. Both can run VDI, database and other heavy application workloads and are Fujitsu's fastest-ever storage arrays.
Both work with and alongside existing disk-based ETERNUS DX arrays.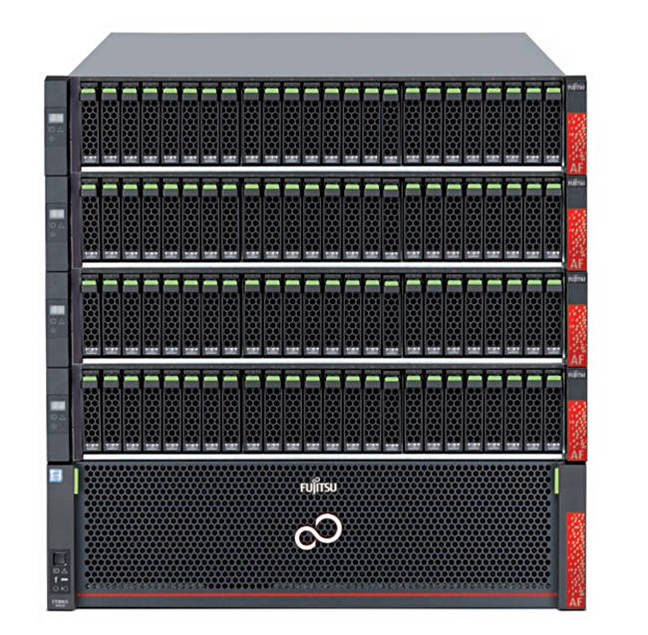 ETERNUS AF650
Two types of SSD are supported; eMLC (2bits/cell) with capacities from 400GB to 3.84TB and, in the future, TLC (3bits/cell) drives with 8TB and 16TB capacity. These will store more data, of course, but probably be slower than the eMLC drives.
Host access is via 16Gbit/s Fibre Channel and/or 10GbitE.
The new arrays feature:
Thin provisioning
Automated Quality of Service at per-application level
Non-stop operation via mirroring, clustering and transparent failover
Deduplication and compression at a per-volume level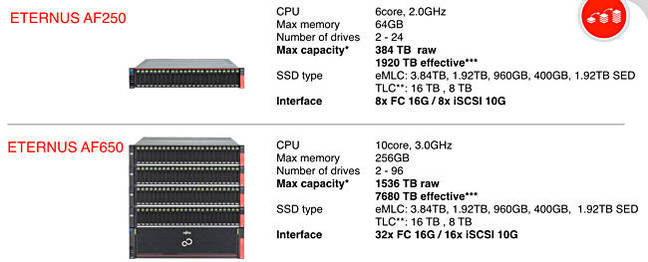 Data reduction can be switched off for high-performance volumes and on for capacity-focussed volumes.
We understand an AF250 can deliver around 350,000 IOPS with a sub 0.2ms latency. The AF650 can push out around 750,000 IOPS at the same latency.
The prior DX 200 S3 and DX 600 S3 claimed SPC-1 performance benchmark records. We wouldn't be surprised if the AF250 and AF650 did likewise.
Get an AF250 datasheet here and one for the AF650 here.
Both the AF250 and AF650 are available to order, with first shipments expected in late October. Pricing varies according to country and configuration. ®
* Hybrid DX200s and DX600s are remaining in the Fujitsu portfolio.