This article is more than 1 year old
Apple's car is driving nowhere
It's harder than Silicon Valley thinks
Is Silicon Valley "disrupting" the car industry – or is the car "disrupting" Silicon Valley? It might be the latter; after Google's car struggles comes further news of Apple's ailing auto project.
Apple has lost "hundreds" of staff from Project Titan, its car initiative, Bloomberg reports in a scathing update on the work.
It's no secret that after teasing the press for two years, Apple scaled back its work, from an Apple-branded or co-branded vehicle to a more modest bunch of software for cars.
Two rounds of layoffs on the project resulted in redundancies and reallocations running into the hundreds. "Several hundred hardware engineers working on car chassis, suspensions, and undercarriages," were moved on (or out) in addition to working on an Apple OS for cars. After the cuts, the project now has about 1,000 staff, Bloomberg suggests, and a final decision has yet to be made on what to do with it.
Last month it emerged that Google's not-at-all-sinister self-driving clown car has fallen behind less ambitious rivals. Google had a head start of four years over Apple, but now it's run into trouble. The reason? Google hates humans and sought to eliminate them to completely to produce a completely autonomous ride, which was too ambitious to be realistic.
"There are already methods to make self-driving cars good, rather than perfect", Bloomberg noted.
That may never be achieved.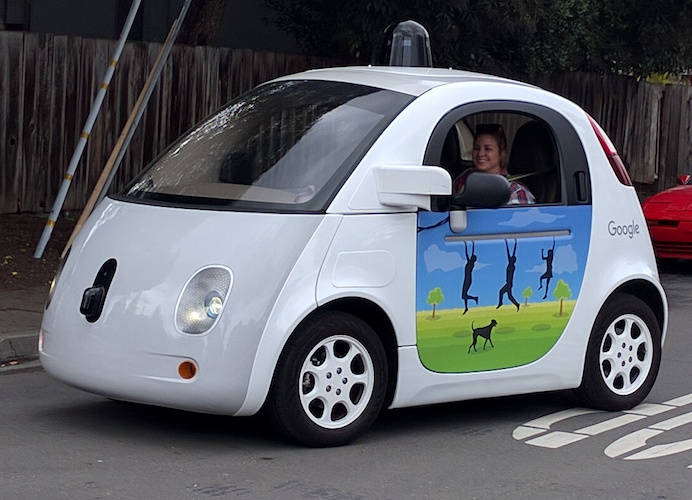 Credit: Grendelkhan
Even with Tesla's achievements, it's hard to see what Silicon Valley companies can add to the mass market. What Silicon Valley does is software-at-scale, replaces boutique proprietary hardware. (Here's a list of everyday gadgets that the smartphone replaced). When it comes to the key factors that car buyers look for – reliability, performance and comfort – traditional automakers have the advantage in all these areas over an upstart. There may be some value in a common car OS, but it's far outweighed by the others.
Of course, new technologies may still "disrupt" road freight in a significant way, with motorway slow lanes essentially becoming rail-less freight lines for autonomous trolleys. But Silicon Valley's arrogant assumption that just because something has a chip in it, it is going to conquer it, is a result of groupthink, and seriously needs to be questioned. ®