Caringo has updated its Swarm object storage software and will flog the code on appliances based on Dell PowerEdge servers.
Deployments of Caringo's object storage is used for applications such as bulk storage, analytics, archiving, backup, cloud storage and content distribution. The software provides NFS, SMB, S3, HDFS and Rest APIs for native object storage access methods to data.
Swarm 9 is the latest release of Caringo's software. It has an NFS protocol converter and the OEM hardware platform in addition to its availability in software-only form. The software features:
Enhanced GUI with hardware and content management aspects
Reporting and trends for storage usage and system performance
Metadata annotations and searching enhancements
Quotas for content storage and bandwidth usage
Encryption at rest (AES-256 and whole disk encryption)
From the hardware point of view, the GUI features:
HTML5 responsive design – use from anywhere: desktop, laptop, tablet, and phone
Dashboard for at-a-glance health overview
Trend reports for capacity planning
All dynamic settings changeable through UI without requiring SNMP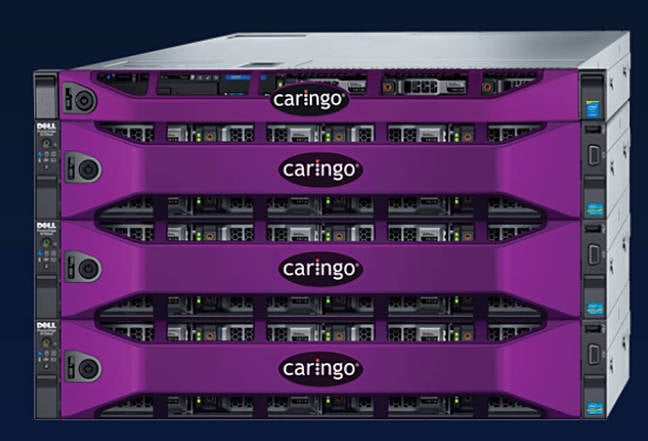 Swarm servers
The content management features:
Delegation and self-service with RBAC
Collections can become NFS shares
Data protection policy management

Replication/Erasure Coding
Versioning

Quotas for tenant, domain, and bucket

Storage: logical or raw
Bandwidth
Data is managed through creation to expiration via administrator-defined policies called Lifepoints, which are stored as metadata that automatically manages the number of replicas, erasure-coding scheme, and deletion.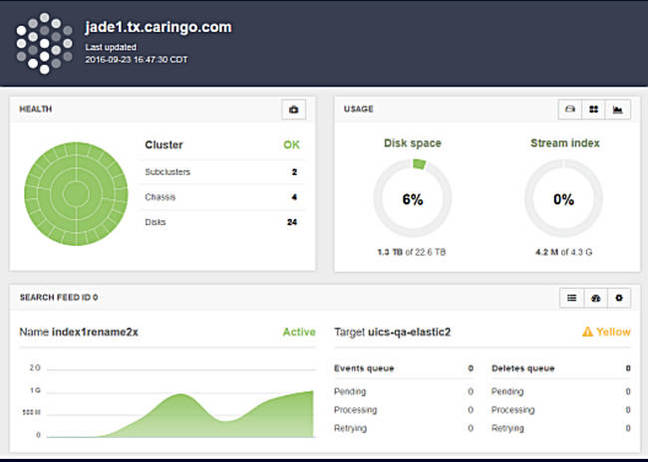 GUI section on hardware screenshot
There can be metadata annotations, made without modifying the reference object, and these are searchable through the SCSP API.
The company says Swarm Servers are a fully-supported hardware and software system starting at 288TB and scaling linearly in 96TB increments (just add another S-Series server) to hundreds of petabytes of capacity with a pay-as-you-grow pricing scheme.
The system includes M-Series Management Servers and S-Series Storage Servers. The M-Series is a 1U, rack-mountable appliance with a Dell PowerEdge R630 inside it. It has a Xeon E5-2695v4 processor with 18 cores, 128GB DDR4 DRAM, 8 x 1TB, 7,200rpm SAS disk drives, 2 x 10GbitE data access ports and a 1GbitE management port. VMware's ESXi is booted off an internal SD module.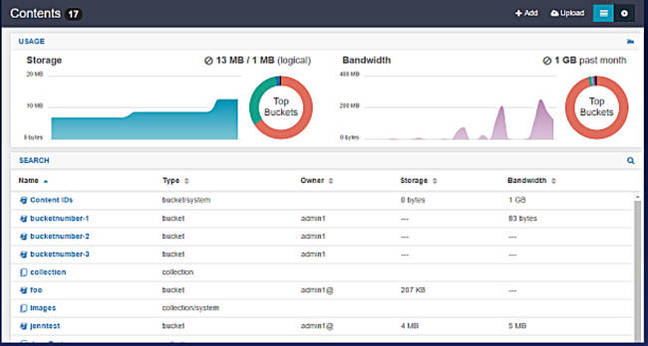 Content section of GUI
The management software is Swarm VMware APP, with a vCenter Server Appliance and ESXi 6.0U2. There is a scale-out, stateless NFS protocol converter for high performance and high availability.
The 2U, rackmount, S-3000 Storage Servers use a PowerEdge R730xd platform, with CPU, memory and network resources, plus 96TB capacity. The CPU resource is 2 x Xeon E5-2640v4 10 core processors; 20 cores total, plus 128GB DDR4 DRAM and 12 x 8TB, 7,200rpm SAS disk drives. There are 2 ports of 10GbitE (Intel x540) for data access and a 1GbitE management port.
Both M-Series and S-Series have a serious amount of processing power.
Capacity can be expanded with E-Series expansion trays or by adding S-Series boxes.
There have been hundreds of Swarm software deployments on PowerEdge servers, so Caringo is confident the hardware will do the business. We're told enterprise-class 24x7 on-site hardware support is provided by the Caringo and Dell support organizations working as one team.
Swarm 9 is available now. Pricing for the M1000 is $20,000, and the S3000 is $48,000. Both include 3 years of hardware and software support and maintenance.
Swarm Servers will be available from Caringo, its global channel, Dell Direct or Dell's channel. That means one more object storage product is available from Dell EMC on top of the EMC products, such as the long-standing Centera, Atmos, and ECS. Let a million object flowers bloom seems to be the idea here, for the time being anyway. ®
Sponsored: Webcast: Discover and secure all of your attack surface