+Comment Primary Data is providing file services for VSAN and its block-based storage.
VSAN is VMware's virtual SAN software, which aggregates storage on connected servers to provide a virtual shared block storage array. It is used in many hyper-converged infrastructure appliance (HCIS) systems, such as Dell EMC's VxRail. Primary Data's DataSphere software product provides a unified storage abstraction layer across multiple silos - direct-attached, network-attached, private and public cloud storage.
It says DataSphere gives VSAN added scale-out file-serving (NAS) capabilities so a VSAN-based HCIA can also be a scale-out NAS, converging block and file access. Customers no longer need a separate filer. Primary Data states competing products offer file services on VSAN, but are limited to two nodes, instead of the entire 64-node VMware vCenter Server cluster - meaning much larger file data sets can be supported.
The combined offering means that file-based workloads could be migrated to VSAN-based HCIAs, enlarging the scope of their applicability.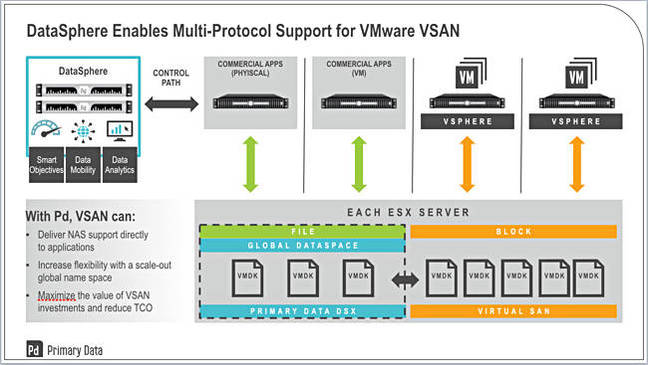 +Comment
The HCIA VSAN-using nodes processors will now be processing applications, VSAN block storage and DataSphere file storage, meaning the computing resource is split three ways, thus somewhat limiting the performance available to each resource. It would be unrealistic, for example, to imagine a DataSphere VSAN could replace a high-performance scale-out Isilon filer.
It will probably be a good idea to carefully test out mixed file and block-based workloads on a proposed HCIA/filer combo before committing to it.
The DataSphere platform is now available from Primary Data and its reseller partners. Pricing is in the low $100Ks. Contact sales@primarydata.com to arrange a free consultation and software trial. ®