This article is more than 1 year old
Cheapest Apple iPhone 7's flash memory is waaaaay slower than pricier model
Your donation is insufficient. Please buy again
Apple is silently stiffing customers who don't spend enough on the latest iPhones.
For the past few years, the cheapest new iPhone model had a storage capacity of 8GB, then 16GB, which in practice meant just over 12GB available if you include the bundled software. This meant there was insufficient space to perform an update comfortably.
"Essentially you will have to delete half your [typical] content in order to make space for the iOS 8 download," MacWorld noted two years ago.
For this year's iPhone 7 and iPhone 7 Plus, how could Apple quietly wallop cheapskates?
Blogger Lewis Hilsentenger has the answer. The more expensive iPhone 7's flash memory is up to eight times faster than the slowest model. The read speed for the 256GB model is 856MB/s to the 32GB model's 686MB/s. But write speeds are far slower on the entry-level iPhone 7. The 32GB iPhone 7 writes data at 42MB/s while the 256GB writes at 341MB/s.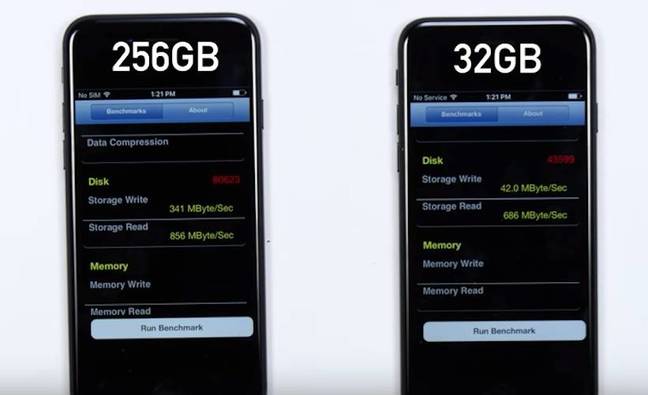 Race ... Hilsentenger's benchmark findings
iFixit's teardown of the iPhone 7 reveals that its 32GB flash part is made by SK Hynix. Apple may use different modules in different markets. The Cupertino idiot-tax operation is the world's biggest buyer of flash memory, and has used slower parts before, as KBench found in 2014.
Crucially, the difference in flash access speeds is not advertised by Apple; buyers are kept in the dark. It's a little detail the iGiant would rather you didn't know.
Having said that, the difference may not always be noticeable. Even writing 4K video requires less bandwidth than the maximum throughput of the 32GB flash in the iPhone 7. The read-write speeds for 32GB and 256GB are likely to be good enough for most mobile applications.
The eightfold speed difference is probably due to the 256GB model using eight blobs of 32GB of flash in parallel. That's very convenient for Apple. That design decision means that for the fastest storage memory, you have to make a larger donation to the Temple of Apple. Your pennies will not do. ®