Cisco is updating its storage networking gear to hopefully improve data protection, increase bandwidth and simplify end-to-end storage management.
Away from the storage industry hype around hyper-converged infrastructure, NVMe over fabrics and persistent memory, the legacy SAN area still has room for incremental improvements. Cisco's news comprises:
MDS Directors with integrated FCIP (Fiber Channel over Internet Protocol) for, Cisco claims, better disaster recovery and business continuance.
Nexus 9000-series storage networking switches with 100/50/25GbitE connectivity.
A Data Center Network Manager (DCNM) upgrade with end-to-end storage provisioning.
MDS and FCIP
FCIP is used to link Fiber Channel SANs across long distances – campus distance or further. That way a remote SAN can back up a local one for disaster recovery/business continuance (DR/BC) needs, for example.
Cisco has a new SAN Extension Module with 24 x 16Gbit/s Fiber Channel ports, 8 x 1/10GbitE ports and 2 x 40GbitE ports.
This box is backwards-compatible with the previous, fifth generation, Cisco FCIP gear. High-end MDS 9700 directors can use the module to link with another MDS 9700 across metropolitan and wide-area distances for DR/BC, with Fiber Channel and FCoE protocols being used.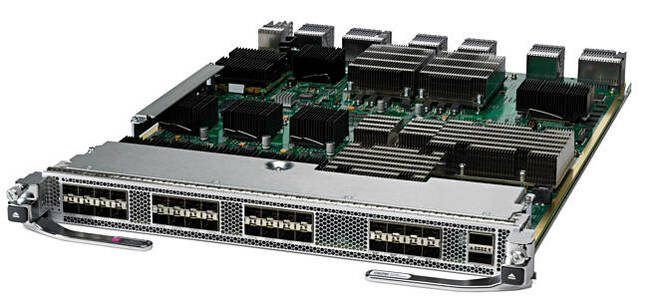 SAN extension module
Previously, FCIP services were only offered on the Cisco MDS 9250i.
FCoE and FCIP
Cisco says it's protocol-agnostic, offering a selection of FC, FCoE, FICON, FCIP and IP-based storage connectivity options, so customers can select the optimal choice for their environment.
Against that background the Nexus 9300 and 9500 switches support Fibre Channel over Ethernet (FCoE). This is being extended to the 9200 and 9300-EX products. The 9200 gets 10/25/40/100GbitE support, while the 9300-EX gets 1/10/25GbitE support.
Cisco says this raises the bar on LAN/SAN convergence, enabling the consolidation of LAN and SAN into a single high-performance network over lossless Ethernet, and reduces costs for server network adapters, cables, and switches while improving operational agility.
We can't see this significantly enhancing FCoE adoption.
The Nexus 9000 series products can operate in Cisco NX-OS or Application Centric Infrastructure (ACI) mode.
Management
Cisco says its DCNM product is a unified SAN and LAN management product, looking after MDS and Nexus products. The latest 10.1(x) version has FCIP integration via line card support, a stepped wizard in the Web Client and visualized FCIP performance.
In more detail:
Support for the new 9700 FCIP Line card
Storage provisioning and assignment from within DCNM
FICON management enhancements (RNID visualization)
FCIP configuration in the Web UI
Smart Zoning support in the Web UI
End of life and end of support reporting within DCNM
Slow Drain Analysis enhancements with scheduling and automated reporting
Topology enhancements in the Web UI
Simplified installation and deployment
We're told this enables customers to implement, visualize and manage end-to-end LAN/SAN and storage devices/arrays.
Cisco senior marketing manager Tony Antony blogs on all this new stuff here. The MDS SAN Extension Module's two ports of 40GbitE FCIP capability will be available in FY17. ®