This article is more than 1 year old
Acronis: Yep, we're using blockchain for backup now
Blockchain timestamped hashing fraud check
Acronis's Storage software product for businesses and service providers uses blockchain technology to prove data has not been altered.
Acronis, known for its backup software, uses the Storage product in its own cloud infrastructure, which has 12 data centres around the globe, protecting over 50PB of hot and cold data for more than 125,000 devices. It's claimed to take five minutes to install and 14 clicks to configure, and "can be installed and managed even by those without any system administration experience."
Acronis Storage forms part of a suite of software products for service providers, together with Acronis Backup, Acronis Disaster Recovery, Acronis Files Cloud, and Monitoring.
The product is claimed to be five times faster than Ceph and has up to 55 per cent lower TCO. It runs on clustered, heterogeneous, commodity-off-the shelf hardware, has file and block access support, and will support objects in a future release.
It features SSD caching, load balancing, auto data distribution, and parallel replication. Acronis says it has "a complete set of industry standard storage connectivity and APIs including Amazon S3 and iSCSI."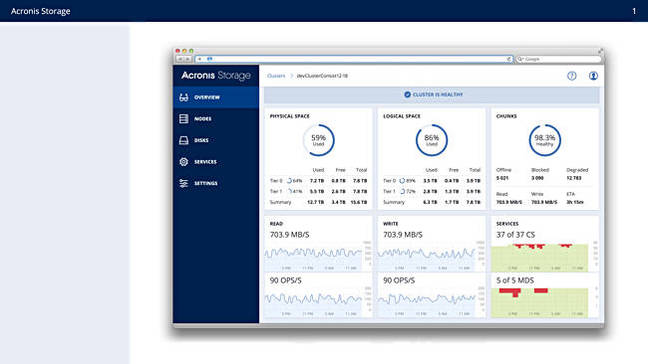 Acronis Storage management GUI
A CloudRAID function uses erasure-coding technology to protect data and has configurable levels of redundancy.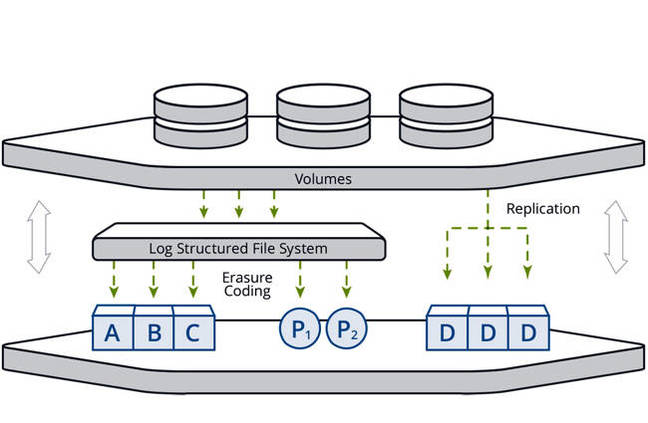 Acronis CloudRAID diagram
The Notary product feature is the first to use blockchain-based data authentication to provide indisputable proof that stored object data has not been modified. Blockchain offers immutable validation with logging and watermarking.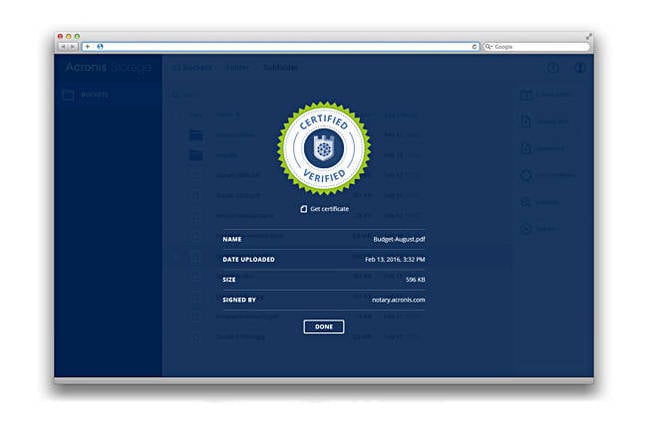 Acronis Notary certifies a file
Acronis was reported as checking out Blockchain technology in May. It says Notary generates a time-stamped hash, or fingerprint, of protected data and stores it in digital currency house Ethereum, a public blockchain-based distributed computing platform. By comparing two fingerprints of the same data, Acronis Storage is able to verify immutability, authenticity, and integrity of stored data. Regrettably the DAO part of the Ethereum ecosystem suffered a hack in June, but the underlying Ethereum system itself has never been hacked.
Here is a notarisation demo.
The product is available now but we have no information on pricing. ®