This article is more than 1 year old
Gartner's seers pass judgement on storage industry leaders
Quadrantic magicians do their square rating thingy
Gartner has published a distributed file systems and object storage magic quadrant with the top three suppliers being Dell EMC, followed by IBM and Scality.
The research consultancy defines distributed file systems and object storage as "software and hardware solutions that offer object and/or scale-out file technology to address requirements for unstructured data growth and based on 'shared nothing architecture'."
We're going to assume you are aware of the Magic Quadrant's 4-box structure and 4-way supplier classification, and will move on to the meat of the MQ.
Apart from the top three, there are no other entrants in the Leaders' box. Hitachi Data Systems is the only challenger and Red Hat and SwiftStack the only visionaries.
Just over half of the suppliers in this MQ, seven of them, are in the Niche Players quadrant; NetApp in pole position, followed by Cloudian, DDN, SUSE, Caringo, Panasas and finally Huawei.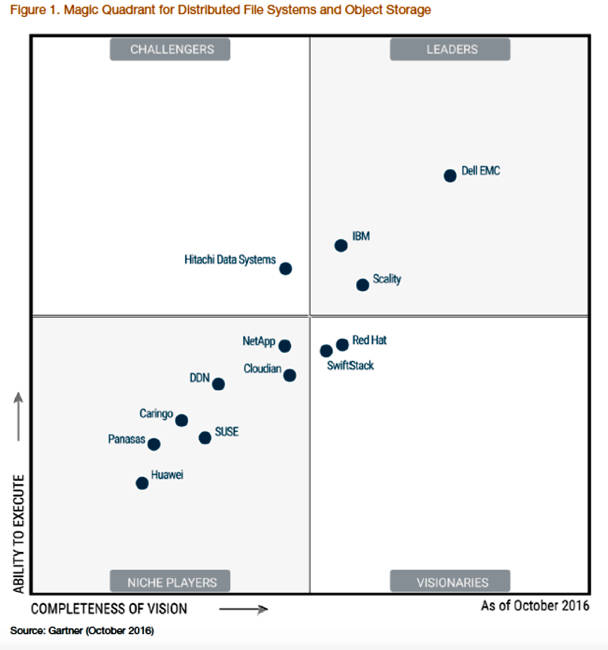 Much of the interest in MQs comes from Gartner's assessments of the supplier's strengths and weaknesses, termed "Cautions". These are conveniently bullet-pointed so we can present a listicle to you: 13 suppliers strengths and weaknesses – sorry, cautions. Enjoy.
Caringo
Strengths

Caringo Swarm is a mature object storage system that delivers competitive security and compliance features, including legal hold and WORM capabilities, to ensure data immutability.
The pricing of Caringo Swarm is all-inclusive, competitive and flexible. Caringo offers both a capacity-based perpetual licensing model as well as subscription-based licensing with the option of small, incremental additions of capacity.
Caringo's FileFly software, based on an OEM offering from Moonwalk, provides a simple and non-disruptive way to migrate older files from existing NetApp and Windows systems, while maintaining metadata and ownership rights.

Cautions

Caringo is a privately held company that is yet to be profitable. Moreover, it has largely been self-funded in the past several years, which has limited its ability to aggressively invest in its business.
Caringo has a weak partnership with server OEMs that limits its enterprise appeal due to a lack of wide reference architectures and integrated support from hardware vendors.
While Caringo has been in existence for more than a decade, its deployments tend to be smaller in size by capacity when compared to many of its peers.
Cloudian
Strengths

HyperStore maintains closer compatibility with the Amazon S3 API than much of its competition.
Cloudian's multi-tenancy and quality of service features resonate well with large enterprises and CSPs.
HyperStore appliances provide robust, modular, high-density and resilient hardware options for a wide range of end-user capacities.

Cautions

Gartner clients outside of Japan and the U.S. are rarely evaluating HyperStore due to Cloudian's limited market traction outside of those geographies.
Cloudian's marketing efforts are, in some cases, ahead of the reality of HyperStore's success in terms of traction in the market, size of deployments and level of S3 API compatibility.
A cornerstone of Cloudian's vision includes hybrid cloud storage capabilities that involve data tiering to public cloud services such as Amazon S3, but the market adoption of such features is negligibly low.
The second caution point is a phrasing gem. Other, harsher judges might well have phrased it using much more basic language, perhaps referring to the rear outpourings of male bovines.
DDN – DataDirect Networks
Strengths

DDN has a heritage in the HPC market and the resources in place to serve these customers well with WOS.
Enterprises can select from a variety of WOS hardware and software deployment options that suits infrastructure, cost and management preferences.
DDN offers seamless integration between WOS and its parallel file system appliances, GRIDScaler and EXAScaler, for handling warm and cold datasets between these environments transparently.

Cautions

WOS prioritises performance over security features, and lacks server-side encryption and HTTP authentication.
WOS's S3 API compatibility, which uses Apache HBase, is implemented on an architecture that does not scale well beyond a single site.
Some reference customers that currently use WOS rated DDN poorly in terms of delivering on sales promises in addition to solving challenges with respect to deploying and operating complex WOS-based infrastructures.
Dell EMC
This concerns the Isilon and Elastic Cloud Storage (ECS)products.
Strengths

Isilon continues to grow enterprise adoption from traditional file system support to additional use cases, including video surveillance, big data analytics, backup and active archive.
ECS has a proven track record of large production deployments across a variety of enterprises and is becoming an attractive price/performance platform for a variety of end users, including CSPs.
End users looking to build a platform for unstructured data applications will find Dell EMC's broad portfolio of products, aggressive pricing, and new deployment and consumption models (such as software-only purchases, leasing, subscription and utility-based pricing) attractive.

Cautions

End users may feel the impact of sales or support changes as, post-acquisition, Dell Technologies (which has acquired EMC) might pivot sales strategies, support offerings and R&D priorities for Dell EMC products.
The current version of Isilon OneFS is not flash-optimised, and is not suited for small files and metadata-intensive workloads with low-latency requirements.
Based on client inquiries, comparatively high ECS acquisition costs cause some Gartner clients to explore lower-cost object storage alternatives.
The second caution is pretty much negated by the recent announcement of the Isilon All-Flash system.
Hitachi Data Systems
Strengths

HCP is a stable product supported by consistently positive marks by customers in terms of reliability.
HCP has a large number of object storage customers across a diverse set of industries and workloads, offering enterprises a wide assortment of ISV applications and reference customers.
Enterprises with requirements to provide mobile access to data and to support remote offices underpinned by an object storage platform can acquire these combined solutions from a single vendor, rather than deal with multiple vendors that "meet in the market".

Cautions

The average capacity of an HCP deployment and amount of data stored tend to be smaller than the Leaders in this Magic Quadrant. Gartner clients are not reflexively looking to HDS to solve the challenges related to managing petabyte-scale unstructured data with HCP.
HDS does not serve the distributed file system segment of the market well and is significantly behind the Leaders in terms of capabilities in this area.
HCP doesn't have mind share among developers building modern, Mode 2 applications. In contrast, HCP is largely perceived as being ideal for Mode 1 workloads consisting of archiving and regulatory compliance.
Huawei
Strengths

The OceanStor 9000's highlights are high scalability and resilience, supporting up to 100PB of storage on up to 288 nodes based on a symmetrical distributed architecture.
The OceanStor 9000 is particularly suitable for enterprises in the Asia/Pacific region as Huawei has expanded its presence and witnessed a triple-digit increase in its year-over-year revenue.
The OceanStor 9000 is well-suited for video surveillance, media workflow and media asset management use cases.

Cautions

Huawei's long-term storage product roadmap remains uncertain for enterprise IT buyers. This has included its recent decision to discontinue its OceanStor UDS, Huawei's dedicated object storage product line that has struggled to gain traction.
Huawei's service, support and reseller network for storage products continues to be weak in the North American market, where it still struggles to grow its market share due to geopolitical and brand perception issues.
The OceanStor 9000 object protocol is less mature than file as the majority of its existing end users are only utilising the file protocol portion of the unified storage product.
IBM
Thus concerns Spectrum Scale and Cloud Object Storage, the acquired Cleversafe technology.
Strengths

IBM Spectrum Scale and IBM Cloud Object Storage are mature products with flexible deployment options and hundreds of PB-scale customers.
IBM Cloud Object Storage delivers a differentiated way to secure data at rest. It's all or nothing (AONT) encryption is integrated with its information dispersal algorithm to lower the potential for data breaches, and it obviates the need for external key management.
IBM Spectrum Scale delivers competitive throughput performance for both small and large files; provides broad support for interfaces, including NFS, SMB, REST (S3, Swift) and HDFS; and can tier data to Amazon S3 and the IBM Cloud Object Storage.

Cautions

The IBM Cloud Object Storage product lacks native support for file access and needs third-party tools to enable it.
Based on Gartner client feedback, IBM Spectrum Scale's licensing is difficult to understand with several editions of the software that are licensed on a per-socket basis with a mix of different license types (server, client and File Placement Optimizer [FPO] licenses), based on the role performed by the node.
Cleversafe was acquired by the SoftLayer division of IBM. This may result in future product development priorities for IBM Cloud Object Storage to be more closely aligned to the needs of SoftLayer than that of enterprise IT.
NetApp
Strengths

NetApp has a mature service and support infrastructure, and a presence in 100 countries worldwide.
The new StorageGRID Webscale product has been redesigned to improve metadata handling, such as scalability and resilience.
StorageGRID Webscale has unique identity and access management (IAM) capabilities that mimic those of AWS, resulting in a seamless transition between public cloud and on-premises object storage environments.

Cautions

Substantial parts of StorageGRID Webscale have been rewritten and are currently lacking large scale reference customers.
StorageGRID Webscale lacks integration with the NetApp Ontap product line to provide enterprises with a unified distributed file and object storage experience.
StorageGRID Webscale lacks a strategic focus within NetApp compared to its other products with significantly more market penetration, which impacts the resources allocated to develop StorageGrid and bring it to market.
Panasas
Strengths

Panasas is an established leader in the high-performance storage space, providing integrated hardware and software support with deep workflow integration with applications in industries such as life sciences, manufacturing, energy and the public sector.
ActiveStor supports multi-protocol access including NFS and SMB, as well as the vendor's proprietary protocol, Direct Flow, which enables high-performance parallel data access from clients to the storage system.
Due to its object-based file system architecture and distributed approach to erasure codes, Panasas is able to protect data at a file level, resulting in lower-capacity overheads and faster rebuilds.

Cautions

Panasas' historical focus on the lower-margin HPC market can impact its ability to scale investment in the highly competitive commercial scale-out NAS market.
Panasas delivers limited data services and has weak integration with horizontal ISVs in backup/ recovery and archiving space.
The ActiveStor product neither supports RESTful APIs on the front end nor does it support any kind of integrated cloud tiering.
Red Hat
This concerns Ceph and Gluster.
Strengths

Red Hat has strong enterprise pedigree with a proven commercial model for open-source software with a differentiated storage portfolio that is focused on bimodal requirements of enterprise IT.
The Ceph project has an active community of code committers and a growing ecosystem of OEM partners, such as Cisco, Dell, Fujitsu, SanDisk and Supermicro, that have built either reference architectures or appliances.
Red Hat Gluster Storage offers customers flexible deployment options – bare-metal install, virtual storage appliance on KVM, VMware hypervisors, AWS and Microsoft Azure public clouds, and as a Docker image. It can also be deployed as a hyper-converged appliance through third-party server OEMs.

Cautions

Ceph deployments often require a major effort from enterprise users, calling for careful instrumentation to optimise and fine-tune cluster performance and reliability for chosen hardware.
The Ceph Filesystem (Ceph FS) isn't mature enough to be deployed for production use cases in the enterprise due to limited data protection features. It is in a tech preview phase and only recommended for OpenStack file-as-a-service workloads.
Gartner client inquiries reveal confusion over the growing product overlap between Gluster and Ceph, further heightened by the recent announcement of Ceph FS.
Scality
Strengths

Scality has strong channel partnerships and OEM relationships with Dell and HPE.
Scality Ring provides a native unified (file and object) platform for enterprise customers.
Scality Ring is designed to provide good performance for small files, which allows it to target replacing traditional NAS for unstructured and semi-structured data.

Cautions

Customer sales and support experience in North America has been mixed due to high sales turnover and significant changes to Scality's workforce in 2015.
Scality Ring is not designed as a replacement for general-purpose NAS solutions, as it is not optimised for heavy metadata and random access workloads, and does not have all the features of enterprise NAS (snapshots, NFS v.4 support).
Scality is the largest independent distributed file system and object storage vendor that does not sell its solution as a pre-integrated hardware appliance; as a result, it is a potential acquisition target for a larger vendor seeking to add products and expertise focused on an emerging market.
SUSE
Strengths

SES is aggressively priced, based on nodes rather than capacity, and, as a result, customers can deploy cost-efficient object storage using commodity servers with densely configured disk storage.
SUSE is focused on making OpenStack more enterprise-consumable through efforts such as improving backup and recovery with Ceph.
SES may appeal to existing customers of SUSE Linux Enterprise (SLES), a frequently deployed operating system particularly for Mode 1 applications.

Cautions

The majority of SES deployments are in Europe, whereas the product has negligible adoption in North America, reflecting SUSE's recent entry in the market for enterprise storage and a lack of credibility in the space.
Few Gartner clients are considering SES for its object storage capabilities as most of SUSE's Ceph customers use the product primarily as block storage.
SUSE has ambitious plans with a forthcoming release that includes support for Ceph FS, which is largely considered to not be enterprise-ready by other upstream contributors to Ceph.
SwiftStack
Strengths

SwiftStack has developed significant capabilities to reduce the costs of implementing and operating an OpenStack Swift cluster.
Customers consistently rate SwiftStack highly for reliability, overall relationship with the vendor and satisfaction from the pre-sales phase to product deployment.
Despite being a comparably smaller company and salesforce, enterprises are beginning to consider SwiftStack alongside the other, more established vendors with much larger sales operations.

Cautions

Swift requires significant tuning to optimise performance for particular hardware and workloads, and this often limits the appeal of SwiftStack to enterprise buyers.
SwiftStack has focused much of its efforts on the Amazon S3 API due to the sheer size of the S3 ecosystem and the market opportunity, leaving its commitment to OpenStack Swift API origins in question.
The vendor has wide support for server and storage hardware that may result in support issues for configurations that are not commonly deployed or tested.
There we have it; Gartner's magic quadrant summation of 13 scale-out file storage and object storage vendors. It is still early days, in an enterprise sense, for deployments of such systems and we'll probably see substantial placement changes in the next edition of this MQ. ®