It isn't just feral estate agents who drape their cars with adverts. Reader James sent us this photo, which you may want to examine more closely if you're an enthusiastic Wikipedian.
The "London Biography Company" purports to boost your reputation on Wikipedia. On its website it claims clients are "FTSE100 CEOs, senior entrepreneurs and family offices".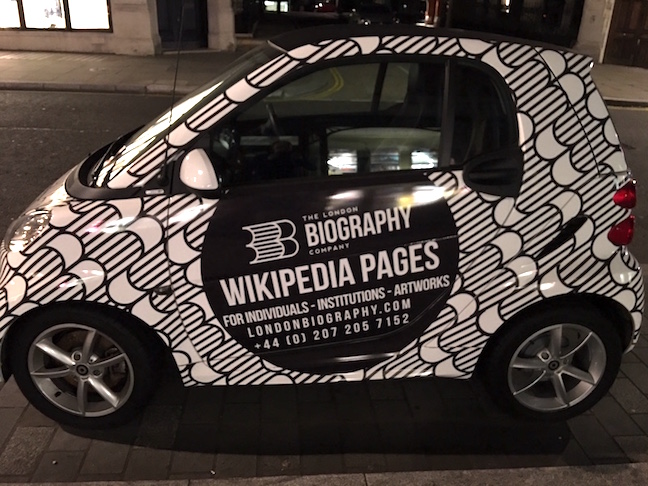 We rang the number advertised, and man identifying himself as Jason answered.
"I don't think anyone believes what I do is on the level, but it is," he told us. "For that reason I don't talk to the press."
Wikipedia frowns on paid or "conflict of interest" editing, but as the Financial Times found last year, it's big business. Any firm claiming to do reputation management that didn't fiddle with the Wiki should be thought to be remiss.
Nor is it surprising.
Although Wikipedia has raised over $240m through its relentless nagging - so much cash, in fact, it has been able to create an Endowment Fund. But it doesn't pay its hardest working editors and contributors a penny. So the incentives to do some moonlighting are overwhelming.
Demand: meet supply. ®