Did Apple leak a photo of its new Macbook Pro in an OS update? Our survey says: Yes
Hidden image of product unearthed in latest Sierra
---
Apple has stashed what looks like a photo of its new MacBook Pro – due to be announced this week – in the very latest macOS Sierra update.
Reg reader Richard Tobin tipped us off to the image's location; the file shows a person scanning their fingerprint for a Touch ID check with Apple Pay open, suggesting the print is used to authenticate the user for payments. The picture can be found in /System/Library/PrivateFrameworks/PassKitUI.framework/Versions/A/Resources/ApplePaySplashSA.tiff.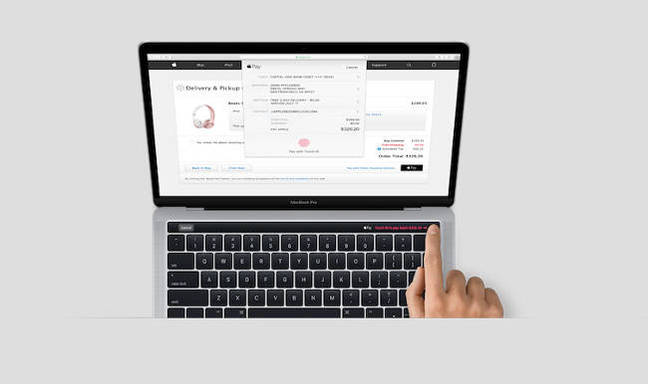 This (might be) the new Macbook Pro
The image shows a touchscreen panel above the keyboard on the Macbook Pro, something that has been rumored to be in the works for some time. This hardware is expected to be revealed this Thursday.
In addition to scanning fingerprints, the panel would be used as a secondary display to replace the function keys.
El Reg has asked Apple for comment, but for some reason, the Cupertino maker of iStuffs tends not to grant our requests for information. ®
Similar topics
Broader topics