This article is more than 1 year old
BlackBerry DTEK60: An elegant flagship for grown-ups
Shame about the name
Hands-on Review Available for order this week, BlackBerry's penultimate own-brand phone is a luxurious but light big sibling to its DTEK50. That was the first to marry a reference design, from TCL, to BlackBerry's own "hardened" Android. The DTEK60 – not a name that rolls off the tongue – also uses BlackBerry's Android, but aims for the boardroom rather than the shop floor. It's one of the year's nicer surprises.
The glass-backed (and therefore smudge-attractive) DTEK60 certainly looks the part. And sounds it, too: the deep bass from the front-firing stereo speakers makes the camera shutter notification sound like a car door closing. Everything about this says "well made". In fact, the DTEK ticks most of the boxes for a high-end Android – bar the boxes marked "waterproof" and "wireless charging". But to be fair, only Samsung's Galaxy S7s tick those boxes too, and at a steeper price.
The attraction here is security, and to a lesser extent, privacy. BlackBerry's version of Android doesn't include the more advanced BB10 features like Balance, which partitioned personal and enterprise apps and data. But after years of under-delivering on hardware, BlackBerry hasn't skimped where it matters.
For a large (5.5in display) phone, the DTEK60 is strikingly thin and light: the body is just 7mm (BlackBerry says 6.9mm) deep, weighing in at 165g. The rich colours of the (1440 x 2560) AMOLED display make it one of BlackBerry's best, with a PPI of 534. As with most flagships for late 2016, it includes a Snapdragon 820, and 4GB of RAM. The cameras are a 21MP main shooter capable of 4K video recording at 30fps, and an 8MP front camera. For BlackBerry's first Android phone a year ago, the Priv featured a measly 2MP front camera, resulting in poor, retro-style Skype or Hangouts calls. Clearly video conferencing is important to the white-collar crowd, and BlackBerry fixes it here.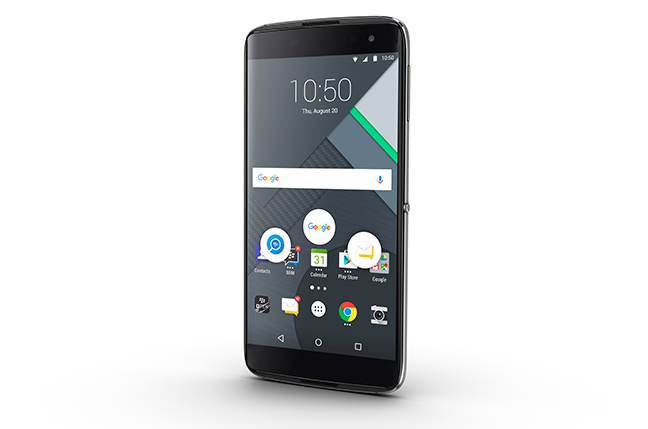 It's the first BlackBerry-branded phone to incorporate a fingerprint scanner – it's round the back, where Huawei and Google like it, and also the first to be charged by USB-C. Some tweaks are needed to make it as fast or reliable as Huawei's or Samsung's fingerprint scanners; it usually woke and unlocked the phone in a couple of goes, but that's one go too many.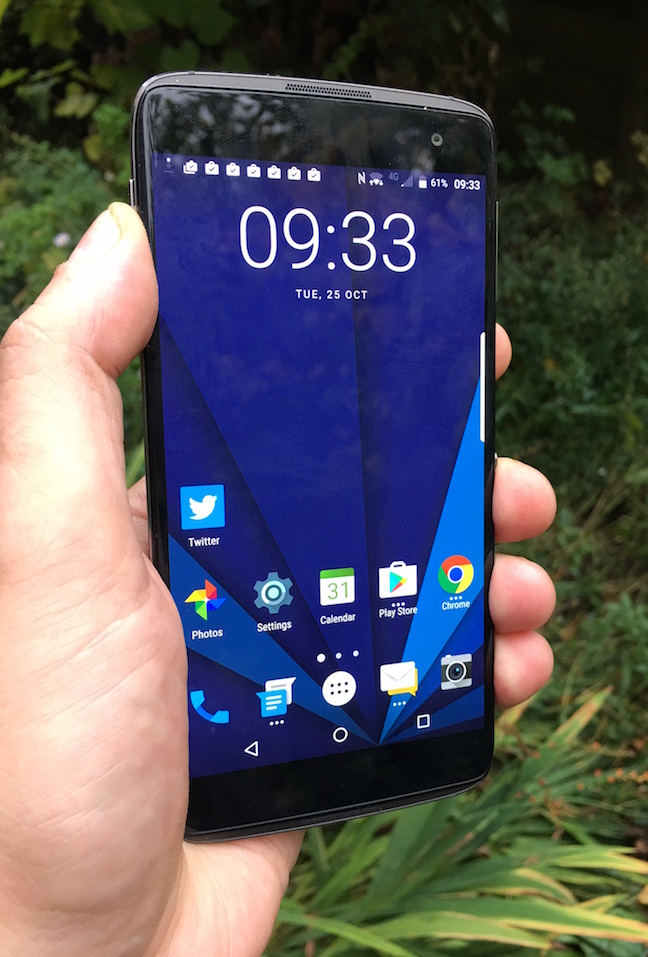 Daylight visibility is excellent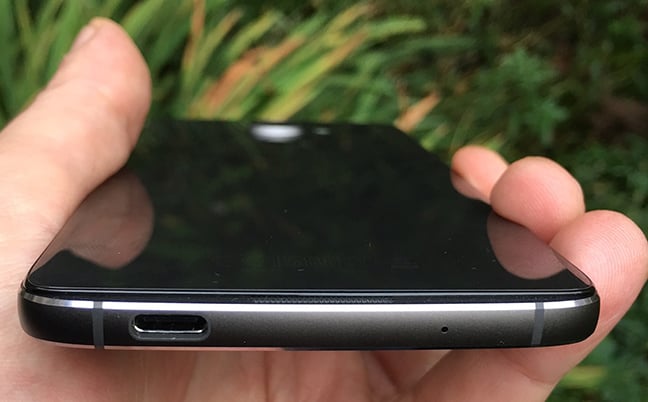 The oddly off-centre USB-C port

Glass backs mean paw prints and reflections
The battery packs 3000mAh and Qualcomm's Quick Charge 3.0 is supported. Note that the while the casing borrows the design used by Alcatel in its Idol 4s phone, the innards are different, with stronger specs than the Alcatel brand implementation.
The main shooter looks like it produces excellent pictures, and maintains colour integrity well in low-light conditions, with little noise. It tended to over colour some shots, on others it outperformed the iPhone 6s Plus. Blackberry's own camera app provides an always-on exposure slider, and now has manual controls too. In the photos below, the darker garden scene is taken in very poor light - exactly at sunset, and the camera performed well. It tended to oversaturate the green of the leaves, though, they aren't that green at all.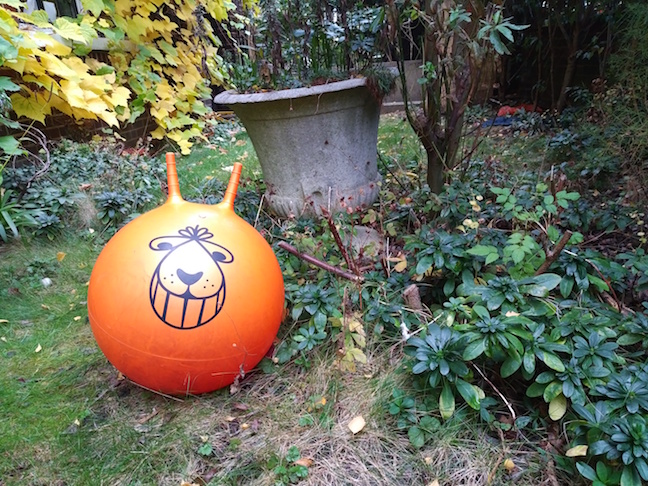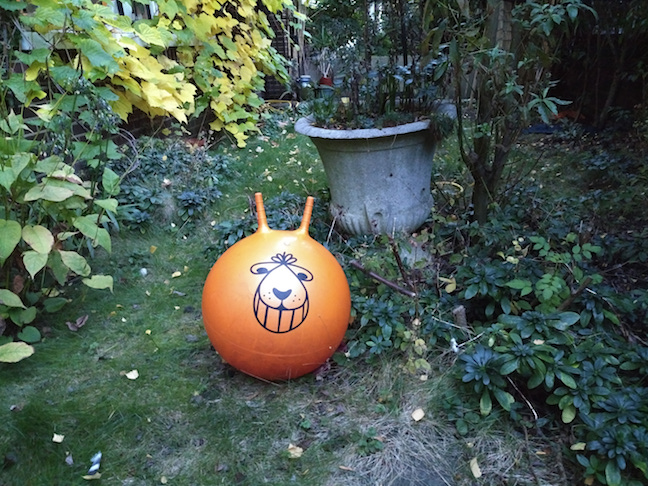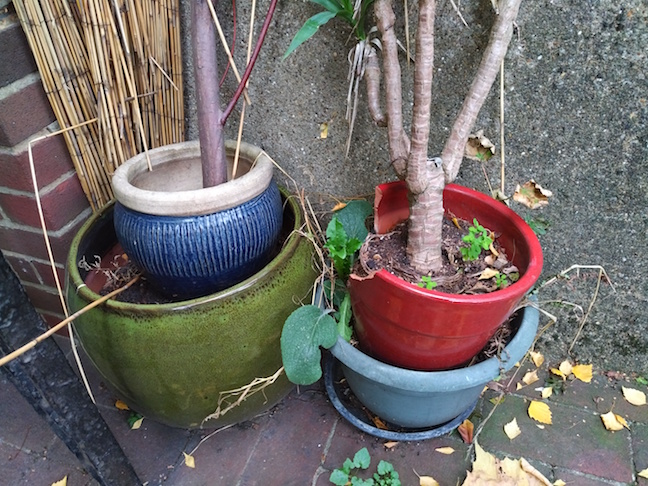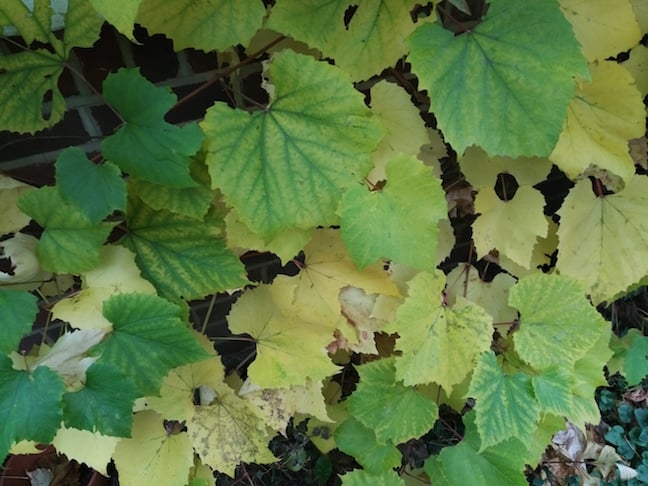 The only oddity is that, as with the DTEK50, the power button is on the left side, and where most side-mounted power buttons live is a "Convenience Key". This can be configured to start an app or perform an action. It may take time to adjust to this, as I found with the DTEK50, but it matters much less now the phone can be woken using the fingerprint scanner (eventually).
The DTEK60 comes with BlackBerry's software stock-like launcher and own personal apps (Hub, Tasks, Notes, Calendar, Contacts, Device Search, Password Keeper), which are now available separately and are the first thing I install on an Android.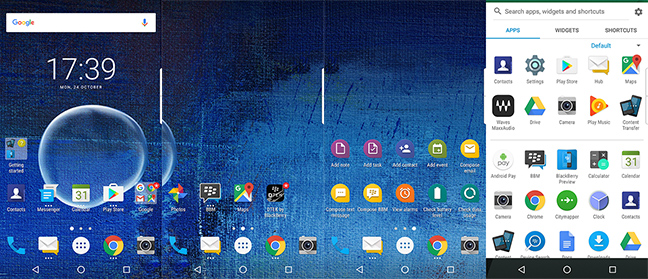 BlackBerry includes its own lightweight launcher: the default home screens and app drawer.
Click to enlarge
The Hub has turned into Android's strongest email client and integrates nicely with the Calendar. I like the customisable views, although the ability to set the font size from within the Hub app is still missing (you need to set the system font size to make the list text larger). The Calendar too is maturing nicely, offering one-click dial-in to conference calls. Unique to a BlackBerry-branded phone is a software overlay which gives you quick access to your inbox, favourite contacts, Calendar tasks or notes, and BlackBerry's own keyboard, which I rate highly. I'd like to be able customise the overlay more – you can't rearrange or remove the four tabs.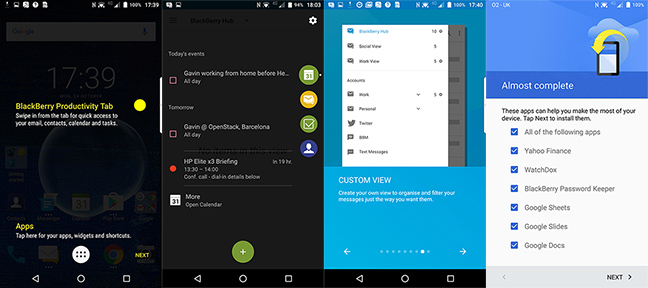 The "Productivity tab" provides useful glance view and shortcuts, but panels can't be customised. Far right: there's very little cruft – even a couple of BlackBerry's own apps are optional

At £475 there's a price premium to pay over similarly specced phones, but it's not a vast one, and that premium is really for the security. BlackBerry uses a more secure Linux kernel and flings out both zero-day and monthly patches. DTEK phones also give you unsurpassed detail of, and control over, what your third-party apps are doing when and where – with immediate alerts when they access features they're not supposed to, via the eponymous DTEK app. Alas, an intrusive privacy-buster is given a free pass: Google's own apps are whitelisted.
People claim privacy and security are a big deal, but then don't pay for it. If security matters enough to you, you won't be disappointed with the rest of the package. If security doesn't matter, then shopping around for a few quid more buys you a Galaxy S7, which bests this in most departments, with waterproofing, wireless charging and superb camera and display. Or £100 less and go with a phone that will rarely or never receive updates. I like the lightness of the DTEK60 and the cruft-free experience (even BlackBerry's useful Password Keeper is an optional download.
The DTEK60 largely succeeds in its mission to put kit out a top-end flagship with better-than-standard security and a business suite. And £475 isn't a bad price for the bundle you get. We'll amend this into a fuller review taking into account call quality in various conditions, and battery life.
Available from today (25 October), from Shop BlackBerry ®