This article is more than 1 year old
Job ad asks for 'detrimental' sysadmin
Yep. That sounds about right
Honesty in job ads is rarity. When employers talk of "exciting admin management opportunities", they really mean: paper-pushing drones wanted.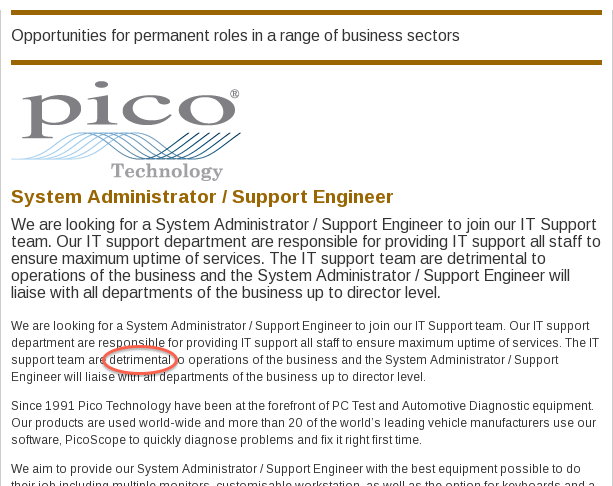 We all know that "disruptive upstarts" translates as chaotic hipsters making it up as they go along; and "challenging role for the right person" means we will pay you to take crap.
So step forward and take a bow, Pico Technology, for telling it how it really is in a bullshit-fuelled world.
The ad reads: "We are looking for a System Administrator/Support Engineer to join our IT Support team. Our IT support department are responsible for providing IT support [to] all staff to ensure maximum uptime of services."
So far, so standard.
But wait, the Cambridge-based data logging biz has issued a recruitment rallying cry our very own BOFH would be proud of.
The next line reads: "The IT support team are detrimental to operations of the business and the System Administrator/Support Engineer will liaise with all departments of the business up to director level."
As BOFH's role may indeed be perceived as synonymous with tending to cause harm when "liaising" with his "betters", the word detrimental may seem particularly apt. Although it might of course be possible that it was a typo on the part of Pico, which probably meant "instrumental" instead.
Nevertheless, here at Vulture Central we welcome this candid recruitment phraseology and encourage readers to contribute their own versions of honest job ads below.
A hat-tip to reader Gary for sending this in. ®