This article is more than 1 year old
Aussie trams equivalent to 30 skateboarding rhinos
Well knock us off our unicycles, we had no idea!
Reg Standards Bureau Ever wondered what the equivalent weight of a tram was in skateboarding rhinoceri? The answer is apparently 30, as any Aussie will tell you.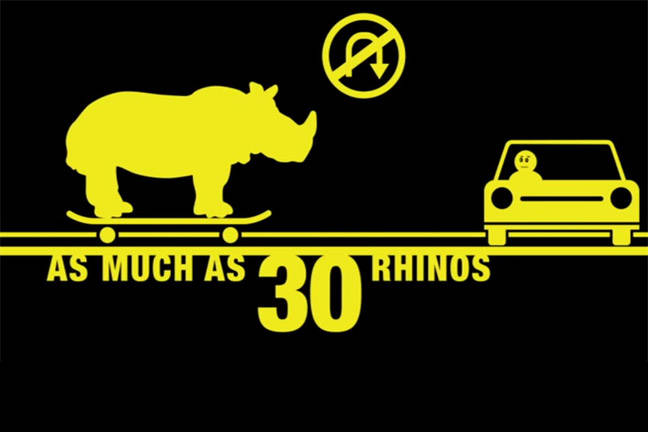 Pic via media centre at Yarra Trams
The Beware The Rhino campaign (pictured) was created by Melbourne tram company to prevent pedestrians from being easily distracted when using mobile phones or listening to music.
A tram can weigh up to 50 tonnes, while the average rhino weighs over 1.5 tonnes.
A back-of-the-fag-packet calculation reveals that a London bus is equivalent to eight skateboarding rhinos - or around 120 cycling Boris Johnsons.
Hat tip to respected journo from Down Under Stilgherrian for pointing out that the the correct unit of measuring the mass of a Melbourne tram is the rhino-on-skateboard.
That data has been added to the El Reg online standards converter, which allows instant conversion of commonly-used metric and imperial standards into approved Vulture Central units, and vice-versa. ®