Atlantis is integrating its virtual workspace (desktop) into the Citrix management suite and is also providing a software product to manage and provision compute, networking, storage and data services for containers.
It's partnering with Rancher Labs in the container work. Container adoption by enterprises has been hindered, Atlantis says, by lack of persistent storage – with containers being stateless micro-services – and data management services such as replication, snapshot, and data mobility. There is no vMotion equivalent in containerland.
Atlantis sees stateless virtual desktops being similar to containers, in that they are relatively light, spun up on demand, and torn down when no longer needed. Containers – unlike virtual desktops – are not tied to any specific infrastructure, running on any computer, on any infrastructure, and in any cloud.
If its USX product can provide a fast provisioning platform for starting up and operating stateless VDI instances, then it should in theory be able to do the same for containers. And it found that to be the case.
So it is going to deploy and manage containerized applications and micro-services, together with enterprise-class data services for any on-premises or cloud-based environment, integrating Desktop Director, Citrix Lifecycle Manager and Citrix Studio into its platform.
Atlantis CEO and President Chetan Venkatesh said in a canned quote: "By folding Atlantis into the Citrix platform and delivering a vision for workspace PaaS, we're simplifying adoption of virtual desktops and providing cloud-based deployment management and operations that behave more like a Docker container than a virtual machine."
Atlantis and Rancher will provide a single console, using the same philosophy as with Citrix, providing integration and orchestration of containers.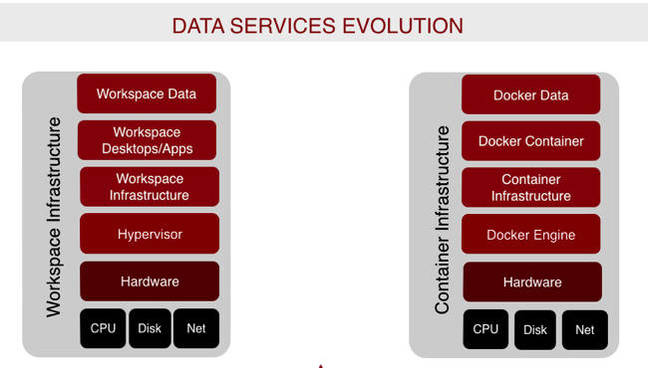 Atlantis view on VDI and container data management
There will be single-pane management for automated, dynamic workspace provisioning, monitoring and analytics-based reporting. Customers can extend workspace management to public clouds with Microsoft Azure integration. A workspace infrastructure stack (including containers) can run on-premises or in the public cloud.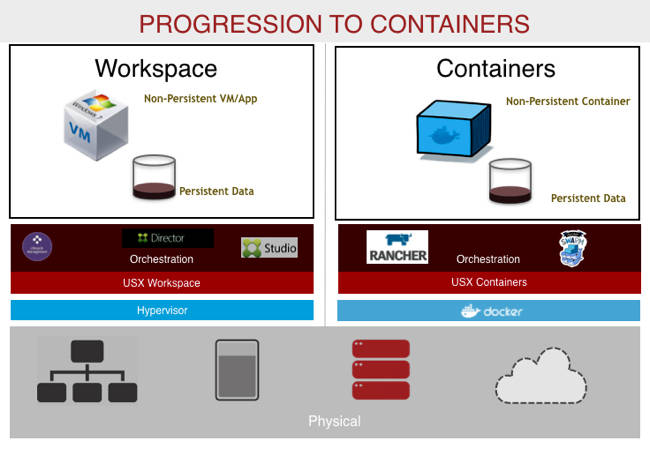 Progression from VDI to containers
Customers can deploy the new workspace infrastructure platform in either Atlantis USX SDS or HyperScale appliance configurations – USX and Hyperscale (hyper-converged infrastructure appliance software) being delivery options for the container services.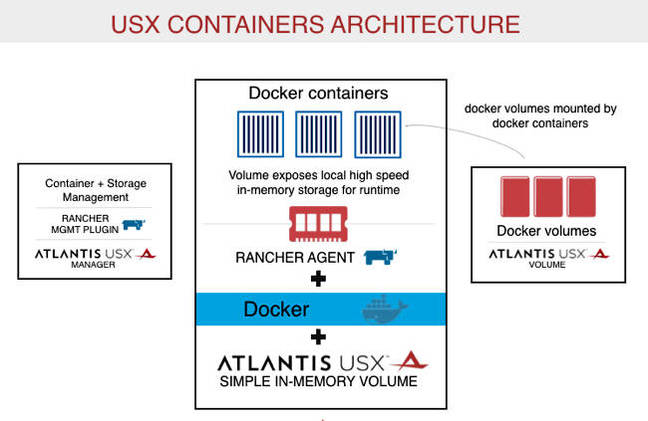 The container stack will be available for preview in USX Community Edition next month. Atlantis envisioning products will come out early next year. ®