The US's top copyright expert since 2011 has been re-assigned to investigating new tills for the gift shop and brainstorming social media strategies on the orders of her new boss, US president Barack Obama appointee Carla Hayden, leaked memos reveal.
The Register of Copyrights, Maria Pallante, who reported to new Librarian of Congress Hayden, was reassigned on Friday last week on the orders of the new Librarian of Congress, Carla Hayden. It's an unprecedented move: not one of the 11 full-time Registers since 1897 has been sacked or demoted. Billboard reported that Pallante was locked out of her computer, which the leaked memos have subsequently confirmed.
Congress relies on the Register's expert advice, but now Pallante has been advised not to talk to members of Congress or their staff at all.
"I do not anticipate that this assignment will require any communications with Members of Congress or congressional staff," Hayden warns.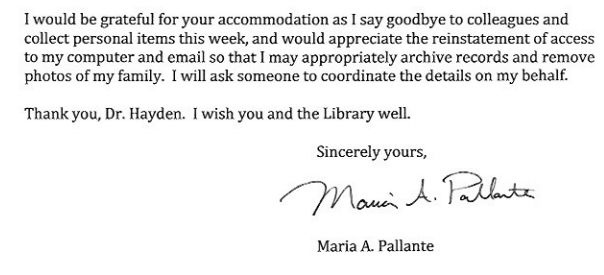 Brutal: Pallante's resignation letter confirms she was locked out of the network.
"Retail is one facet of the overall visitor experience for the Library," wrote Hayden. Pallante had been ordered to "undertake a comprehensive study that identifies new and sustainable retail opportunities for the Library … these should include background and recommendation for: Expanding or redesigning the Library electronic point of sale systems" and "Identifying best practices for social networks and third party websites which can help increase online sales."
Tweeting about the gift shop, then. It's ample grounds for constructive dismissal, reckons music blog Music Tech Policy.
Obama says he has known Hayden since she was at the Chicago Library in the 1980s. Hayden was on the board of George Soros' OSI in Baltimore, and is the former President of the librarians' association, the ALA.
Pallante had sought to modernise [PDF] the post, taking the Copyright office out of the orbit of the Librarian Congress, and making the post a direct Presidential appointee.
This year her office offered advice on two issues pushed by Silicon Valley: "100 per cent licensing" of songs, and the FCC's new rules for pay TV access. Both times Pallante pointed out that the proposals compromised the market, and may be illegal (as we explained here). In the case of songs, she was quickly proved correct - a Court threw out the proposal last month.
Work in DC and annoy Google? Be careful: that now comes with a high price. ®
Related Links
Billboard: Maria Pallante's Departure From the Copyright Office: What It Means, And Why It Matters
Hayden to Pallante [PDF]
Pallante to Hayden [PDF]
Similar topics