This article is more than 1 year old
Microsoft goes back to the drawing board – literally, with 28" tablet and hockey puck knob
Not-a-PC biz touts new PC and Windows 10 Creators Edition
Microsoft today revealed the Surface Studio, a 28" drawing-board-like PC you can stick a hockey-puck-looking dial on to control software. The touchscreen super-fondleslab was announced alongside an updated Surface Book.
Redmond also unveiled the next major update to its latest operating system: Windows 10 Creators Update.
First, the software. Speaking at a press event in New York on Wednesday, Terry Myerson, head of Microsoft's Windows and Devices division, said he was "humbled" that 400 million people had chosen Windows 10 (no mention of those who didn't), and said that in return the Creators Update would be available for free to everyone using the operating system.
Myerson said that there were too many new features to go into, so he was just going to focus on three: augmented reality, the best 4K gaming, and giving everyone faster ways to connect and share.
3D was a key buzzword for the event. Microsoft GM Megan Saunders demonstrated a phone app that works on any mobile (she used an HP Elite x3 using Windows Phone) to scan a sandcastle and build a 3D model of it.
She then added the model to Paint, along with shots of her two daughters, and created a 3D diorama that can be printed out on a 3D printer or shared on social media. 3D modellers SketchUp are including a bunch of default objects in the OS update to add into pictures.
Saunders promised that over the next year, 3D will be built into many Microsoft apps. For example, there was a demonstration of how this will work in PowerPoint. It looked good (but wouldn't really add much to a boring presentation).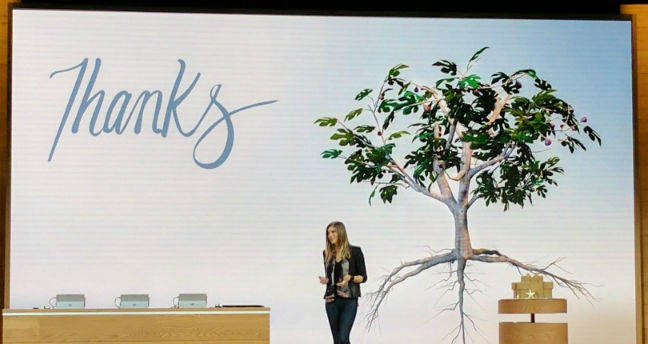 Thanks for putting up with Windows 10? Megan Saunders on stage
The same objects can be brought into augmented and virtual reality, and Microsoft said that next year we'll see headsets for both from HP, Dell, Lenovo, Asus, and Acer. These aren't going to be too expensive either, with Myerson saying prices would start from $299 for the lowest-cost kit.
Games and Glory
More people are now watching gaming than playing it, Myerson said – more watched the League of Legends championships this year than the World Series. So Microsoft is building one-click game streaming to Windows 10 and the Xbox.
The demos showed how a single click on a button can start the broadcast and share the fact that you're showing off to your friends. There are also buttons to allow preset chat messages, like "look at the chat box," which are read out in a cheesy voice in the game.
The new update will also allow gamers to set up their own custom tournaments on Xbox and Windows 10, with their own custom rules. With that, and the new streaming capabilities, Microsoft is looking to bolster its position in the gaming market and give other game-streaming sites a real headache.
Xbox users and Windows 10 will also get enhanced sound from Dolby Atmos and support for 4K gaming videos as part of the Creators Update release.
Sharing and caring
The update will also boost the operating system's social media chops. The OS will now find the most commonly communicated-with contacts you have and will make sharing stuff with them easier.
Demonstrators showed that if you right-click on a file, the option to share it with your top four contacts pops up instantly. It can also filter communications so that messages from those top contacts get priority – initially in email and Skype, and then SMS and Xbox later.
These top contacts can also be shown in the bottom right of the screen and they can send you "shoulder taps" – basically emoji messages in 3D. That could get irritating very quickly.
Microsoft Surface Studio: Now you can really turn it on – with a rotating dial
It wasn't just about the software at today's conference – the Surface Book is getting an update and there's a monster 28-inch new Surface aimed at designers.
The top-end Core i7-powered Surface Book is getting an upgrade, with a faster processor that required a new cooling system, double the graphics performance of last year's model, and 30 per cent more battery life to give 16 hours of operations.
The end result, promised head of the Surface line Panos Panay, is the fastest and best-specced laptop out there. It will be out in November for $2,399 and is available for preorder today.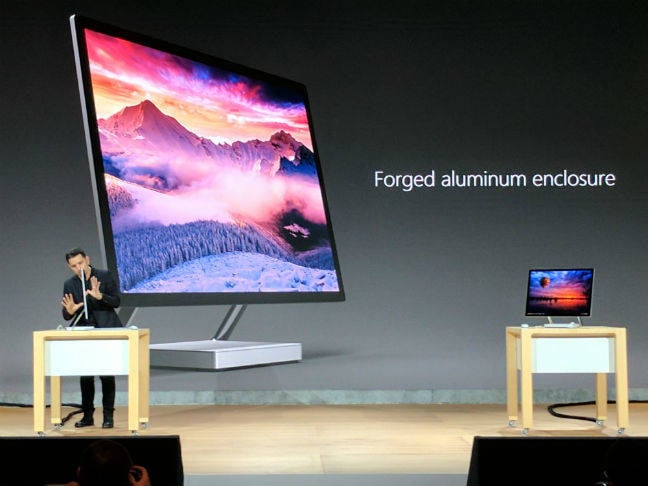 Microsoft Surface Studio drawing-board computer ... Big and bold
Panay also unveiled the Surface Studio, a 28-inch screen that features the thinnest LCD touchscreen ever produced, just 12.5mm thick and powered by a base unit. The screen has 13.5 million pixels at 192PPI and a 3:2 aspect ratio – but the grunt is in the hardware.
"Windows has never been better on any single product, any," Panay enthused.
The Surface Studio runs on an Intel quad-core Core i5 or i7, high-end Nvidia graphics and a 1TB or 2TB hard drive. The screen also has microphones arrayed around it for voice control and a "studio quality" camera for videoconferencing.
The screen can be folded back to around a 20-degree angle, like a drafting board. The Surface Pen works on it, but Microsoft has also built the Surface Dial for the platform.
The silver hockey puck works on and off the screen. On the desk it can be turned to scroll forward and backward through a document or through changes in a document or artwork. Alternatively it can be put on the screen and used there to scroll through color palates and different commands.
The Dial will also work with Surface Pro 3 and 4 models, and the Surface Book.
The Surface Studio will set you back $2,999 and is available for pre-order now and in limited quantities by November. Here are the super-slab's main geeky tech specs:
Display: 637.35 mm x 438.90 mm x 12.5 mm (25.1" x 17.3" x 0.5"). 28" 4500 x 3000 (192 PPI) touchscreen with 10 point multi-touch. This sits on a 250.00 mm x 220.00 mm x 32.2 mm (9.8" x 8.7" x 1.3") base.
Storage: 1TB or 2TB drive
Configurations:

6th-gen Intel Core i5 with 8GB RAM, Nvidia GeForce GTX 965M with 2GB GDDR5 memory
6th-gen Intel Core i7 with 16GB RAM, Nvidia GeForce GTX 965M with 2GB GDDR5 memory
6th-gen Intel Core i7 with 32GB RAM, Nvidia GeForce GTX 980M with 4GB GDDR5 memory

Connections: Four USB 3.0 ports, full-size SD slot, mini DisplayPort, headphone jack, 1Gbps Ethernet, usual Wi-Fi
Cameras: Front, 5.0 MP with 1080p HD video, and back, autofocus camera with 1080p HD video, plus microphones and speakers
Operating system: Windows 10 Pro
Microsoft's head honcho Satya Nadella popped on stage at the end of the set to wrap up the session, and put the boot into Apple.
"Each of us has an innate desire to create, to connect, to express – that's what makes us human," he said. "The last 10 years in our industry has seen a variety of new technologies. Much of that has been slanted toward consumption, however I believe the next 10 years will be defined by technology that empowers creation."
Microsoft is all about the creatives, the builders, Nadella said, somewhat disingenuously. Apple has traditionally been the territory of designers and other creatives, but it's clear that the new hardware and software is aimed directly at one of Cupertino's core markets. ®