This article is more than 1 year old
Seagate bowls out fattened-up spinner
Ups Enterprise's capacity, speeds up data streams
Seagate's sixth generation Enterprise Performance disk drive ups its capacity by 50 per cent to 900GB and increases data transfer speed past 300MB/sec.
This is a small form factor or 2.5-inch drive spinning at 15,000rpm with 300GB, 600GB and 900GB capacity points.The prior fifth generation topped out at 600GB and its sustained transfer data rate (outer to inner diameter) was 246-180MiB/sec. The new drive, using the same 12Gbit/s SAS interface, reaches 300-210MB/sec in the 512e format, and 315-215MB/sec 4Kn/512e format.
A cache jump from 128MB to 256MB helps this as does TurboBoost read caching technology in the 4Kn format mode. There are better write caching algorithms as well. The average latency is 2ms.
The drive has 1 300GB platter and 2 heads at the 300GB capacity, 2 platters and 4 heads at 600GB, and 3 platters and 6 heads at the 900GB level.
This gen 6 drive has a two million hours MTBF rating, a 0.44 per cent annualised failure rate, and a five-year limited warranty. There is a self-encrypting version available.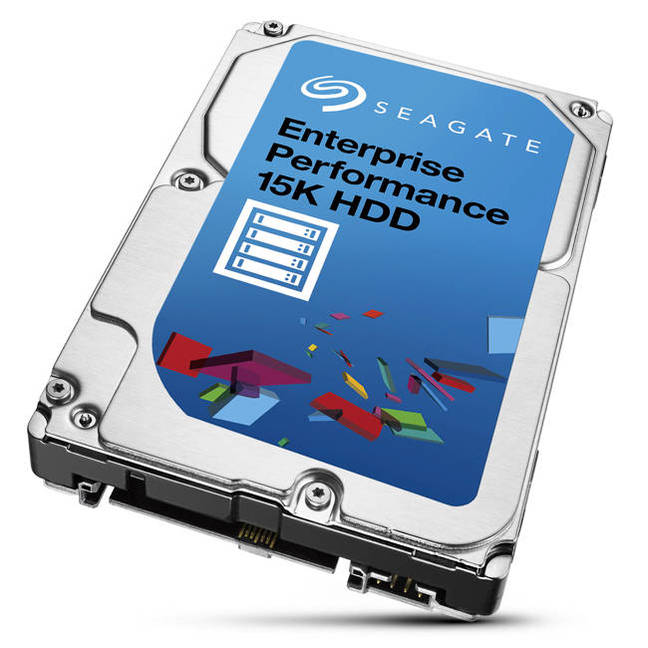 Seagate Enterprise Performance v6 SFF drive detail
Seagate has no disk drive competition at the 900GB, 15,000rpm product level. WD's HGST Ultrastar C15K600 is a 15,000rpm, 2.5-inch drive that tops out at 600GB. Perhaps we have a C15K900 coming, if WD can see a market for it?
Toshiba's AL13SX is also a 600GB, 15,000rpm drive. Like the WD one it uses the same 12Gbit/s SAS interface as Seagate's latest product. And, similarly, we might see a 900GB version of this drive too.
El Reg thinks that this 900GB drive from Seagate may possibly be its last such drive made, as SSDs are replacing performance disk drives at quite a rate.
Get yourself a data sheet for this new drive here. ®