This article is more than 1 year old
WD gets flash boom bang from SanDisk swallow
Storage stalwart flashes past lumbering Seagate
+Comment WD's disk and SanDisk-boosted flash sales boomed as overall revenues in its first fiscal 2017 quarter rose to $4.7bn, up 40.6 per cent on the year-ago $3.4bn. But it reported a net $366m loss.
Why a loss? A year ago it made a profit of $283m on lower revenues. This time around there were charges associated with WD's recent acquisitions (SanDisk and HGST) and debt extinguishment charges related to repricing and repayment of outstanding debt.
Compared to the previous quarter revenues of $3.5bn the revenue growth was abrupt and shows the effect of having SanDisk inside WD's house. CEO Steve Milligan's canned quote said: "We are pleased with our performance in the September quarter, the first full quarter as an integrated company following the SanDisk acquisition in May. Demand for both hard drive and flash-based products was strong across all customer categories, driven by cloud and mobile applications, as well as better-than-expected PC market trends."
WD is integrating the acquired HGST (disk and flash) and SanDisk (flash) businesses into its own operations. It's also transitioning its flash products to next-generation 3D NAND technology, with Milligan saying this/: "We will begin a significant commercial ramp of our second generation 3D NAND with 64 layers in the first half of calendar 2017 as previously announced. Volume ships will start in this October to December 2016 quarter.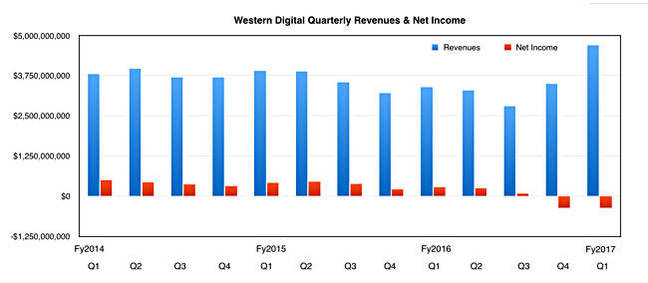 Spot the SanDisk revenue boost in the latest quarter
COO Mike Cordano said more than 10 million helium-filed drives have been shipped and added: "We will be able to incorporate future magnetic recording technologies."
The company shipped 47.5 million disk drives in the quarter; the total was 51.7 million a year ago and 40.1 million in the previous quarter. Declining PC sales and SSDs have and still are hitting disk drive sales, despite a recent PR sales rise.
The HDD segment ship splits are these:
Notebook - 14.6 million
Desktop - 8.99 million
Consumer Electronics (CE) - 12.3 million
Branded - 5.16 million
Enterprise - 6.47 million
A chart puts them in the context of previous quarters: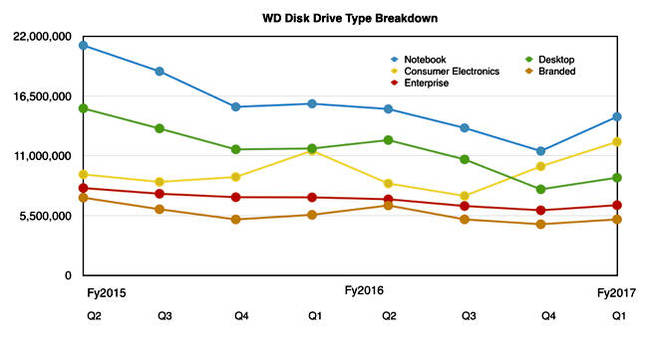 We see the same two quarter CE drive ship uptick as Seagate reported.
Stifel MD Aaron Rakers comments: "WD noted that it continues to cede share to Seagate in the high-performance enterprise HDD market, but that it does not want to accept lower margins for maintaining share in a secularly declining market." Seagate has just announced a 900GB 15K enterprise disk drive.
The surge in CE drive ships was "driven by seasonal strength in gaming," meaning console system ships.
WD expects to see around $4.7bn revenues in its next, December quarter, meaning no sequential revenue growth but massively up on the year-ago quarter's $3.4bn.
Comment
With its SanDisk buy, WD has left arch disk drive rival Seagate well behind revenue-wise. Seagate pulled in $2.8bn in its equivalent quarter, $1.9bn less than WD.
That $1.9bn inferiority in quarterly revenues is the cost to Seagate of its chairman and CEO Steve Luczo and the board's refusal to recognise that primary data disk storage is transitioning to flash and investing strongly in getting a position in the flash market. Thinking that bulk data storage will stay on disk and that, therefore, Seagate's best strategy is to stick with disk has now been shown to be a $1.9bn mistake.
This is a colossal mis-step and CEOs have been fired for less. It's time for Steve Luczo to relinquish his board chair and CEO role and give way to someone with more energy, strategic focus and longer-term ambition for the business than generating cash for share repurchases and dividends. ®