This article is more than 1 year old
Quantum heaves sigh of relief as red ink washes away
Paddles towards black ink pool wearing StorNext life belt
Made it! Quantum is back in profit after five loss-making quarters.
It made $3.8m profit on revenues of $134.7m in its second fiscal 2017 quarter; they were $117m a year ago, with a net loss of $11.2m, and $116.3m in the previous quarter, which saw a $3.8m loss.
Finally all that hard work in building up StorNext revenues whist managing the tape product decline has paid off. It's been a long-time coming with overall revenues declining from $1bn in fiscal 2007 to $476m in the last fiscal year, with some false dawns en route.
And this is only one quarter of profit so let's not take it for granted that this growth trend is unstoppable.
Jon Gacek, president and CEO of Quantum, was in self-congratulatory mood in his canned remarks, and why not: "For the first half of the fiscal year, we've increased total revenue by $23 million over the same period last year, growing scale-out storage by 34 per cent and data protection — where the market remains challenging — by 3 per cent. On this $23 million of additional revenue, we've improved net income by more than $20 million, reflecting the significant leverage our financial model provides as we grow."
How does he think growth will continue? "As we start the second half of fiscal 2017, we're focused on continuing to drive scale-out storage growth by further extending our media and entertainment leadership and expanding our footprint in video surveillance and in technical workflows with large unstructured data archive needs."
Data protection (disk backup basically) should stay healthy: "We're continuing to leverage our technology leadership, extensive customer base, and channel and technology partnerships to generate profit and cash."
And this is a realistic viewpoint as Gacek mentioned: "The DXi6900-S which we announced in Q2 is the first deduplication appliances to incorporate 8 terabyte self-encrypting drives, delivering the highest density backup available today, and enabling customers to reduce power consumption by 50 percent, compared to competing deduplication appliances. It also integrates the latest SSD technology to provide metadata storage and access."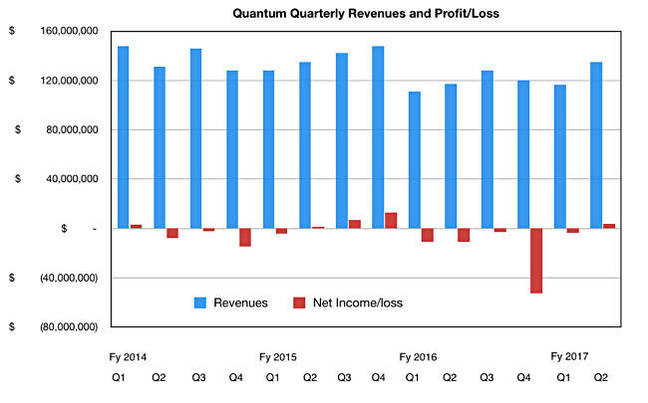 The segment revenues were:
Tape automation - $45.2m
Scale-out Storage - $46.7m
Disk Backup - $18.7m
Device and Media - $14.6m
Royalty - $9.5m
We can stick these in a quarterly trend chart to see the context: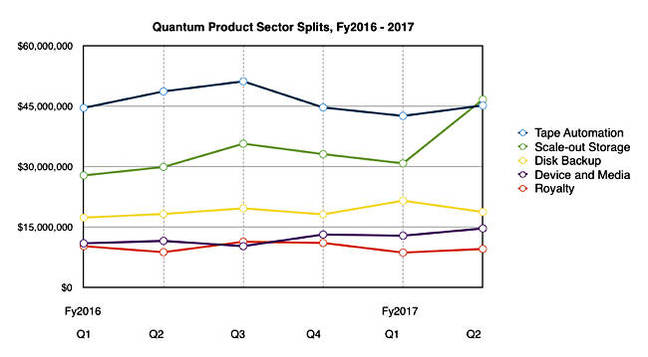 The Scale-out Storage revenue surge is easily seen on this chart.
In the earnings call Gacek said Quantum "achieved revenue upside from multiple large deals we closed during the quarter."
The sustained and steady StorNext growth was flagged, with "a 56 per cent increase in scale-out storage and related service revenue, and we set a new record of total revenue of 47 million. That was our 21st consecutive quarter of year-over-year growth contributing to a 34 per cent growth rate for the first half of fiscal 2017, compared to the same period a year ago."
We should note that StorNext includes tape libraries as an optional target data store and so a StorNext win does not necessarily mean a tape loss.
Quantum expects next quarter's revenues to be between $125m and $130m, $127.5m at the mid-point, and a half million down on the year-ago quarter. Hmm, that's cautious. Why?
Gacek said "while our sales funnel has been growing, it includes an increasing number of large deals that are not mature enough to forecast in a given quarter, so we do not include them in our guidance." Big deals have longer sales cycles. Also "we had very strong tape royalty revenue in Q3 a year ago, and we don't think that level of revenue will repeat this year." ®