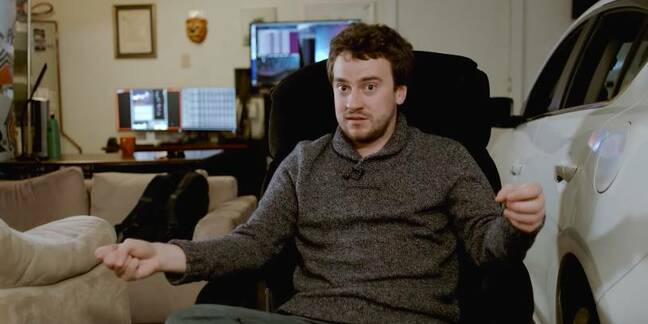 George "Geohot" Hotz is cancelling his Comma.ai self-driving car project after the US National Highway Traffic Safety Administration (NHTSA) threatened to fine him tens of thousands of dollars over safety concerns.
Hotz, who made a name for himself jailbreaking iPhone and PlayStation firmware, had been planning to launch Comma One car kit later this year as an add-on for some Honda and Acura models. The kit, which cost $999 up front with a $24 monthly fee, would have fully automated driving on specific routes from San Francisco down into Silicon Valley in California.
The Comma.ai project behind the kit has received an estimated $3.1m in venture capital funding.
While the Comma One has been the subject of much fawning from the tech press since its September unveiling, it apparently was never presented to the NHTSA, which is expressing concern over the safety of the project.
In a letter addressed to Hotz, the traffic safety bod says it would like to review the product and verify some of the self-driving car claims before it is released to the public.
"We are concerned that your product would put the safety of your customers and other users at risk," the letter reads.
"We strongly encourage you to delay selling or deploying your product on the public roadways unless you can ensure it is safe."
The NHTSA also sent a special order asking Comma.ai to provide specific information on how the Comma One operates and what measures are being taken to ensure safe operation. The NHTSA said that, if Hotz did not respond by November 10, the company could be hit with a daily fine of $21,000.
Now, Hotz says through a series of tweets, he is cancelling the product and will look to take his Comma.ai company into "other markets" rather than deal with regulators.
Got this in the mail today. https://t.co/BsEANVWoXn First time I hear from them and they open with threats. No attempt at a dialog. -GH 1/3

— comma ai (@comma_ai) October 28, 2016
Would much rather spend my life building amazing tech than dealing with regulators and lawyers. It isn't worth it. -GH 2/3

— comma ai (@comma_ai) October 28, 2016
The comma one is cancelled. comma.ai will be exploring other products and markets. Hello from Shenzhen, China. -GH 3/3

— comma ai (@comma_ai) October 28, 2016
Comma.ai is not the first autonomous car project to come under scrutiny from the government. In September, National Transportation Safety Board president Christopher Hart expressed doubt that his agency would approve any sort of autonomous driving system any time soon, while the state of California has outright banned the use of the terms "auto-pilot" and "autonomous" to describe any car's souped-up cruise control modes. ®
Sponsored: Webcast: Simplify data protection on AWS