NYSE halts trading in Violin Memory shares
Tanking stock sends market capitalisation below $15m limit
---
The NYSE has suspended trading in Violin Memory shares and is delisting the stock because it has not maintained an average global market capitalisation of at least $15m over 30 consecutive trading days.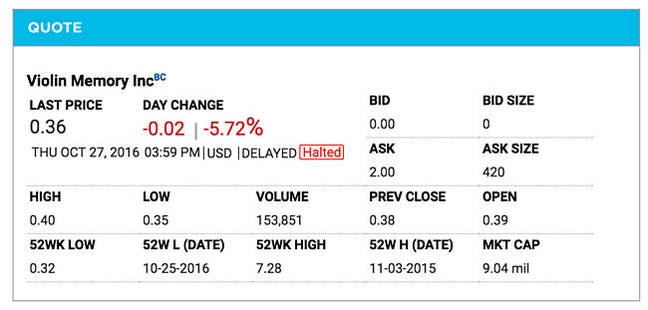 NYSE Violin Memory stock quote showing Halted status
This requirement is noted in Section 802.01B of the NYSE's Listed Company Manual.
Violin Memory has suffered poor sales of its all-flash arrays and the consequent annual and quarterly revenue falls have caused consistent losses. While other all-flash array vendors have grown, Violin has not and investors have sold more and more shares sending the price down.
As a result the company's market capitalisation has crashed:
February – $76.5m
Early May – $31.3m
September 26 – $20.24m
October 24 – $8.85m

NYSE chart of 12 months of Violin Memory share price movement. The reverse stock split in June caused the share price to rise above $3.00 only for it to then fall back below $1.00.
The worst-case scenario is that the shares are effectively worthless in as much as they cannot be traded on the NYSE. This may affect Violin's banking and borrowing arrangements as the shares can no longer function as a security against bank financing or loans.
The NYSE had already issued a delisting threat letter to Violin this month because its share price had fallen below $1 over a 30-day period.
A prior delisting threat for the same reason had been averted by a 4:1 reverse stock split in June. However, the respite proved to be temporary and has been rendered moot by the trading suspension.
Such reverse stock splits do not affect a firm's market capitalisation, which is a function of the number of shares and their value. A reverse stock split decreases the number of shares, which increases their individual value, but does not change the overall value of all the shares.
In theory Violin could issue more shares, but it is unlikely in the circumstances that anyone would buy them. This looks like the end of its NYSE listing, unless there is a sudden and huge cash injection. If Violin can do this, or gain a share listing on an exchange with less onerous requirements, such as the OTCQX Best Market, then it could continue being a public-listed company. If not, it either becomes a private company or goes out of business.
Violin has not yet issued any statement about the suspension of trading in its shares.
It has recently announced availability of a Block Storage (Cinder) driver supporting the Red Hat OpenStack Platform 8 (Liberty release), and availability of a Cinder driver supporting the Liberty release of the Mirantis distribution of the OpenStack Platform.
We may expect any in-process sales of its products to be affected by the stock trading cessation and there might be consequent affects in its trade credibility as far as its suppliers are concerned. ®