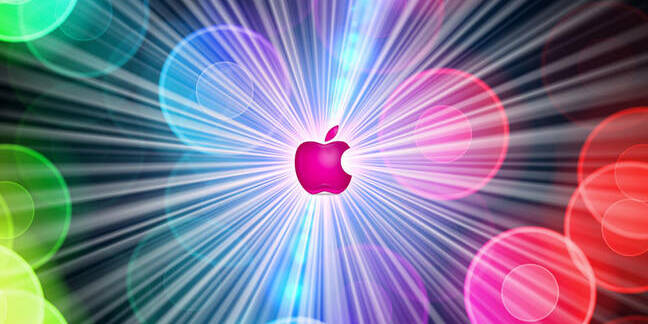 Exclusive Apple and its products prompted almost 500 complaints to the US Federal Trade Commission in the past 22 months – a number that suggests the iGiant has cut the rate at which consumers express dissatisfaction.
That of course doesn't include social media ire about the new MacBook Pro.
The Register sent a Freedom of Information Act request to the FTC seeking "complaints about Apple's iOS App Store developer rules, revenue sharing, or business practices since January 2015."
The FTC received the request on October 20 and responded a week later, showing promptness that's unusual for a federal agency. The trade enforcement agency withheld eight complaints under a section of the FTC Act that allows the agency to not disclose material related to a consumer complaint from a foreign source if that source has requested confidentiality.
A similar but not identical FOIA request covering the 17-month period between January 2009 and May 2010 produced 450 complaints.
On a per month basis, FTC complaints about Apple have declined from 26.5 to 22.6. Though this is an inherently imprecise comparison due to the fact that the information requests were phrased differently, the fact that Apple sold almost 40 million iPhones in 2010 and 232 million in 2015 suggests complaints should scale with customers.
The Register asked Apple whether it cared to provide any detail about whether product complaints have risen, fallen, or remained the same relative to unit sales. Apple has not responded.
What people complained about
The litany of dissatisfaction in the complaints seldom rises to the level of credibility. Many of those voicing their dissatisfaction to the government demonstrate little interest in communicating clearly or presenting an actionable claim. It's almost enough to elicit sympathy for government officials and Apple's customer service team.
Some of the grievances involve Apple only tangentially. For example, several people recount being prompted to call Apple technical support using a phone number presented through a Safari popup window and then being told to pay a fee. This is a common scam and isn't exclusive to Apple products.
Cord cutters
Others have legitimate issues with Apple products that have failed or never worked properly, or with products sold as genuine Apple products that turn out to be something else. Product flaws of this sort affect every hardware maker.
About two dozen of the complaints concern cables or cords. Apple has has some issues with these in the past. Battery-related problems and dissatisfaction with having to pay Apple's battery replacement price also come up among the complaints frequently.
There are quite a few complaints about App Store charges made by minors without permission, something the FTC dealt with through a 2014 settlement with Apple that nonetheless appears to be an ongoing problem.
One of the more substantive complaints involves a request for the FTC to push for a more standardized and transparent way for companies like Apple and Google to handle how apps get withdrawn from the market and how consumers get notified.
Safeguards for personal information
Another complaint seeks FTC help in reviewing Apple's rules for where it stores the data of its customers. Apple, the complainant wrote, forces US citizens to move data to Apple accounts outside the US when they reside abroad, a requirement that has some privacy and data security implications. The writer claims to be an airline industry worker who has been on a work visa in New Zealand. Apple, the person said, has stopped accepting payment from a Visa card issued through a US banking institution to cover the iCloud storage fee. The complainant faces the prospect of losing the data if the fee isn't paid. Apple customer service, the person said, has advised moving the data to a New Zealand-based account.
"My reading suggests that Apple does this for its own convenience, tax purposes, and music copyright laws, and does not take into account how personal documents [of US citizens] stored in the cloud ... are handled in these offshore accounts," the person wrote. "In my view Apple is holding my personal data, documents, and photos hostage by refusing to accept my payment. They then suggest I fix it by 'voluntarily' moving my Apple account and personal data offshore, away from the country [in which] I opened the account and away from the country [where] I am a citizen."
Bloated software
Objecting to the iOS 8.2 update, one person said, "I believe that Apple is stealing iPhone data storage space with every update that it pushes out to its customers." The Apple Watch app, the person said, is unnecessary and only serves to take up space and advertise the Apple Watch. Another customer from Canada objected the iPhone 4s being advertised as having 16GB of memory when they only have 12.5GB of space available after the operating system and pre-installed apps are taken into consideration.
This issue was partially resolved through the release of iOS 10, which allowed iPhone users for the first time to remove the apps that Apple ships with its iPhone.
Moving beyond technical complaints, there are only a handful of objections to Apple's business practices.
One person writing to the FTC asks the agency to investigate Apple rather than Google over antitrust issues. "Apple really is anti-competitive and exhibits all the behavior that Android is being considered to be anti-competitive for," a complaint says. "This does not make sense. Apple is the company that should be investigated here for making a closed system that competitors cannot touch, for not allowing anyone to sell anything in Apple's ecosystem of devices and software without Apple's consent, for behaving vindictively and using underhanded tactics to push other businesses out of existence …"
Blocking repair work
Another antitrust-oriented complaint objects to an issue in iOS 9 that prevented certain repairs if done by a non-authorized technician. "Apple has rolled out an updated operating system (iOS 9) that completely disables your device if it has been serviced by a technician not employed by Apple (Error 53)," a person wrote.
Apple addressed this issue with a patch in iOS 9.3.
Resentment of Apple's control over its software ecosystem comes up in the context of Apple's App Store. "I think it is ridiculous that I can only download and install apps by using Apple's App Store," a complaint says. "It's my phone and I should be able to choose what apps I want to install. "...It seems like those who own an iPhone are forced into a monopoly situation with purchasing apps. I recall a similar situation with Microsoft years ago when the courts ruled that Microsoft wasn't allowed to push Internet Explorer on the people who use the Windows operating system and I feel like this is very similar."
Throwing older OS X under a bus
Dissatisfaction with Apple's decision to stop supporting older macOS versions with security patches also elicited a complaint. One person objected to the fact that his or her OS X 10.8.5 (Mountain Lion) will not receive a patch for a security vulnerability (CVE-2015-1130). "According to the researcher who discovered and reported the issue, 'Apple indicated that this issue required a substantial amount of changes on their side, and that they will not back port the fix to 10.9.x and older,'" the complainant wrote. "I feel Apple deceived me when they claimed OS X 10.8 was the 'the safest and most secure.' … Apple is clearly deceiving us (the consumers), failing to meet its obligations to us (the consumers), and we (the consumers) need the FTC's help here. The remedy I demand is a patch for the defective operating system."
Apple is not alone in its habit of leaving old software behind, unpatched and vulnerable.
A recent complaint takes issue with the fact that Apple's iPhone 7 and 7 Plus models are available with two different modems. "Apple sells two iPhone 7 variants," the person wrote. "One version has an Intel modem that only supports GSM networks (AT&T – T-Mobile) The other version has a QUALCOMM modem (sold to only Verizon and Sprint) that supports all US networks. Apple is forcing AT&T and T-Mobile customer to purchase an inferior phone."
And finally...
Perhaps the most provocative complaint comes from someone who wants Apple's policy on nudity changed. "I would like to ask that the Attorney General request or compel Apple to [reverse] its policies regarding adult content/pornography," the person wrote. "The reason I ask is because everything is constantly censored on my devices, which are my property. ... I have had images denied for having a slight bulge in the crotch of my pants. I find these policies harassive, repressive, and in violation of the Constitution's freedom of religion." ®
Sponsored: Webcast: Ransomware has gone nuclear