This article is more than 1 year old
See that red spot on the chart? Sail over it and you'll find a Russian sub
Take RN exercise Unmanned Warrior, add drone data and Esri's ArcGIS maps...
The Royal Navy's Unmanned Warrior exercise, which concluded last week, was a good jolly for the various drones and other sensor-laden toys the RN wants to buy. Yet the real value is in the data processing, which is where mapping firm Esri came in.
Behind the scenes at Unmanned Warrior, Esri's cloud-based ArcGIS map product was being used by the Navy to plan, command and control the exercise as well as analyse the data gathered by the 40 drones used during the exercise.
While everything from underwater wave gliders to unmanned speedboats and drone UAVs were rushing about the waters of the Kyle of Lochalsh in northwest Scotland and the Hebrides, senior naval officers and analysts were gazing at ArcGIS, looking at visualisations of the data gathered by the drones.
Esri showed your correspondent a visualisation of hydrographic data collected by sea-survey drones. Among the data collected were water depth, density, the speed of sound at particular points, temperature, and similar metrics – neat stuff if you're a marine biologist, but of far greater use if you're searching for a submarine.
As anyone who's watched the classic submarine films Das Boot or Hunt for Red October knows, anti-submarine warships use sonar pings to search for enemy boats, in the same way as radar detects aircraft. However, as the properties of seawater are not uniform – temperature and speed of sound vary in different locations – submarines can hide from sonar by diving below the thermocline, which is the point where two bodies of water of different temperatures meet. The thermocline acts like a highly polished glass window in bright sunlight, reflecting the sonar pings and making everything below it far harder to detect.
On the Unmanned Warrior ArcGIS implementation, the data feeds coming in were set up to populate a 3D map, displaying areas of good sonar propagation in blue and poor areas in red, allowing the operator to scroll around and see realtime information about underwater sea conditions. Put that map in front of a Type 23 ASW frigate's underwater warfare team and you've got a perfect picture of where a submarine is likely to be hiding, greatly reducing the time and effort needed to find a marauding Russian or Chinese boat.
ArcGIS is capable of handling "tens of thousands of events per second" and its live data-populating features can also be applied to other scenarios, such as live phone tracking for police and intelligence agencies.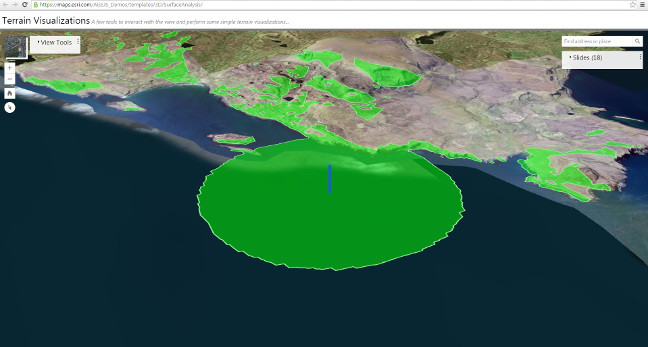 ArcGIS visualisation of Ex Unmanned Warrior mapped areas, in green. Pic: Esri
The Unmanned Warrior database was run on Postgres and hosted on AWS, which Esri said allows deployment in "hours". The system used for Unmanned Warrior was "completely commercial-off-the-shelf" and is also capable of reading military file formats as well as the usual civilian map file types.
A similar Esri product used for above-ground mapping during the exercise is simply named Drone2Map and does what it says on the tin, creating 3D terrain maps from aerial photos taken by UAVs. El Reg was shown a particularly neat 3D map created with it, where Esri man Mark Clewis had installed the sensor app on his phone and created a detailed 3D plot of his garden shed and vegetable patch.
The Register understands that naval analysts were very interested in the potential of ArcGIS and hadn't realised just what the civilian world was capable of, technologically, until seeing it halfway through Unmanned Warrior. As sexy as the drones might be, the real value is in crunching through the data they gather. ®