Analysis And so a storage networking era comes to a close, and we have been here before. Brocade is reportedly up for sale, as it has been three times before.
The premier Fibre Channel SAN director and switch vendor has consistently tried to use its revenues to buy other companies and diversify, because it knew the market was inherently constrained and needed a different product direction to grow.
Brocade bought a dozen companies between 2003 and 2016 and none of them provided an escape route from competing with Cisco – the ever-present big networking cheese with a scale that Brocade could never match.
As a result of Brocade's acquisition of McData in 2006, with McData having bought FC switch supplier CNT in 2005, the Fibre Channel director, switch market consolidated to Brocade, the leader, and Cisco, with QLogic and Emulex more or less sharing the associated Fibre Channel HBA market between them. QLogic had a switch interest as well but gave it up in 2013, gaining Brocade's HBA business later. These were the glory days of the FC SAN market, with 2Gbps FC giving way to 4Gbps and then 8Gbps.
An attempt to undercut Fibre Channel with iSCSI caused the development of an iSCSI array market but did not dethrone Fibre Channel.
Cisco and others tried to switch Fibre Channel users to Ethernet, with FCoE (Fibre Channel over Ethernet) technology, but that failed as lossless, enterprise-class Ethernet was never standardised effectively enough to make an FCoE technology purchase generally practicable.
However, the FC SAN market began running out of steam as hyper-converged infrastructure grew in popularity, replacing physical SANs with virtual SANs. That growth is strong and continuing. Some SAN data is going to the public cloud, and developing NVMe over Fabrics connectivity technology, much faster than Fibre Channel, threatens to replace it as the best method for accessing primary data in shared storage arrays.
The long-term prospects for the Fibre Channel market turned sour, with growth evaporating and decline looking more and more likely. Brocade, like the others, found growth went away: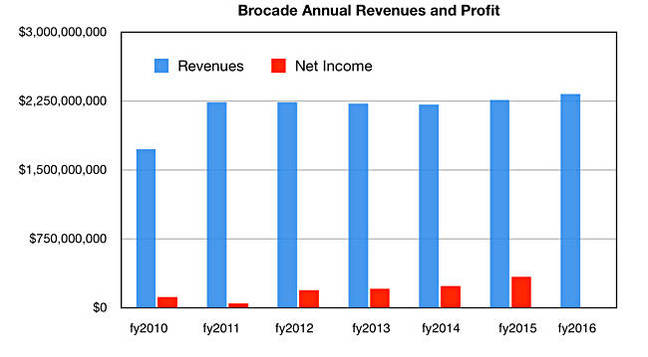 All the in-place suppliers, apart from Cisco, looked for white knights who could offer scale and business security.
QLogic went to Cavium in June this year. Emulex went to Avago in February 2015, after having escaped from a hostile bid by Broadcom earlier, only for Broadcom to then buy Avago in May 2015. And now Broadcom is said to be interested in buying Brocade.
Brocade's acquisitions:
2003 – Rhapsody Networks
2005 – Therion Software
2006 – NuView for enterprise file data management
2007 – Silverback Systems for network acceleration technologies
2007 – McDATA for Fibre Channel switch and director business
2008 – Strategic Business Systems for professional services
2008 – Foundry Networks for Ethernet switches and routers
2012 – Vyatta for software-based networking technologies
2014 – Vistapointe for mobile network visibility and analytic technology
2015 – Connectem for carrier-focused wireless networking expertise
2015 – SteelApp application delivery controller (ADC) business unit from Riverbed Technology
2016 – Ruckus Wireless
Stifel MD Aaron Rakers writes: "A purchase by Broadcom (Avago) would be a strategic move to vertically integrate in an IP switching and routing market that has increasingly moved to merchant silicon." He notes that Brocade announced its SLX 9850 data centre routing products, which used Broadcom's Jericho silicon, in mid-September.
Rakers also notes that before "the Emulex acquisition, Avago purchased LSI, which provided the company with the leadership position in FC ASICs (silicon) for both HBAs and switching."
Brocade is a $2.4bn-a-year revenue business. Surely any buyer will need to think in terms of a greater than $4bn bid.
If this Broadcom-Brocade deal goes ahead then this leaves Cisco as the only original Fibre Channel director and switch supplier left standing. It will surely now be predicting stronger competition from a scaled-up Broadcom.
In the converged systems market where, because it is a server supplier, other server suppliers with converged system stacks, like Dell-EMC, HPE and others, will be feeling friendly towards a Broadcom-Brocade combination.
A final point to note: Brocade CEO Lloyd Carney will have his reputation enhanced if the deal is successfully completed. ®
Similar topics