This article is more than 1 year old
Coding will win you the election, narcissistic techies boasted to Hillary
Earth to Silicon Valley: Nurse will see you now
Comment Can you remember where you were when the Berlin Wall came down, Mrs Thatcher resigned, or – um – David Cameron "learned" some HTML for an hour? Perhaps the first two, but maybe not the third. Yet in Silicon Valley's bubble, the latter signified a "Sputnik moment" for humanity.
New disclosures from WikiLeaks highlight Big Tech's eagerness to please Hillary Clinton's campaign. No surprise there. What the email chain does illustrate is the jaw-dropping self-importance of Silicon Valley.
Code.org was founded by Iranian-Americans Hadi and Ali Partovi to promote computer science studies, and developed a close relationship with the Obama White House. It won corporate backing from Microsoft, Amazon and Google, among others.
Forget jobs or public order – to the Partovis, computer programming was the real surefire vote winner.
"Computer Science is about jobs and equity in every state in America, and it wins elections," Hadi emailed the Clinton campaign. The email was cc'd to LinkedIn founder and chairman Reid Hoffman.
Partovi frankly described how he'd promote coding through what he described as a "stunt" and a "gimmick".
"One thing to consider, *any* time Hillary says 'STEM', if she instead said 'computer science' she'd have more voters understand and support her. Of course, STEM is *critically important* to our country. However, STEM is not where the job growth is or where the gender disparity is. STEM is also not where the H-1B skilled immigration problem is." Partovi concluded: "I'd love to work with the Clinton campaign to help sharpen a focus on this issue. Even if it's just participation in a marketing gimmick around the Hour of Code."
Partovi described the Hour of Code as "a bipartisan Sputnik-moment call to action that the whole country can get behind". In 2013, Code.org had described it as "big as climate change".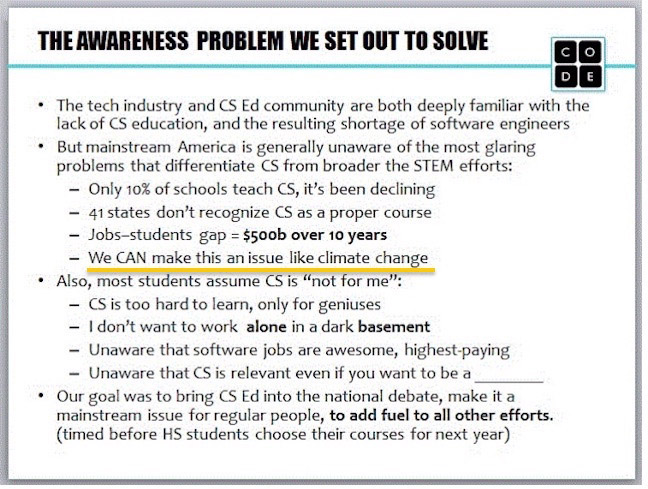 "As big as climate change"
The exchange took place in May 2015.
The Hour of Code "gimmick" was not only endorsed by Obama, but by the UK's political and media elites, anxious to be seen to be doing something. Hour of Code won support from No.10 with Prime Minister David Cameron "having a go", and the BBC also pushing the boat out. British schoolchildren were even invited to into the fabled Chocolate Factory in California... and that usually needs a Wonka Golden Ticket! (Hour of Code was superseded by BongVentures Learning's "Minute of Code" - saving children a valuable 59 minutes of coding time.)
The idea that "kids must code" rather than learn economics, or tap dancing, or even just how to do sums (the UK lags behind Slovenia and Vietnam in maths) was always a very curious example of special pleading.
The initiative came from a gold-rush shovel-seller, keen to sell more shovels. Step forward VC Saul Klein, who had backed CodeAcademy, one of hundreds of wannabe online learning ventures. But using his political connections – in particular to prominent No.10 special advisor Rohan Silva* – Klein was able to make "coding" the killer content for CodeAcademy. The idea rapidly spread through the incestuous world of political wonks and their media friends, keen to be seen to be doing something, and CodeAcademy provides curriculum material for schools, as well as a seat on the Year of Code board with Klein (as we explained here).
Teaching code also tapped into the narcissism and self-importance of techies, that Wall St techie and Reg contributor Dave Mandl identified here. The media were a pushover.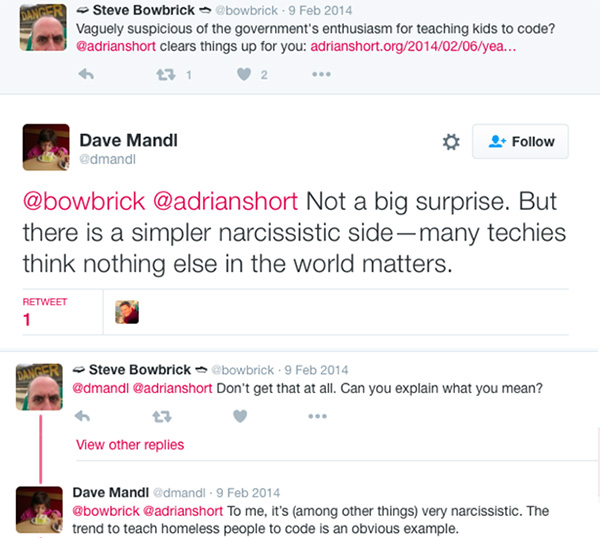 Not everyone makes way for a man shouting: "Let me through, I'm an HTML TUTOR!"
So here we are. The phenomenon probably also needs to be seen in the pedagogical context of "funnifying" subjects to make them "more appealing" and "inclusive".
That always works, doesn't it? ®
Bootnote
Klein said thanks by inviting Silva to join Index Ventures after Silva left his public post (this is entirely legal). Silva has since reinvented himself as a "thought leader" and property investor.