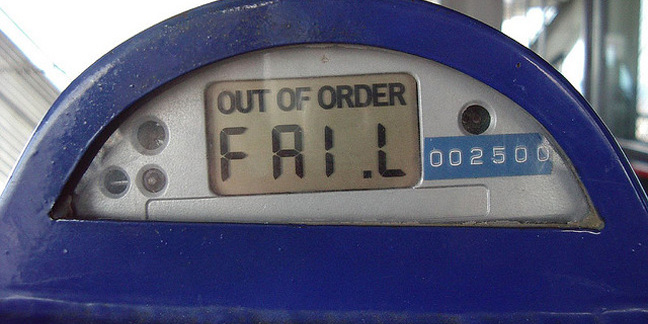 The IT system that was to underpin Blighty's smart meter rollout remains unfinished as another yet another deadline whooshes by.
The last time it missed a smart meter deadline, the UK Department for Business, Energy and Industrial Strategy (BEIS) promised that "the new infrastructure is planned to go live at the end of September". That did not happen.
The IT system was initially planned to be up and running in April 2015, but was subsequently delayed until December 2015, then April 2016, then August 2016, and has now missed its September 2016 deadline.
A subsidiary company of Crapita (often comically referred to as "Capita" by Private Eye) is behind this. The Data and Communications Company (DCC) is responsible for providing the communications infrastructure for smart meter readings.
As of today, the "timely rollout" of the smart meter system promised by the government has remained anything but, and the requirement to see domestic suppliers using the DCC by 1 August of next year seems as if it may not be met.
Responding to The Register regarding the delay, Claire Maugham, Director of Policy and Communications at Smart Energy GB, the national campaign for the smart meter rollout, failed to mention it at all, noting only that "the DCC is a secure, national network for smart meters which is currently being built."
The DCC will enable, in future, smart meters to communicate with any energy supplier, making it much quicker and easier to shop around for the best energy deals.

But even before this happens, people with smart meters are seeing the benefits of more accurate bills and better control of their gas and electricity use.

More than four million smart meters have already been installed around Britain, and our latest research shows that eight in ten people with a smart meter would recommend one.
Despite these encouraging words, the project, which according to a 2014 Impact Assessment will arrive with a £11bn bill for consumers, was previously described as in danger of becoming a "costly failure" by a government report after a farcical number of delays and internal government warnings that it would most likely not be completed for another 50 years.
Last year, the Institute of Directors warned that the smart meter project would add billions to consumers' bills and that the rollout "should be 'halted, altered or scrapped' to avoid a potentially catastrophic government IT disaster".
Responding to The Register, a DCC spokesperson said the company was "undertaking its final preparations for live services" and did not suggest when those live services would finally be available. ®
Sponsored: Webcast: Discover and secure all of your attack surface