Cisco: This $200k UCS S-Series is cheaper than AWS S3 after 13 months
Allegedly
Cisco has designed a storage server that it claims is 56 per cent cheaper over three years than paying out for Amazon's S3 service. The networking giant also reckons it's the first fully modular server architecture in the industry.
The S-Series is designed for data intensive workloads such as big data, streaming media and collaboration applications, and for deploying software-defined storage, object storage, and data protection solutions. Cisco says the boxes will try to access and analyze data quickly to generate results in real time, with unstructured data coming from sources such as the Internet of Things, video, mobility, and collaboration.
Applications processing the data could be recommendation engines, video analytics, diagnostic imaging, streaming analytics, and machine learning. The concept is to analyze the data as close to its arrival as possible, and before it gets punted off to back-end storage.
Its now a couple of years since the gen 4 C-Series range in Cisco's UCS server line was launched. The C3260 member of that range was positioned as a storage server, but what defined a storage server then has moved on.
Now we've got the S-Series S3260, which is a follow-on from the C3260. Much of the bare-bones specification remains, such as 600TB of local data storage with enterprise-class redundancy, connectivity including NFS, iSCSI, Fibre Channel (FC), FCoE, SMB and SMB Direct, scaling to petabytes with Cisco UCS Manager, and a dual-node two-socket architecture using Intel Xeon CPUs. But much else has changed, particularly the adoption of a modular design so that different components can be refreshed at different times.
The S3260 is the first product in the S-Series line-up and the main features are:
Dual two-socket server nodes using an Intel Xeon E5-2600 v2 or v4 CPU, with up to 36 cores per server node or 72 cores per system.
Up to 512GB of DDR3 or DDR4 memory per server node (1TB total)
Support for high-performance Non-Volatile Memory Express (NVMe) and flash memory
600TB data storage capacity that scales to petabytes with Cisco UCS Manager
Policy-based storage management framework
Dual-port 40Gbit/s system I/O controllers with UCS Virtual Interface Card (VIC) 1300 platform embedded chip
Unified I/O for Ethernet or Fibre Channel to existing NAS or SAN storage environments
Support for Cisco bi-directional (BIDI) transceivers, with 40Gbit/s connectivity over existing 10Gbit/s cabling infrastructure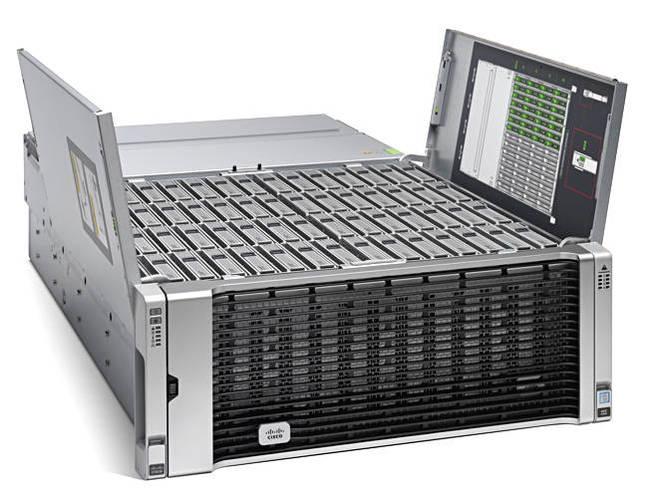 UCS S-Series 4U chassis
This slide from Cisco summarizes the modularity. One point is that Cisco's 40Gbit/s virtual interface card (think VNIC) provides 256 virtual adapters per node plus 16Gbit/s native Fabre Channel options.
UCS S-Series modular design
Modular components include disk, SSD and NVMe media (caching flash with Fusion ioMemory3 PX), disk expanders, IO expanders, flash memory and Ethernet/FC/FCoE connectivity options.
They can be cache-optimized, capacity-optimized, compute-intensive and IO-intensive configurations; the latter having 160GB/sec of aggregated VIC IO, and either 8 or 16Gbit/s FC. Capacity can be scaled out, by adding nodes, to 86PB in a UCS domain.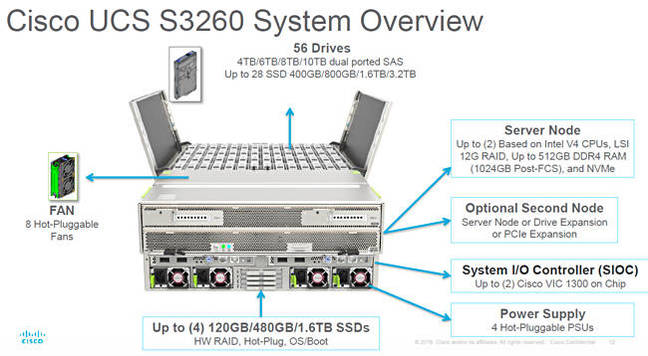 S-Series module details ... Click image for larger view
Cost comparisons
Compared to Cisco's own traditional-style servers, we're told the UCS S3260:
Reduces CapEx by 34 per cent
Lowers ongoing management by 80 per cent
Reduces cabling by 70 per cent
Takes up 60 per cent less space
Consumes 59 per cent less power
Cisco also compared costs over three years with Amazon's S3 service: specially, 420TB of AWS capacity versus 600TB raw on the S3260. The comparable costs were, it is claimed, $0.015/GB/month for the S3260 and $0.041/GBN/month for S3. Cisco said all OPEX and CAPEX elements for the on-premises and public cloud scenarios were taken into account.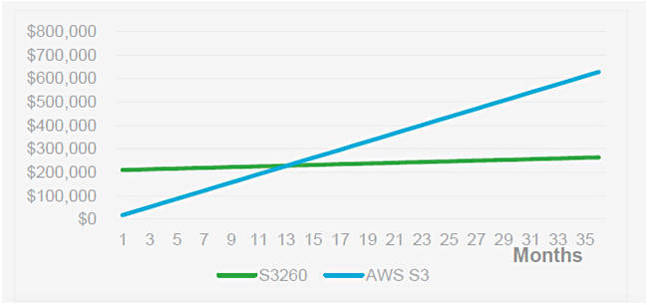 3-year TCO for S3260 and Amazon S3
Breakeven occurred at the 13-month point.
Cisco's partner eco-system is being primed to take advantage of the S3260. Expect their offerings to endorse it shortly. For example, the S3260 can provide a hardware platform for Ceph, Cloudian, GlusterFS, Nexenta, Scality, StorMagic, SwiftStack, and Windows Server Storage Spaces storage software products.
The S-Series joins other server variants in the UCS range:
Mini and E-Series for remote and branch offices
Gen 4 UCS for mainstream computing
Converged infrastructure offerings from NetApp, Nimble, IBM, Pure and Dell-EMC's VCE
HyperFlex hyper-converged systems
S-Series for data-intensive computing and distributed storage
All these variants share a unified management facility.
Cisco ONE Enterprise Cloud Management Suite
Cisco has an updated generation of its ONE Enterprise Cloud Suite, a hybrid cloud software offering automated deployment with a self-service portal tailorable for users, app developers and IT pros.
Admin teams can deploy to over 20 different data centre, private and public cloud environments. There are annual subscription licenses with one, three, and five-year options at different price points.
There are four options, which can be used singly or in any combination:
Infrastructure Automation: for consistent and faster delivery of error-free infrastructure environments to business and application teams
Service Management: self-service order and service management
Cloud Management: model application profiles once and deploying to multiple hybrid environments
Big Data Automation: one-click installation, provisioning and deployment of Hadoop and Splunk clusters
The UCS S3260 will be available from November 7 with a three-year warranty and multiple support options. If you so wish, you can get access to customer case studies here, and a brochure on Cisco server offerings for data-intensive workloads here [PDF]. ®