This article is more than 1 year old
Level 3 celebrates $34bn CenturyLink gobble by blacking out Eastern US
Merger party got a bit out of hand, we take it?
Network provider Level 3 Communications appears to be wrangling with a widespread outage in the US this morning.
The backbone carrier says it is "looking into" the cause of an outage that, according to connectivity monitoring service DownDetector, is hitting customers across a large swath of the east coast and the southeastern states.
While Level 3 hasn't returned a request for comment or statement on the issue, enterprise customers report being told by Level 3 support that the problem is indeed a nationwide issue and the cause has yet to be found.
"An unknown issue is affecting Voice and IP (VPN and Internet IP services) nationwide," the customers say they have been told.
"Multiple internal teams have been engaged and are investigating at this time."
The issues have been reported by Admins from New York to San Diego, and issues range from brief packet loss to complete loss of connectivity.
We are aware of an incident affecting Level 3 services. Engineers are looking in to it.

— Level 3 Network Ops (@Level3NOC) November 2, 2016
The reports of problems began around 8:00am Pacific and continue to come in. As of now, no estimate is being given for when service will be restored.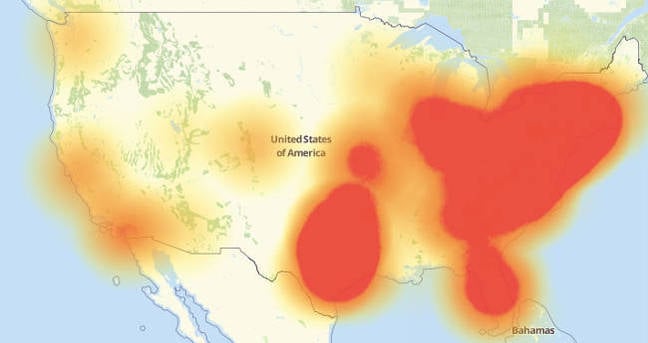 The outage as of 9:30am Pacific time (image via DownDetector)
The outage comes at a particularly inopportune time for Level 3, which earlier this week officially announced it had agreed to a $34bn acquisition by US telecom giant CenturyLink.
That deal, which looks to be a cash bonanza for Level 3 shareholders, has been blamed for helping to drive CenturyLink's stock price down by more than 15 per cent. ®