This article is more than 1 year old
Qualcomm makes China pay
Qualcomm has had quite a boffo quarter to round off a pretty sound year.
The California-based mobile processor and cellular modem designer says it now has nine of the top 10 Chinese handset manufacturers paying it royalties in one form or another on its wireless technologies. (Qualcomm has had a colorful history with Chinese companies, government officials and battles over intellectual property payments.)
Couple its successes in China with better-than-expected chipset sales and it's trebles all round going into Christmas.
The three months to September 25 was Qualcomm's final quarter of its fiscal 2016 year [PDF, statement]. Here's a summary of the numbers, published Wednesday:


Amid the good news – the quarter beat analyst expectations – there was some glumness: revenues for the full year slipped compared to 2015 due to lower global smartphone sales. You can see from the chart below that the Snapdragon-designer's figures for 2016 fell back to better-than-2013 levels of shipments (the 'e' indicates an estimate):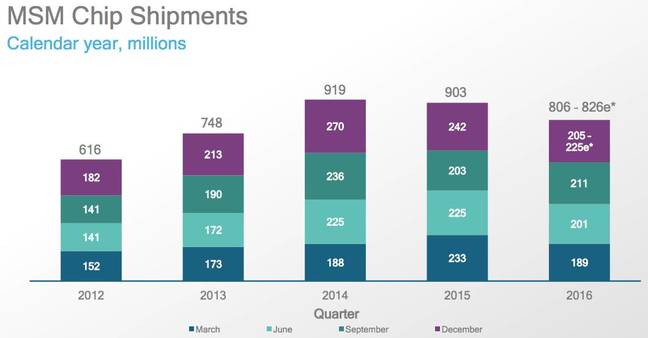 During the final fiscal quarter, 211 million Qualy mobile chips shipped, better than the 203 million predicted.
Qualcomm expects to rake in $5.7bn to $6.5bn in sales in the coming three months; Wall St was anticipating $6.1bn. The biz – which is trying to gobble NXP – reckons it'll do stronger in China next year, and that it hopes to extract royalty payments from even more Asian manufacturers.
Its stock price is down 0.28 per cent to $66.90 in after-hours trading mainly due to mild fears that the next quarter isn't going to be quite so bumper. ®