This article is more than 1 year old
User danger declines as two thirds of Chromistas now use HTTPS
With Google goggles on, Chrome security performance outshines other browsers
Two in three web pages served over the world's favourite web browser Chrome are now secured with HTTPS, Google says.
The good news applies to Chrome on the desktop and signifies progress in the long-hoped-for decline of insecure cleartext browsing.
Chrome security bods Adrienne Porter Felt and Emily Schechter say all platforms of desktop Chrome page loads are made over HTTPS.
"More than half of pages loaded and two-thirds of total time spent by Chrome desktop users occur via HTTPS, and we expect these metrics to continue their strong upward trajectory," the pair said.
Free SSL certificate services including those offered by Let's Encrypt, Cloudflare, and Amazon along with a recent much heightened demand for better information security controls by internet users have contributed to the rise in SSL.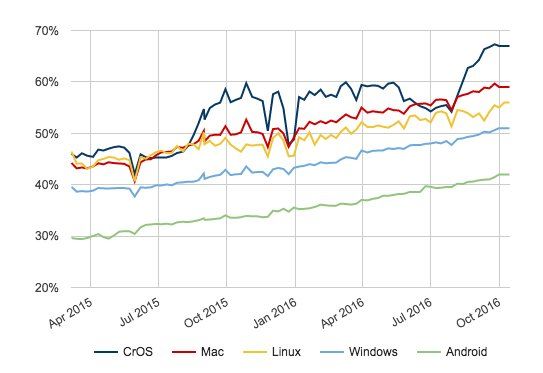 The Google security duo say the sometimes difficult migration to SSL does not impact its DoubleClick, AdWords, or AdSense advertising platforms, nor the search listing rankings of sites that move to the more secure protocol.
Mountain View is also serving sticks with its SSL carrots. By October 2017 sites that do not conform with its Certificate Transparency initiative will be marked as untrusted within the Chrome browser.
The flags will indicate in plain English sites that may be using untrusted certificates and could therefore be home to phishing or malware. ®