This article is more than 1 year old
Kaminario's K2 mountain is about to be uplifted
Pumping up performance, price/performance and product virtualization
+Comment Kaminario is building its K2 all-flash array mountain higher in scale, performance and price/performance terms and adding dynamic composability.
It sees problems with software-defined, hyper-converged systems and traditional array-based products because they can't meet the needs of customers that are getting "SaaSified," in that they want software provided as a service.
To do that, Kaminario says the storage infrastructure has to have five guiding principles:
Rackscale economics
Disaggregated capacity and compute
Dynamically composable systems
Simplified stack
Smart analytics
CEO Dani Golan told a press party at Kaminario's Israeli headquarters that customers emphasize cost-efficiency, scalability and performance.
Kaminario says larger SSD drives help on cost efficiency and its K2 arrays support 500GB, 1TB and 2TB drives. Now they say: "Very soon we will quadruple that," which implies 8TB drives and, allowing for marketing hype, possibly means Samsung's 7.4TB drives.
Golan said: "We will make a very significant announcement about performance and density ... There will be major-major news on scalability, quadrupling our capability ... We'll introduce a new price-point that will be revolutionary for all-flash again. We'll announce breakthroughs in performance for mixed workloads – essentially doubling that."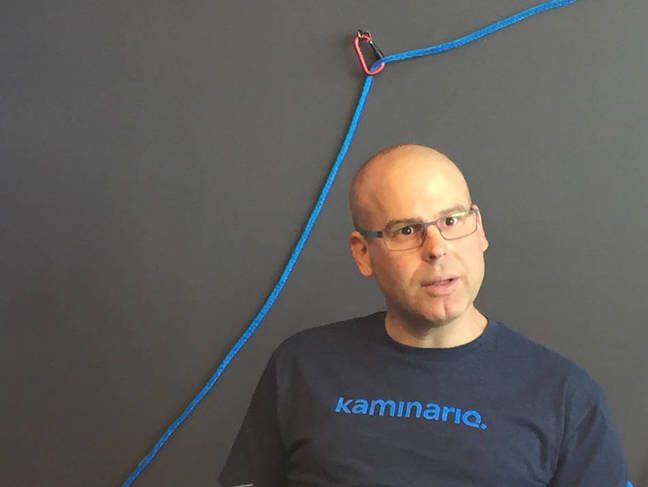 Kaminario CEO Dani Golan
Kaminario sees a way to increase deduplication effectiveness by 30 per cent, with an announcement coming in 2017, and dedupe development progress continuing beyond that. Our understanding is that the announcement could come in the first half of next year, possibly the first quarter.
Over the longer term, NVMe over Fabrics will help with disaggregating compute and capacity in the K2 array with NVMeF-connected shelves and an ability to dynamically create virtual K2 arrays with varying amounts of compute and capacity.
The network shelves need a ROCE target device to connect them to an NVMe fabric, and that device could be Intel-based or ARM-based. The ARM route may take longer to arrive, but would be less expensive.
This composability capability will use a virtualization layer and will enable fault domains to be isolated to virtual arrays and not a full physical K2 array. There will be global spares for compute (controllers) and storage.
We also expect to see the Clarity cloud-based monitoring and predictive analytics tool to have automatic performance tuning through alert-triggered scripting routines – "global" – meaning across a data center or even beyond that.
Kaminario could also move to selling its controller software on its own along with networked capacity shelves.
Kaminario market position
It's perceived that Kaminario is lagging the leaders in the all-flash array market but Golan says they – the big five – as well as a group of five wannabee players, have a problem: "My belief is that three and a half of them don't have a good answer for next-generation storage and nor do the wannabee big five."
He mentions Cisco, Oracle, Huawei, and Lenovo, and also component suppliers that want to get into all-flash arrays. It takes five to seven years to mature a storage product and its stack, and they don't have the time because the market is developing too fast.
They will have to partner to get the technology, and Kaminario will be ready and waiting. It's tectonic shift time for the leaders and the balance of power in storage.
Reg Comment
Kaminario has hundreds of customers – there are 50 listed in EMEA alone, with the largest customer having a 12PB (effective) system. Its quarterly revenues are growing at triple digits year-on-year. It will not reveal actual customer numbers or its revenues. Golan says: "Going public is our plan; we're not disclosing a specific timeline for a public offering but that is our goal."
He's a man on a mission to build a successful stand-alone company. On Golan's heights he wants K2 to be the highest mountain in the all-flash array storage world. ®