This article is more than 1 year old
Leaner, meaner screamer from Infinidat dreamer
Company is putting more drives in thinner trays to grow capacity
Infinidat is tweaking its Infinibox array design to increase its capacity.
The present 3U drive trays and 2U controller enclosures will each become 1U trays, enabling an increase from 480 drives to 720 in a rack – a 67 per cent increase. These drive trays hold 60 vertically mounted disk drives.
At Infinidat's Herzliya office, press visitors saw an Infinibox array in the data centre with three 1U server enclosures, releasing 3U from the current 3 x 3U controller (Dell 370 server) enclosures.
Below this were 1U drive trays holding rows of flat-mounted Seagate 3.5in Constellation ES drives. We calculated there were 20 drives per tray and space for 36 trays in the rack, making up the 720-drive total we were quoted.
That provides 7,200TB with today's 10TB drives, and 8,640TB with the 12TB drives which are expected to be announced in the next few months. Infinidat will thus have a 8.64PB rack, a useful 1.8X increase over today's 4.8PB rack (480 x 10TB drives).
We understand that Infinidat is expecting future disk drives to use HAMR (heat-assisted magnetic recording technology), and shingled (partially overlapping) tracks in helium-filled enclosures. Spokespeople talked of a 50PB rack by 2020, which would equate to 70TB drives if there are still 720 drives per rack.
Also on Infinidat's roadmap were deduplication and an increase in the number of controllers. We were led to understand that there would still be an odd number of controllers, implying an increase from three to five or seven.
Currently, a SAS fabric is used inside the Infinibox to link the drive trays and drives to the controllers. It is likely that an NVMe fabric will be implemented inside the array, improving the drive-controller interconnect speed and bandwidth.
However, this is unlikely to be extended out to accessing clients, as customers are more interested in extending Infiniboc access protocol support, with SMB top of the list. It is being developed and we expect it to be supported in 2017. A v4.0 software release could be coming in August 2017, and SMB support should be in that.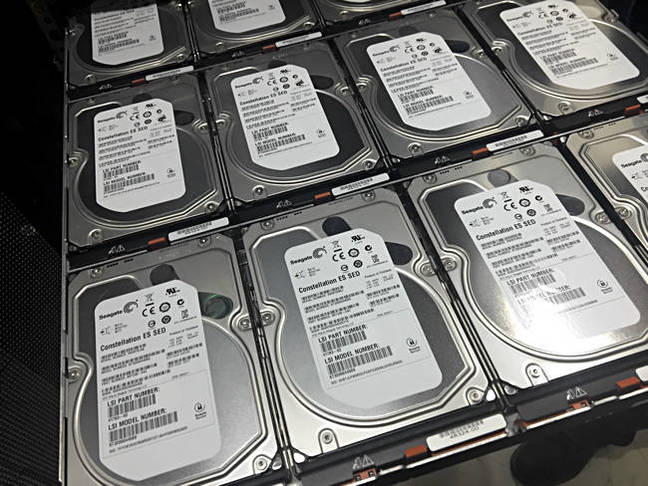 The 1U drive tray
Other requested access protocols include S3, Swift and HDFS. We understand 32Gbps Fibre Channel support is coming in 2017. The v4 release might also have quality-of-service improvements.
It's possible that the Infinibox controller software will be made available on its own, as a virtual machine, with customers or the channel we suppose providing the hardware themselves: servers, access switches, internal NVMe fabric over InfiniBand (or Ethernet?) and drive trays, and other hardware with certified/qualified configurations from Infinidat.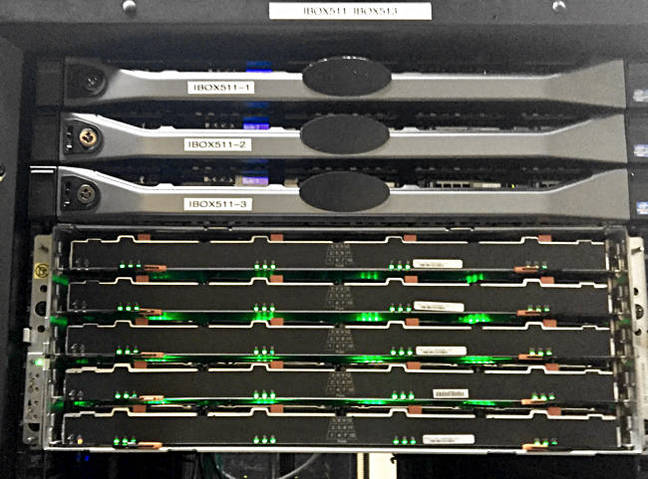 Infinibox 1U controller and drive trays
The company says it is now profitable and revenue should rise above $100m this year. Could there be an IPO in 2018? We don't see why not. The revenues are growing in double digits each quarter (year-on-year) and Infinidat seems to have a three-year lead on its competitors – Dell-EMC (VMAX/Unity), HPE (XP7), HDS (VSP) and IBM (DS8000, XIV) – in offering all-flash array access speed at petabyte data levels, and disk drive array, not flash array, cost levels.
Unless it gets bought, it seems there's nothing to stop Infinidat growing and growing. ®