This article is more than 1 year old
HP Elite x3 phablet: The three-in-one business has been waiting for?
We gave it a spin, and it could be the last phone you ever want
Review HP is making a hugely ambitious return to smartphones, billing the Elite x3 as "one device that's every device".
No pressure, then.
The proposition is that the Elite x3 is a phone that doubles as a PC and tablet replacement. Once connected to an external display, keyboard and mouse, either wirelessly or via a dock, this hefty Windows 10 phablet can run full-screen Universal Windows Platform (UWP) apps. So the owner won't need a PC. It's quite a promise to live up to.
In practice, the pitch is more nuanced. The Elite x3 isn't for consumers at all, or even for all staff. HP maintains there's a huge potential saving for some classes of employee – field staff such as mobile workers in logistics and healthcare, for example – from adopting a multimode device, and the x3 is it.
To flesh out the proposition, HP offers a compatible desk dock (er, "Desk Dock"), which we'll discuss here as it comes as part of a bundle, and a shell of a laptop (LapDock), which we won't because we don't have it yet. There's also a welcome range of accessories, including cases, and the Desk Dock package has been designed to handle all kinds of case sizes.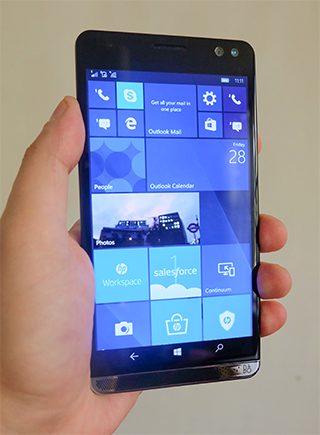 HP also offers a metered RDP service, piped through a new HP app, HP Workplace. This helps plug the gaps – of which there are many – in the app catalogue. As we found when we tested Continuum recently, just because the phone comes with an app doesn't mean you'll be able to use it in docked mode, on a full external display. It needs to be a UWP app.
A UWP app will be available through the Windows Store, may have restricted access to legacy APIs, and most importantly will adapt to different screen sizes. Although some key Windows Phone apps have been modified to become UWP apps, many have not yet made the conversion, for example, Evernote.
Hardware: a durable road warrior
There's no skimping on the hardware, either in terms of specs or quality. Since the intended user is someone who is hitting the outdoors, durability was evidently a key design consideration, and this rock solid unibody design delivers. HP claims the x3 is waterproof to IP67 (enduring 30 minutes in a metre of water), and passed the US Army's MIL-STD 810G suite of tests for explosions, shock damage and other stress – although we don't know which ones and how many. (MIL-STD 810G is defined in this pdf – for more on how our own accidental stress tests stressed the x3, read on below.)
The phone's size is defined by an almost-6in display. I found the phone, with its polycarbonate body, eerily reminiscent of the enduring Nokia Lumia 1520. The only distinguishing visual feature is the faux metal grill at the bottom. At no time did this phone demand to be picked up and handled for its design, but that's not really the point; this is industrial design for an industrial device.
When it comes to what's inside the Elite x3, specs have been very well chosen: everything that matters in a workhorse is present and correct.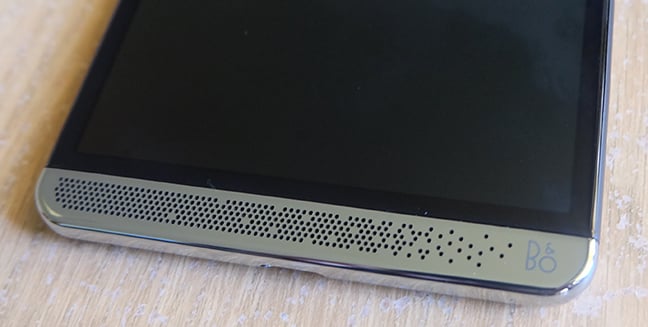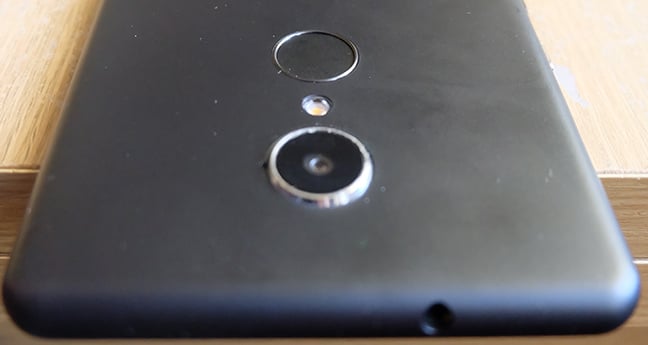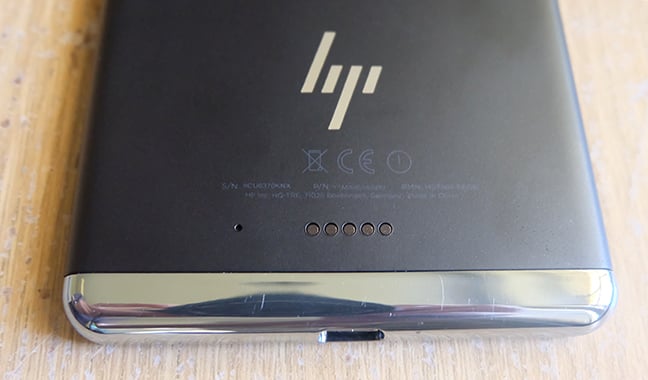 So we find a stonking 4150mAh battery, support for two SIM cards (or one SIM card and a microSD), and flagship horsepower: a Qualcomm Snapdragon 820 and 4GB of RAM. Thermal management is much better with this generation of processors, and the device didn't warm up. There's no skimping on multimedia either, with very impressive dual front-facing B&O-branded speakers. (Only one is in use when the speakerphone is activated, I noticed.)
The AMOLED display officially measures 5.96in diagonally, is a WQHD (1440 x 2560) panel covered in Corning Gorilla Glass 4, giving it 494ppi, and turned out to be bright and clear in daylight, with a brightness of 350 nites. (For the official specs, turn to this pdf.)
Our review unit handled two SIM cards, although some SKUs come in single SIM and microSD card. (Windows 10 isn't the most elegant in handling a dual SIM phone, with separate icons for each phone and SMS app.) No SIM tool is required to open the SIM/SD card tray, although it helps to have fingernails.
Power management varies wildly from Windows 10 release to release, so I had some trepidation here. I need not have worried – the x3 runs for well over a typical day, even with two SIM cards operational, thanks to the 4150 mAh battery.
HP claims that 10 minutes of charging in the Desk Dock gets you 16 per cent of battery charge – enough for 90 minutes of browsing or 3.5 hours of talk time. (On the standard wall charger 10 minutes gets you 14 per cent of battery fill, still enough for 72 minutes of browsing).
If you prefer, it supports Qi and PMA wireless charging standards without any adapter or sled. Call quality varies, although it could be excellent, and W10M needs more tweaks to attach to networks a little quicker.
LTE CAT 6 is supported, as is carrier aggregation. Calls were handled well, but after a drop onto a hard surface both of x3's SIM readers ceased working, so I was unable to give the phone its usual extended workout in a variety of situations to gauge reception and call quality. (A replacement review unit has been promised.)
The big addition to Windows mobile is the first appearance of a fingerprint scanner; he x3's is rear-mounted. Enrolment is quick and easy, and the device also supports the retina-scanning biometrics that were introduced a year ago with Microsoft's Lumia 950 and 950 XL.
Alas, the software didn't match the rigour of the hardware – something that became a motif in my testing. In fact, I uncovered one horrendous security flaw which, if left unfixed, undoes much of the device's secure enterprise credibility.
It goes like this. Unlike an Android phone or an iPhone, an Elite x3 can be configured without a password. After some hours, it may advise you to add one, but bear in mind that by default all it takes is a swipe to unlock the device. Now suppose you want to add a fingerprint. (It isn't clear where in Settings that lives – but let that pass for now.) You simply go ahead and enrol.
By now you may suppose your device is reasonably secure and locked down. But it isn't. If the Elite x3 thinks you've been trying to unlock it using an enrolled fingerprint (and it can reach that conclusion simply from the phone rolling around in your pocket), it will tell you it has locked you out – but in reality it has reverted to swipe-to-unlock. Yes, you read that correctly. Note that one vital step has been omitted from Microsoft's setup sequence: it doesn't ask for a fallback PIN to unlock the device… so it "falls back" to swipe-to-unlock.