Almost two years ago The Register predicted that Huawei would become Samsung and Apple's "worst nightmare" and the claim earned plenty of derision*. But it's happening – and faster than anyone expected.
Huawei is now vying with Apple to be the world's No.2 phone maker and is better placed to profit from Samsung's Note 7 woes than anyone else, research outfit Canalys reckons.
Huawei's phone business grew 70 per cent in Europe, the Middle East and Africa against a background of a stagnating global market. Canalys calculate that Huawei moved 26 million units in Europe alone, with volumes up 33 per cent here sequentially.
The relentless rise has consolidated Huawei's position as the No.2 Android vendor, elbowing aside former smartphone stars such as Sony, LG and HTC. It's a remarkable story, since only two and a half years ago Huawei was vowing to spend as little as it could on marketing, with a steady-as-she-goes strategy focused on value.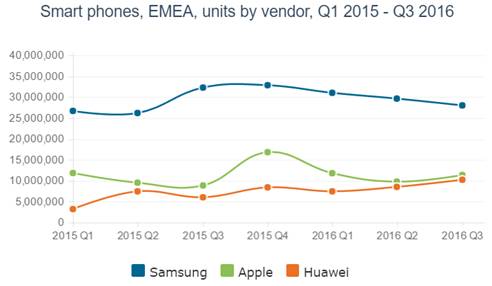 The big effort towards establishing Huawei as a major consumer brand came this spring, with a 21-gun marketing rollout for its Leica-branded P9 phone. Scarlett Johansson and Brooklyn Beckham were enlisted, and Huawei spent £10m in the UK alone.
"It used to focus on price-to-performance ratio," Canalys' Ben Stanton points out. "This was a good disruptive strategy at the time, which helped it exploit falling operator subsidies, and the shift toward open-market channels such as e-commerce. But it has now evolved to become a major smartphone brand and innovator in its own right."
Canalys peg Huawei at third in the marketplace by share, on 14 per cent, just behind Apple.
Stanton notes that Huawei could bring some clarity to overlapping product lines, but is still well placed to capitalise on Samsung's phablet problems, given that LG has not launched its V20 in Europe, and Xiaomi has stayed on the sidelines because of IP worries.
"Huawei now finds itself with no major competition in the 5.5in-plus segment," he says. "It will be hard to entice European consumers to upgrade to super-large screens en masse. But if the appetite exists, Huawei has a real opportunity to become the pre-eminent vendor in that category."
Huawei's first Porsche Design-branded phone was unveiled last week.
So why make what looked like such a rash prediction in 2014? You need to visit China to understand it. Western business professors describe China as a "fast follower" – its manufacturing businesses copy other, more innovative companies quickly. But the reality was different. Some were actually innovating much more than the MBAs realised, and much more shrewdly, as I described in a Huawei company profile that year. Huawei also learned to improve what it was poor at, specifically marketing. ®
*Huawei didn't even have a 4G phone in its portfolio at the time of the claim. Its first LTE phone was unveiled four months later.