Green shoot at Imation as Nexsan revenues revive
Loss-making company continues to be, well, loss-making
Shrunken Imation's revenues have started edging ahead in its third 2016 quarter as pared-back Nexsan grows, but losses continue.
Revenues were $11.5m compared with Nexsan revenues of $14.5m a year ago, a 20.1 per cent fall. However they were 8.5 per cent higher than the second quarter's $10.6m.
There was a net loss of $7.1m, worse than the second quarter's net loss of $5.6m, but better than the year-ago $152m net loss. That was when Imation was not just the Nexsan business and before it had exited its consumer businesses. Overall Imation revenues were then $129.2m, of which the Nexsan contribution of $14.5m was a small proportion.
Imation stated that the Nexsan revenue decrease from last year was due to its decision to exit underperforming regions and low-margin portions of the business to focus on its newer Unity and E-Series product families.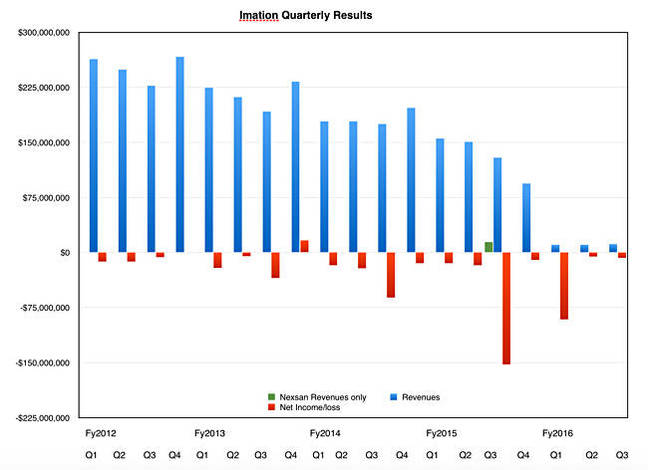 Imation revenues and profit/net loss in recent quarters
Comparing this quarter to last year's third quarter:
Gross margins improved from 35.2 per cent to 45.2 per cent
Selling, general and administrative expenses declined by $7m
Operating loss from continuing operations (excluding special charges) was reduced by 52.6 per cent to $6.4m from a prior loss of $13.5m
Interim chief executive Bob Fernander said: "Q3 marked the shift from business stabilisation to growth. Increasing gross margins, reduced operating expenses, new product introductions, increased customer satisfaction and revenue growth are key metrics validating Nexsan's turnaround. Customer acceptance of Unity and a refreshed E-Series product line exceeded management expectations."
A newly formed asset management subsidiary has received approval from the SEC as a registered investment advisor. Imation intends it to become a best-in-class multi-system alternative investment platform. El Reg's working assumption is that the Nexsan business might be sold by Imation's activist investor Clinton Group, leaving the asset management business behind. ®