Kaminario's Dani Golan reaches for the sky
Former IDF fighter pilot aims high as CEO
---
Profile Dani Golan stands on the roof of his Israeli headquarters and points out features of the scenery: an 8,000 year-old ruin here, an ancient trade route there, a modern highway alongside the building, a sign to Nazareth, and fighter jets taking off from a nearby airforce base with thunderous, sky-filling roars.
Dani is founder and CEO of all-flash array firm Kaminari, and our guide to this portion of a press trip to look at Israeli startups.
Golan founded Kaminario with Moshe Selfin and Ofir Dubovi in 2008 to make an all-DRAM grid-in-a-box array. It didn't take off, so they bailed out and switched to an all-flash array instead.
Selfin was vice president for marketing and products, and left in August 2010 for Anobit, the flash controller company bought by Apple. He is now COO of Credorax.
Dubovi was COO and CFO, and left in October 2012, and Golan became sole leader of Kaminario.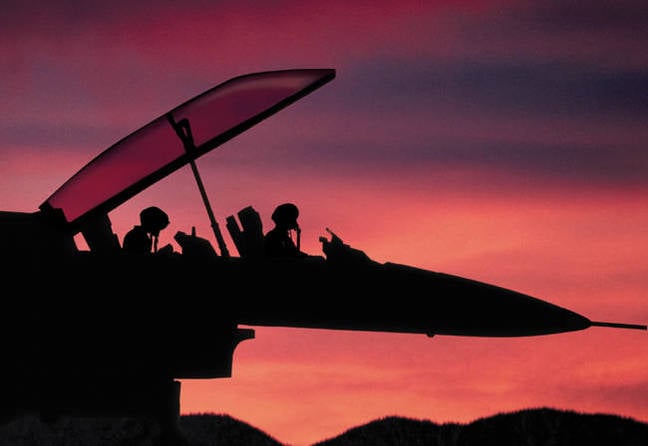 Israeli rules ban photos showing pilot's faces with planes. So here is a silhouette of someone in an F16.
Dani had been an IDF fighter pilot, one of the elite, flying his IAI Kfir jet or an F16 and managing missions. He didn't fly his jet from the air base near Kaminario's office, but every jet taking off from there will trigger memories of his 1990-1996 IDF days.
In between streaking through the sky, Golan, married and with an infant child, studied electrical engineering ("because it was the toughest thing to do") as a mature student at the Technion university in Haifa. He gained a BSc degree, finished his air force service and went to work as an electrical engineer – not an exceptional one he says – at Intel.
But being the kind of guy who likes challenges, he wanted to go way beyond designing better ways of using amps and volts. "The most fascinating thing in life is people. I wanted to combine the people aspect with technology," he says.
Living in America
Eager to learn how businesses work and run his own company, Golan decided to study business at the prestigious Kellogg School of Management in Evanston, Illinois. "I really wanted to study business at the best place in the world, and also get to know America," he says.
Students on Kelogg's two-year exec MBA course are required to have a full-time job, so he persuaded Intel to move him over to the USA and brought his wife and child with him.
Golan is a persuasive guy, always outlining a vision of how great it is going to be and arguing the logical necessity of it all. "Let me tell you why I believe that…" he keeps saying, with an obvious need for you to agree.
He sees relationships as a full-time job, and everything is family. Kaminario is his work family, his backers are his funding family, channel partners are a reselling family, and Israel and its citizens are another, huge family.
Golan believes people work for, invest in, sell to, buy from and care for people. He wants people to be believe in him and be successful with him, and is good at connecting with others. It's part of his talent, and sometimes almost overwhelming. For him, relationships are not a light matter.
Dani gets the call
While Golan was studying at Kellogg and working for Intel, he got a call from Moshe Yanai, ex-tank commander in the IDF, Technion electrical engineering graduate, helicopter pilot, EMC engineering wizard, vice president of the Symmetrix group and its product creator at Hopkinton. It was as if a storage deity had called after hearing about Golan from a contact in the IDF.
Golan started working at EMC in July 2001*, doing software things; Joe Tucci had become EMC CEO in January 2001, after joining as president and COO in 2000. (Tucci replaced Michael Ruettger, the previous CEO, and then forced Moshe Yanai** out later in 2001, earlier having moved him into an advisory position.)
Symmetrix technology had fallen behind the competition (in not using Fibre Channel, for example), and lower-cost CLARiiON (what became VNX) array sales and development hadn't been prioritised. Tucci started cleaning out EMC's stables in response to a severe revenue downturn as customers stopped buying Symmetrix arrays.
Revenues slumped from $8.9bn in 2000 to $6.8bn in 2001. Cuts had to be made. About 10,000 staff were laid off out of a total 26,000. The blood-letting started in May, two months before Golan joined, with several layoff rounds in the next few months. Golan was lucky to be taken on when all this was going on.
He gained an MBA from Kellogg in 2003 and moved into EMC's NAS IP business, reporting to vice chairman Bill Teuber in 2006 and working on strategy.
You don't get to be a CEO without promoting yourself to others, and Dani says: "Joe Tucci noticed me and admitted me to the exec management team when I was a relative kid. He would always ask the opinion of junior people in the room. I told him he should invest in VMware."
Performix move
Then Golan got an offer to be the COO of Performix, a BI/workforce performance management company. He says he had long and painful discussions with people, including Tucci, before accepting.
Performix had been acquired by Israel-based Nice Systems back in 2006, and Golan was involved in the Performix reshaping. This is where he got his operational management experience.
A big problem Performix customers had was getting data off storage arrays fast enough. They had IO bottlenecks.
Ofir Dubovi was a vice president and COO at Performix, and became the COO for Nice Systems in late 2006. So now we have two of Kaminario's co-founders working for the same business.
Where did Moshe Selfin come from? At that time he was an international sales and business development leader at IBM, having joined from being a solutions director at EMC in September 2006. He managed IBM's Israel software-as-a-service (SaaS) programme.
Dubovi, Golan and Selfin set up Kaminario together to fix the storage IO bottleneck problem. They based it in Israel in 2008, working out of the bomb shelter located on one floor of the current office building in Yokneam, north of Tel Aviv. Selfin is credited with inventing Kaminario's DRAM-based original K2 array.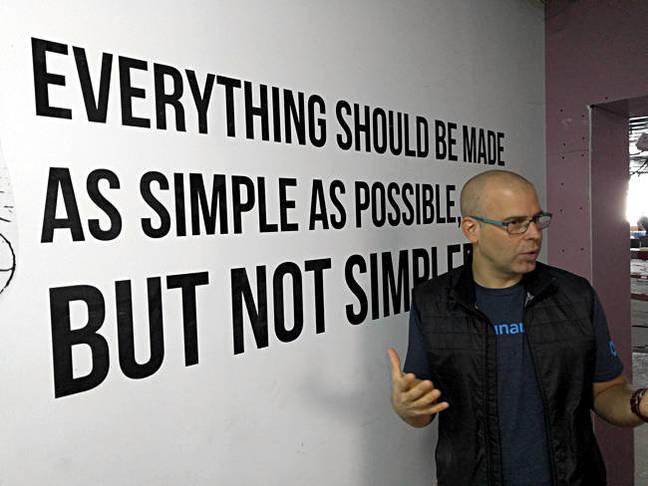 Dani Golan with his favourite inspirational quote
Life is a serious business for Dani, beneath the sense of fun he promotes in Kaminario. He sets himself challenges and surrounds his staff with inspirational quotations and messages. One is Albert Einstein's "Everything should be made as simple as possible but not simpler."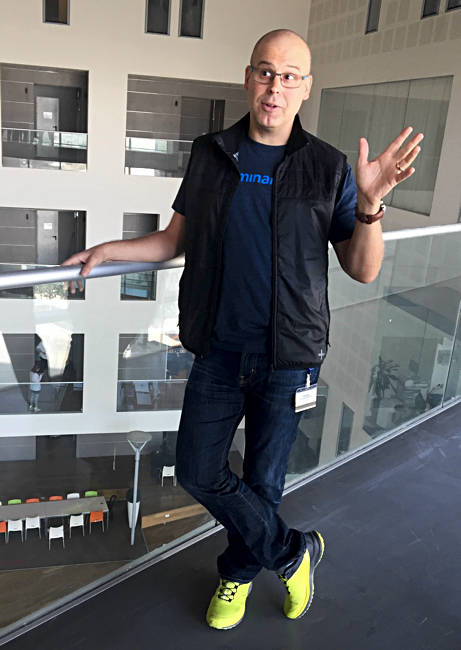 Kaminario CEO being persuasive
Golan likes trying out new dishes in restaurants, learning new skills and mastering problems. He has a knack of focusing intently, as if pushing a lighthouse beam through a microscope – which can be unnerving if you are the item on the specimen slide.
Golan treats Kaminario rather like a favourite toy. It's going to be a truly great company, he is more than willing to explain. However long you give him, he will beam that lighthouse intensity into your brain and have you believing it too. ®
* Footnote Doron Kempel, SimpliVity's CEO, headed a media solutions group at EMC from 1998 to September 2001. Kaminario's position as an all-flash array supplier is somewhat similar to SimpliVity's in the HCIA market: both are second to a larger, post-IPO former startup: Pure for Kaminario and Nutanix for SimpliVity.
** Footnote 2 A joke at the time was that EMC stood for "eventually Moshe's company".