CERN boffins see strange ... oh, wait, that's just New Zealand moving 2m north
Two earthquakes hammer South Island
---
New Zealand's been hit by two nearly-simultaneous earthquakes that left two people dead, isolated some towns, cut telecommunications links – and rattled the Large Hadron Collider near Geneva.
The quake might also inconvenience infosec types visiting the country for one of the Southern Hemisphere's pre-eminent conferences, Kiwicon, although at the time of writing organisers remained hopeful.
The M7.5 looks like TWO separate earthquakes, which is why we are seeing aftershocks in two locations. More info to come. #eqnz

— GeoNet (@geonet) November 13, 2016
Kiwicon this morning posted this update, saying that while engineers are still to assess the Michael Fowler Centre where the conference is due to start this week, its's a "much newer and better quake-engineered building that the previous" and they're confident the conference will proceed.
Originally reported as one earthquake, local geosciences organisation Geonet came to the conclusion that the country actually suffered two quakes. As a result, the continuing aftershocks were more widespread than if there'd been a single epicentre.
In this post, Geonet's Sara McBride explains:
"Our reports indicate that the combination of these two quakes lasted two minutes, with the most severe shaking at around 50 seconds. It was widely felt throughout both the North and South Islands. It looks like one was a strike-slip and the other was a thrust fault.

"Further, we have received many aftershocks since the start of the quake. We are currently working to assess each of these but it may take some time."
Over in Switzerland, where protons circle the 26-km ring of the Large Hadron Collider, CERN boffins spotted the 'quake rattling their beams, and posted this image: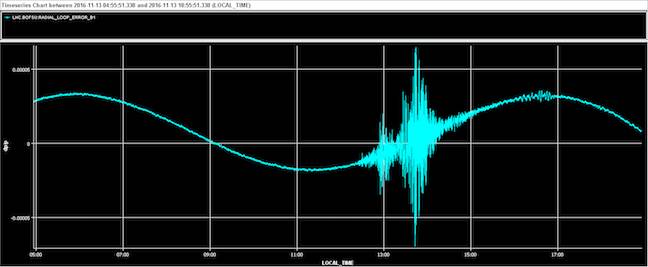 CERN spots New Zealand shaking
Vulture South sends its best to our New Zealand cousins. ®
Update: the US Geological Survey has just reported a third magnitude 6.2 quake 39 km west of Kaikoura. ®
Similar topics
Broader topics